Wing of friendship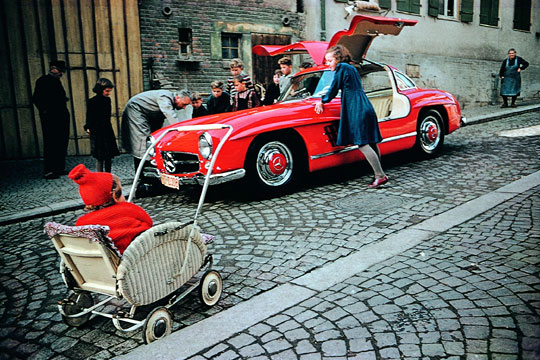 The Mercedes-Benz 300 SL "Gullwing" is a legend. Even 50 years after its debut the car has lost none of its magnetic appeal and every 300 SL has written its own story. But one or two Gullwings have unusual tales to tell – such as that of the 300 SL owned by photojournalist David Douglas Duncan. Having enjoyed a close friendship with Pablo Picasso, Duncan eventually left the sports coupe to his son Claude Picasso in 1996.
The special exhibition "Adventures of a Gullwing" at the Mercedes-Benz Museum documents the adventures of the black 300 SL coupe owned by the celebrated and award-winning American photojournalist David Douglas Duncan, who was born in Kansas City in 1916. Duncan took delivery of the car himself in Stuttgart in 1956. His passion for the Gullwing had been sparked the previous year in the streets of Sindelfingen where he photo-graphed the 300 SL – or rather its "spirit", as the famous images show only the blurred streaks of a fast-moving car. Then in 1956 he shot pictures of the 300 SL roadster prototype during an impressive test drive in the Alps.
Duncan used his 300 SL every day, clocking up 450,000 kilometers in 40 years. In 1959 he drove from the south of France to Moscow, where outside the Kremlin the car became an object of fascination even for the Politburo. On his return to Cannes he shared Russian caviar with his friend Pablo Picasso, whom he chauffeured around and photographed in his 300 SL on several occasions.
A photo-reportage in Holland in 1976 on the making of the film "A Bridge Too Far" led to high drama of a different kind. Duncan's "Black Torpedo" was stolen in Haarlem and disappeared without trace for several weeks. The first signs of hope for its recovery came only when contact was made with the Mafia. Five weeks later Duncan was able to reclaim his car on the Dutch-Belgian border, having paid a "finder's reward" of 12,000 Swiss francs. The SL was returned cleaned and with a full tank. Even Duncan's trenchcoat had been washed, ironed and placed on the rear shelf.
In 1996 Duncan left his venerable 300 SL coupe to Picasso's son Claude, a car enthusiast, so that it might remain "in the family". Claude Picasso continues to make regular use of the "Black Torpedo", appearing at events such as the Mille Miglia.
Text/Photos: DaimlerChrysler
---
ClassicInside - The Classic Driver Newsletter
Free Subscription!