Immortalised in the UK by being Simon Templar's car in the popular 1960s TV series The Saint, Volvo's sleek P1800 has been treated to a major makeover by Swedes Mattias Vöcks of Vöx Custom Shop and Bo Zolland of design house Vizualtech.

Although a full-time engineer for Swedish supercar maker Koenigsegg, this isn't Vöcks' first major Volvo re-interpretation. Earlier this decade he built a stunning Volvo-inspired hot-rod in his shed which he used to commute to and from his day job. With wider wheels and mudguards removed, this creation later became an official Volvo show car. Then, in 2006 Vöcks exhibited his 600hp Amazon estate at the SEMA show in LA. It was dubbed 'Sweden's Hottest Volvo'.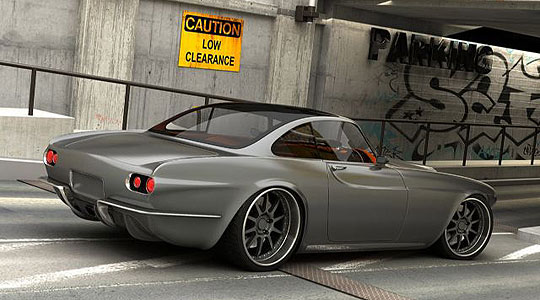 Now Vöcks has turned his attention to the P1800. Judging by designer Zolland's visual renderings, the car features a sympathetically modernised exterior and interior, underbody aerodynamics and wide-rimmed alloys, while Vöcks plans to install a six-speed manual and a 4.4-litre V8 from an XC90 turbocharged to around 600hp – or some 500hp more than the 1961 original. All this will transform the deceptively sedate P1800 into a fully-fledged contemporary supercar, and there's even talk that this project might make it into limited production.
Text: Tom Stewart
Photos: Vizualtech

---
ClassicInside - The Classic Driver Newsletter
Free Subscription!