Volkswagen Scirocco R: Successful Race Debut at the 'Ring


The Scirocco R is the latest tuned car from Volkswagen Individual. With a showroom introduction just a few months away, race versions of the new GT scored two class victories at the recent Nürburgring 24 Hours.

We drove a regular Scirocco GT 2.0 TSI just a few months ago. Compared to that top-of-the-range car, the new 'R' version has an additional 65PS and 51lb ft of torque. This gives a top speed of 155mph and a 0-62mph time of 6.4 seconds for a DSG-gearbox car.




The four-cylinder turbocharged engine is new to the Scirocco R. Still displacing 2.0 litres, the now-EA113 motor (from the Audi S3) is heavily revised with a reinforced block, a new alloy head, uprated pistons and conrods, plus high-pressure injectors. A new intercooler copes with the heat generated by a turbocharger now boosted to 1.2 bar.

Unlike the R32 Golf, the Scirocco R is two-wheel drive only; but it comes with XDS (first seen on the new Golf GTI), an electronic cross-axle traction control system. Buyers can choose between a six-speed manual or a DSG gearbox. The three-position Adaptive Chassis Control (ACC) of the standard car is retained, allowing drivers to select from 'normal', 'comfort' or 'sport' modes.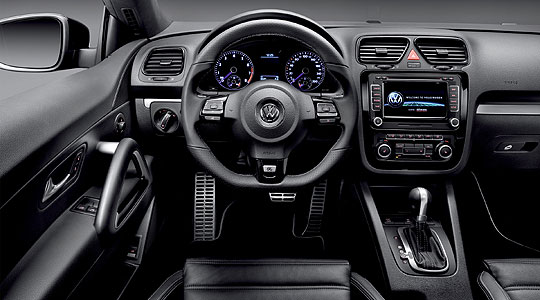 It worked well in the GT and should allow the R everyday, around-town usability to mix with its track-day potential.

The company has resisted the temptation to go too overboard with the external styling, the main changes being LED running lights, a deeper front air dam, side-skirts, a rear diffuser and smoked rear lights. The already sporty interior now has a new three-spoke wheel and a sprinkling of 'R' logos. 18in wheels are standard, with 19in available as an option.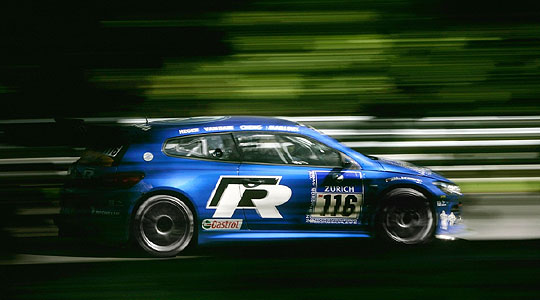 On the track

At the Nürburgring, race versions of the new car finished a highly credible 15th overall and 17th overall, winning both the 2.0-litre turbocharged petrol-engine class and the alternative powertrains (AT) class. The latter entry was driven by, among others, the Belgian Vanina Ickx and was natural gas-powered, running under VW's EcoFuel banner.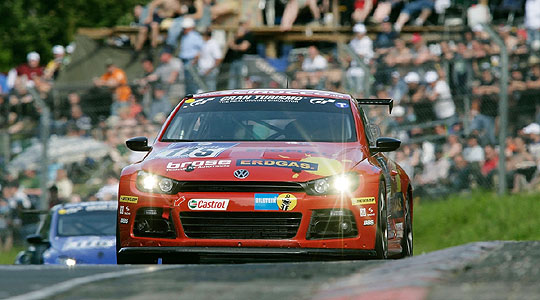 No UK prices have yet been announced for the Scirocco R but sales are due to start later this year.

The Volkswagen Scirocco R:

Power: 265PS
Torque: 350Nm
Top speed: 155mph
0-62mph: 6.5sec (man) / 6.4sec (DSG)
Economy l/100km: 8.3 (man) / 8.2 (DSG)
CO2: 194g/km (man) / 192g/km (DSG)
Kerb weight: 1333kg (man) / 1353kg (DSG)

Text: Steve Wakefield
Photos: Volkswagen

---
ClassicInside - The Classic Driver Newsletter
Free Subscription!