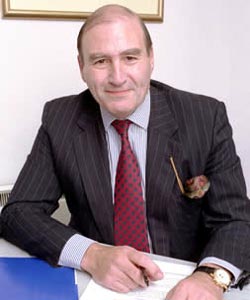 It is with great sadness that Aston Martin has to report the sudden death of its former Chairman and Chief Executive Victor Gauntlett, on Monday 31st March 2003 aged 60-years-old.
Victor was instrumental in the resurrection of the AML name and product range from 1980 when he joined the company until 1991. His strength of character and ability to manage the company in difficult times - with the backing and support of the Livanos family - were a major contribution to AML becoming recognised as a serious international sports car company again.
During his time with the company he oversaw the introduction of the Virage - the first all-new Aston Martin model for 20 years -and in 1989 sent Aston Martin back to Le Mans with an official works team that gained a credible 11th place with the AMR1.
Victor was also one of the fundamental elements in recognising the long-term future success of Aston Martin Lagonda lay with the Ford Motor Company, and was instrumental with the Livanos family in ensuring this was secured.
Text: Aston Martin
Foto: Aston Martin