Tour Auto 2005 - provisional entry list revealed by Peter Auto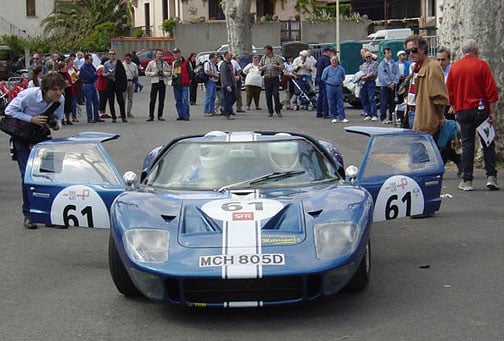 The Tour Auto is one of the two or three international events that no historic car enthusiast would miss. The revival of a famous rally, the Tour Auto puts together two hundred of the most attractive historic cars.

The mix of "road stages" - timed sessions on closed roads, or on racetracks - and road sections, is one of the successful ingredients of the event. Furthermore, to break the routine, the route is changed each year. Thus, the competitors join the sporting timed stages while discovering the French countryside, according to an itinerary (combining tourism and gastronomy) cleverly selected, and ignoring the major roads. During these road sections the drivers must abide by the French laws of the road.

Eligibility -

The rules of selection to participate in the Tour Auto are very strict. The two hundred cars accepted are those or the model that competed in the TdF between 1951 and 1973. There might be one or two justified exemptions. These cars can either be popular ones such as the Citroën 2CV, the Renault 4CV or Dauphine, or the most sophisticated cars of their period (like the 50 Ferraris that usually enter). There are also circuit prototypes, Austin Minis or Healeys, Frazer Nashs, Siatas, Maseratis and Porsches.

Provisional Route 2005 -


MONDAY 25 APRIL Checks and Scrutineering
TUESDAY 26 APRIL Start: PARIS
Lunch - Circuit de Magny Cours
Race Circuit - Magny Cours
Finish - VICHY
WEDNESDAY 27 APRIL Start: VICHY
Race Circuit - Charade
Lunch Château de Saint Saturnin
Finish: CLERMONT FERRAND, VULCANIA
THURSDAY 28 APRIL Start: CLERMONT FERRAND, VULCANIA
Lunch Domaine de Salvialle
Finish: TOULOUSE
FRIDAY 29 APRIL Start: TOULOUSE
Lunch - circuit de Nogaro
Race Circuit - Nogaro
Finish: PAU
SATURDAY 30 APRIL Start: PAU
Race Circuit - Pau Arnos
Lunch - Col d'Iraty
Finish of the rally: BIARRITZ
Editor's note; A few words of explanation may be of use to those not completely au fait with the nuances of International Historic Racing. The 'Competition' section is for those cars entitled to actually win the event as pre-1966 FIA sports cars. The 'G/H/I' class is still a competitive class (very much so!), but is for later cars of a type that competed in the Tour in its later incarnations, for example a Ferrari 512M or 'Daytona', or Matra 670 Prototype. It is from this class that the fastest stage and racing times will come. The 'Regularity' section is for those participants who do not wish to actively compete, merely follow the route in a suitable car. No competition licence is therefore required. With grateful thanks to regular competitor Jon Gross for this explanation.
Liste provisoire / Provisional entry List

Please note:
The vehicle names/details below are as given by the organisers, Peter Auto.
Competition -
| | |
| --- | --- |
| AINSCOUGH/BAXTER GB/GB | FRAZER NASH Sebring 1954 |
| ALLEN/LUGG GB/GB | FORD Mustang 1965 |
| ANDRUET/BICHE F | LOTUS Elan 1963 |
| ATKINSON/FOSTER GB/GB | JAGUAR Mk VII 1952 |
| BEAUMARTIN F | AUSTIN HEALEY 100 M 1955 |
| BELL/HARRIS GB/GB | AUSTIN HEALEY 100/4 1954 |
| BERSTEIN D | JAGUAR Type E 1964 |
| BONNET/BROSSEL F/F | LOTUS Elan 1965 |
| BOUZANQUET F | LOTUS Elite 1960 |
| BRANSE/RAUMANN D/D | JAGUAR Type E 1961 |
| BRASSEUR F | ALFA ROMEO 1600 GTA |
| CAJANI/ROSSI I/I | ALFA ROMEO 1600 Sprint 1965 |
| CAJANI/ROSSI I/I | ALFA ROMEO 1600 GTA 1965 |
| CARON/CARON F/F | AC Cobra 1963 |
| CHAMBON/ROUGET F/F | PORSCHE 911 S 1965 |
| COWDRAY/LINDSAY GB/GB | JAGUAR Type E Lightweight 1963 |
| DE SOUZA/MORALES F/F | FORD Capri 2600 RS 1971 |
| END/END D/D | ALFA ROMEO Giulia 1600 TI Super 1964 |
| FABRI/STOOP B/GB | ALFA ROMEO TZ 1965 |
| FADEL/QUIRIN B/B | ALFA ROMEO TZ 1964 |
| FOUAN/CARLE F/F | JAGUAR Type E 1961 |
| GHOSE USA | FERRARI 212 Touring Berlinetta 1952 |
| GRANDIDIER F | JAGUAR XK 150 1957 |
| GRAVE/ARTERO CH/F | FERRARI 250 GT Berlinetta 1961 |
| GUTZWILLER CH | LOTUS Elan 1964 |
| HADFIELD/JACKSON GB/GB | ALFA ROMEO 1600 GTA 1965 |
| HUGENHOLTZ/HUGENHOLTZABRIOU NL/F | LOTUS Elan 1965 |
| JOBERT F | LOTUS Elan 1963 |
| JUNNE/ARROWSMITH F/USA | PORSCHE 911 S 1965 |
| KOHLER F | FORD Cortina Lotus 1965 |
| LAIDLAW/BLAKENEYEDWARDS GB/GB | PORSCHE 904 GTS 1965 |
| LE JEAN/RIVET FUSIL F/F | PORSCHE 911 S 1965 |
| LIQUIERE/MARTIN F/F | JAGUAR Type E 1962 |
| MAILLOCHAUD/GOFFREDI F/F | JAGUAR Type E 1963 |
| MARGAINAUD/MEY F/F | LOTUS Elan 1963 |
| MERLIN F | LOTUS Elan 1963 |
| MILOE/MILOE F/F | PORSCHE 904 1964 |
| MILOE/MILOE F/F | PORSCHE 356 B Coupé 2000 GT 1963 |
| MONTEVERDE/PEARSON BR/GB | JAGUAR Type E 1961 |
| MUSCHWITZ/PAGNIA D/D | ALFA ROMEO Giulia Super 1965 |
| PERRIER F | AC Cobra |
| POISSON F | ALFA ROMEO Giulia SS 1964 |
| PUREN/PUREN F/F | JAGUAR Type E 1961 |
| QUEFFELEC/ROGER F/F | AC Cobra 1964 |
| RICHARD/GIURIA F/F | PORSCHE 911 S 1965 |
| SADELEER CH | FERRARI 250 GT Berlinetta 1960 |
| SAGE F | ALFA ROMEO 1900 CS Touring 1954 |
| SAUVIGNAC/JOUFFRE F/F | LOTUS Elan 1965 |
| SCHWARTZ F | FERRARI 250 GT Lusso 1963 |
| SHELDON/STEVENS GB/GB | LOTUS Elan 1965 |
| SPADINI/VOGT CH/CH | JAGUAR Type E 1964 |
| TERRELL GB | JAGUAR XK 120 Roadster 1952 |
| VALIERE/BONNAFOUS F/F | LOTUS Elan 1963 |
| VERCAMER/VERCAMER F/F | ALFA ROMEO 1600 GTA 1965 |
| VERQUIN/RICOUR F/F | ALFA ROMEO 1600 GTA 1965 |
| WANTY/WANTY B/B | LOTUS XI 1958 |
| WILDENBURG/HAHNE D/D | ALFA ROMEO 1600 GTA 1965 |
| WRIGHT USA | ALFA ROMEO 1600 GTA 1965 |
| ZAHND/RICKENBACH CH/CH | ALFA ROMEO Giulia 1600 TI Super 1964 |
Class G/H/I -
| | |
| --- | --- |
| ALBUQUERQUE/SOUSA P/P | FERRARI 275 GTB 1965 |
| ALLISTER/BISHOP USA/USA | FORD GT 40 1966 |
| BAIGNERES/WASILEWSKI F/PL | ALFA ROMEO 2000 GTV 1971 |
| BAMFORD/GREEN GB/GB | FERRARI 365 GTB/4 Comp 1971 |
| BARGIGLI/CHRISTIAENS B/B | PORSCHE 911 RS 2,7l 1973 |
| BELIN/SOULET F/F | ALFA ROMEO 2000 GTV 1971 |
| BERGA/BAUDIN F/F | CG 1200 S 1972 |
| BERTONI F | PORSCHE 914 / 6 1972 |
| BESSON/BESSON F/F | ALPINE A 110 1600S Gr. IV 1972 |
| BLANPAIN/BLANPAIN B/B | FERRARI 275 GTB 1965 |
| BOSCH/BOSCH NL/CH | FERRARI 365 GTB/4 Gr.IV 1973 |
| BOURBON-PARME/BOURBONPARME F/F | FIAT 124 Abarth 1973 |
| CAJANI I | ALFA ROMEO 1750 GTAM 1970 |
| CAZALIERES F | FERRARI 365 GTB/4 Gr.IV 1972 |
| CHAMBORD/BASCHIERA F | ALPINE A 110 1800 Gr. IV 1973 |
| CHOQUE F | FORD Mustang 1967 |
| COCHIN/JANOU F/F | PORSCHE 910 1967 |
| COMAS/VAN SCHOOTE F | ALPINE RENAULT A 110 Bis 1800 1974 |
| CONNOR/SULLIVAN USA/USA | PORSCHE 911 RSR 2,8l 1975 |
| CRUZ/OLIVEIRA P/P | PORSCHE 911 ST 1970 |
| DONCIEUX/DONCIEUX F/F | PORSCHE 911 RS 2,7l 1973 |
| DOUX F | ALPINE A 110 1600S Gr. IV 1970 |
| ELOY/COPPOLA F/F | ALPINE RENAULT A 110 1600 1970 |
| ENTREMONT/ENTREMONT F/F | FERRARI 308 Gr IV Michelotto 1980 |
| ESCHMANN/NIERMANN D/D | PORSCHE 911 ST 2.5l 1971 |
| FAILLE/CHATILLON F/CH | PORSCHE 911 RSR 2,8l 1973 |
| FLANDIN/PERIGNON F/F | PORSCHE 911 S 2.2L 1971 |
| GAGNAIRE/ABATTU F/F | ALPINE RENAULT A 110 1800 Gr. IV 1970 |
| GIBIER/DELOBEL F/F | ALPINE RENAULT A 110 1800 Gr. IV 1973 |
| GUITTARD/LIBES F/F | PORSCHE 906 1966 |
| HANSER/HUEBER F/F | FORD Mustang 390 GT 1967 |
| HUBER GUTIERREZ/HUBER GUTIERREZ D/D | CHEVROLET Camaro Z 28 1970 |
| JAMIESON/TAYLOR GB/GB | FERRARI 275 GTB 1965 |
| JAVAUDIN/LESCOCHE F/F | ALPINE A 110 1600S 1971 |
| KNAPFIELD GB | LIGIER JS 2 1972 |
| LECOURT/LECOURT F/F | PORSCHE 911 RSR 2,8l 1973 |
| LERO/PINOT F/F | CG Proto 548 1972 |
| LESSEPS F | PORSCHE 911 RSR 2,8l 1973 |
| LOGAN/HAMPTON USA/GB | PORSCHE 911 RSR 2,8l 1973 |
| LUCO/ANTONINI CH/F | PORSCHE 910 1967 |
| MAHUL F | CG 1200 1972 |
| MARTIN/ULI D/D | PORSCHE 914 / 6 1972 |
| MASON STYRRON/MASON STYRRON GB/GB | FERRARI 365 GTB/4 Gr.IV 1972 |
| MATHAI/JODEXNIS D/D | PORSCHE 906 1966 |
| MERIAN B | LIGIER JS 1 1969 |
| MEYERS B | FERRARI 275 GTB 1965 |
| MONDY-FRANCES F | ALPINE A 110 1800 Gr. IV 1973 |
| MOYES/RICHARDSON GB/GB | PORSCHE 914/6 GT 1971 |
| NOBLET/GUICHET F/F | FERRARI 275 GTB 1965 |
| NOON/WEGNER USA/USA | PORSCHE 914/6 GT 1970 |
| OLLIVIER/DEGAND F/F | PORSCHE 911 RSR 3,0l 1974 |
| PERRIER/GONTHIER F/F | PORSCHE 911 RSR 2,8l 1973 |
| RAGNOTTI/MERCIER F/F | ALPINE A 110 1800 Gr. IV 1972 |
| READ/RATTAZZI USA/USA | FERRARI 250 LM 1964 |
| RIBADENEIRA/RIBADENEIRA ECU/ECU | FERRARI 275 GTB 1965 |
| RICHRATH/RAUMANN D/D | PORSCHE 906 1966 |
| SALAT/SALAT F/F | PORSCHE 906 1966 |
| SCHADEGG CH | FERRARI 275 GTB 1966 |
| SERPAGGI/PREVOST F/F | ALPINE RENAULT A 110 1800 Gr. IV 1975 |
| THEVENET/THEVENET F/F | PORSCHE 911 RS 3,0l 1974 |
| TIMONIER CH | PORSCHE 911 RS 2,7l 1973 |
| VERBEECK/VAN LOOY B/B | FERRARI 275 GTB 1965 |
Regularity -
| | |
| --- | --- |
| ALBERT/LE MAUX F/F | PORSCHE 356 SC 1964 |
| BAJOL/RIBET F/F | FERRARI 275 GTB 4 1967 |
| BARISETTI/COLLE I/I | LOTUS XI 1956 |
| BAUMBERGER/KRUCKER CH/CH | PORSCHE 911 RS 2,7l 1973 |
| BEAUCARON/CHIRON F/F | LANCIA Fulvia Coupé 1600 HF 1971 |
| BELILOS/SEGRE F/I | JAGUAR XK 150S 3,8L Roadster 1960 |
| BIRCHENHOUGH/BIRCHENHOUGH GB/GB | LOTUS Elan 1970 |
| BONHOMME/ROGE F/F | PORSCHE 356 A 1956 |
| BONNEFOY/DA ROCHA /F | PORSCHE 356 1956 |
| BOS/CHARPENTIER F/F | AUSTIN Cooper S 1965 |
| BOURIEZ/BOURIEZ GB/F | FERRARI 275 GTB 4 1967 |
| BRANTNER/BRANTNER AUT/AUT | AUSTIN HEALEY 100 M 1955 |
| CADIOU/JOUBERT F/F | FERRARI 275 GTB 1966 |
| CAMY/SEVESTRE F/F | ALFA ROMEO 1750 GTV 1968 |
| CARL USA | FERRARI 250 GT Berlinetta 1960 |
| CEVAËR/MITROCHINE F/F | HOTCHKISS 686 GS Modane 1948 |
| CHIARAVITA F | BMW 3.0 CSI 1972 |
| CICERON/ROCCA F/F | JAGUAR Type E 1964 |
| COUDERT F | CITROËN 2 CV 1960 |
| CRIPPA/CRIPPA I/I | FERRARI 275 GTB 4 1967 |
| DA ROCHA F | SAAB 96 1973 |
| DARLING/DARLING USA/USA | SIATA 208 S 1954 |
| DAVIS/WHEATLEY USA/GB | SIATA 208 S 1954 |
| DESPERON F | JAGUAR Mk II (3,8l) 1962 |
| DUHAUT/DUHAUT F/F | CG 1200 S 1972 |
| DUMAS-PILHOU/DUMAS-PILHOU F/F | PORSCHE 356 SC 1964 |
| EMMISON/WITTENBERG GB/USA | AC Cobra 1963 |
| ESCAFFRE/CARRIERE F/F | FIAT 124 Spider 1969 |
| FYSHE/WALKER GB/GB | SIATA Daina SL Sport 1952 |
| GASKEN/KNIGHT GB/GB | AC Cobra 1964 |
| GOGNY-GOUBERT F | JAGUAR XK 150 S 1960 |
| GOLD/JOHNSTON USA/USA | PORSCHE 911 RS 2,7l 1973 |
| GUEGAN/MARTIN F/F | ALFA ROMEO Giulia SS 1965 |
| GUIOT/VERGNAUD F/F | CITROËN Traction 11B 1953 |
| HAQUETTE/VANLANDUYT F/F | FERRARI 275 GTB 1965 |
| JÖRGENS/BERNECKER D/D | DE TOMASO Pantera Gr. IV 1975 |
| KAHN F | BMW 2002 Turbo 1974 |
| KOEL/KOEL NL/NL | FERRARI 275 GTB 1965 |
| KOENER L | JAGUAR Type E 1963 |
| LAIDLAW USA | FERRARI 275 GTB/C 1966 |
| LECOMTE DU NOÜY F | MG A 1961 |
| LECOMTE DU NOÜY F | LANCIA Aurelia B 20 1953 |
| LEFEBVRE F | LANCIA Stratos 1974 |
| LEROY F | OSCA 750S 1958 |
| LESSEPS/BRAND F/CH | ASTON MARTIN DB 4 GT 1962 |
| LEWIS/LEWIS GB/GB | FERRARI 250 GT Lusso 1964 |
| LINWOOD/LINWOOD GB/GB | ALFA ROMEO Giulia 1600 1968 |
| LITZLER F | FERRARI 250 GT Boano 1956 |
| LOPES PIRES F | MORRIS Cooper 1000 MK1 1968 |
| MADER/CARRONS F/F | FORD Capri 2600 RS 1970 |
| MARTIN/MARTIN F/F | LANCIA Fulvia Coupé 1600 HF 1969 |
| MARTY/DEDIEU F/F | PORSCHE 911 RS 2,7l 1973 |
| MATHIEU/GHIBELLINI F/F | AUTO-UNION 1000 S 1960 |
| MILOJKOVIC/LJUBISAVLJEVIC YU/YU | PORSCHE 911 RS 2,7l 1973 |
| MOLLENKAMP NL | LOTUS Elan 1969 |
| MOODY/MULYANI GB/RI | ASTON MARTIN DB 4 GT 1960 |
| MURALT CH | FERRARI 250 MM 1953 |
| NICHOLSON/JIMENEZ GB/E | AC ACECA 1960 |
| PIOLAT/DEGON F/F | PORSCHE 911 RS 2,7l 1973 |
| PIRES/PARENT F/F | MATRA BONNET MB8 1968 |
| PISANTE/TURATI I/I A | LFA ROMEO Giulia 1600 Spider 1964 |
| POZNER/FORFAR GB/GB | FERRARI 275 GTB 4 1967 |
| QUEEN/ERRETT USA/USA | FERRARI 212 EUROPA 1952 |
| READ/READ USA/USA | FERRARI 250 GT Berlinetta 1960 |
| REY/LA HAYE JOUSSELIN F/F | JAGUAR Mk II (3,8l) 1961 |
| REYNAUD/GRENIER F/F | ALPINE RENAULT A 110 1800 Gr. IV 1973 |
| ROEMMERS/AGUILERA | ARG/ARG BMW 3.0 CSI 1972 |
| ROMMENS B | AC Cobra 1963 |
| RUSTON GB | PORSCHE 356 1963 |
| SCALISE/SCALISE ARG/I | LANCIA Stratos 1974 |
| SCHWINGEN/SCHWINGEN D/D | FERRARI 250 GT Berlinetta 1960 |
| SHEPHERD/COX GB/GB | AC ACE Bristol 1959 |
| SHIRLEY/SHIRLEY USA/USA | PORSCHE 356 B 1960 |
| SINGLETON/SINGLETON USA/USA | FERRARI 275 GTB 1966 |
| SUCARI/CELADA ARG/ARG | LANCIA Stratos 1974 |
| SYED PK | FERRARI 250 GT Interim 1959 |
| TANDY/TANDY GB/GB | FERRARI 250 GT Lusso 1964 |
| TARAVANT/DRIJARD F/F | PORSCHE 356 1963 |
| THADANI/WADHWANI IND/IND | FERRARI 275 GTB 1965 |
| VALEIX F | ALFA ROMEO Giulia 1600 1972 |
| VAN DER MEULEN F | ALFA ROMEO 1750 Spider |
| VAN EEKERT/DUMONTEIL F/F | FORD Mustang 1967 |
| VESTEY/SPITZLEY GB/USA | FERRARI 250 GT TdF 1957 |
| VINZIA CH | PORSCHE 356 |
| VIVES/MANGIN F/F | ALFA ROMEO SZ 1961 |
| WALDUCK/SWAN GB/GB | AC Cobra 1964 |
| WALDUCK GB | AC Cobra 1964 |
| WANG GB | FERRARI 250 GTO 1962 |
| WEILAND/PUSCH D/D | PORSCHE 914 / 6 1971 |
| WETZ/WETZ F/F | PORSCHE 356 SC 1964 |
Photos by Classic Driver; from the 2003 event that we covered in full. To read more please click HERE