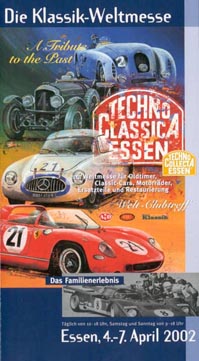 The annual classic car show 'Techno Classic' will be held as usual in the Messehaus Essen from the 4th to the 7th of April 2002. The organisers promise 85,000 m2 of exhibits which will feature car clubs, cars for sale and a 'Best of Show' concours event.
For many people this is the best show in Europe and well worth a regular visit.The Classic Driver team will be in attendance and will give a full report in due course.
The organisers have reserved a special parking area for those bringing classic cars over 30 years old along . This has to be booked in advance and places are available on a strict 'first come, first served' basis. For full details of this arrangement as well as general details of the show please visit www.siha.de
Those travelling from the UK may wish to use different methods of getting there. Firstly Transport Specialist Tours, www.transportspecialisttours.co.uk, are organising a 3 day trip including 2 nights accomodation for £150.00. Alternatively why not bring your own Classic Car with you on the RAC Motor Sport Association's organised tour via Antwerp. For more details on this visit www.msauk.org
The full address of the show is - Messehaus, Norbertstrasse, Essen D-45131, Germany. Telephone +49 (0) 201 72 44 0, Fax +49 (0) 201 72 44 435.
Opening hours are Thursday and Friday 10.00 - 18.00, Saturday and Sunday 09.00 - 18.00. Entrance tickets cost 16 Euros.