Technical Innovation Seminar at Fiorano 2007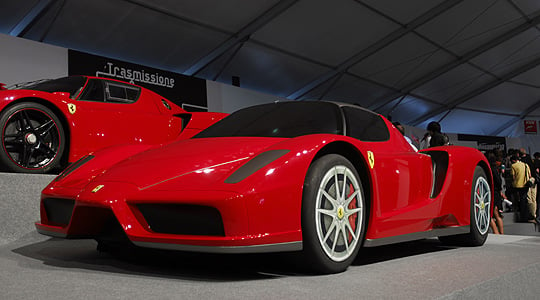 Put the party on hold for 24 hours - before the fireworks are set off and the birthday cake divided, Ferrari would like to make one thing very clear; no other car maker has the depth and breadth of road and race car symbiosis, stretching back the full 60 years of its history. The company invited the world's press to Fiorano to hear from its top engineers on likely spin-offs from Formula 1, as well as future road car developments - some of which may produce much more environment-friendly cars than are produced today.

Don't worry though, one of the projects the company is working (they do, remember, spend 15% of road car turnover on R + D) is a 660 HP car weighing just 1,000 kg, and it will have a super-fast gearchange aided by an electric motor to 'fill in the torque-gap' during shifts, low-friction tyres, the ability to run on part-ethanol fuel, be super-slippery through their air yet exhibit high downforce through revised 'humped' underfloor design and 'synthetic jets' that can alter the airflow around the car to the orders of new super-small ECUs.


"For us innovation is extremely important and in this company we are always working towards improvement," said Jean Todt, Ferrari CEO, "Because for us, Enzo Ferrari's principle is still valid: our most beautiful car is the one we still have to build."

As Todt has both the road and race car divisions under his control, the one-day symposium was his way of making a statement – what we do on the track today, you will see in a road car of the future.

The company had divided the presentations onto five areas, each given by a top-level head of engineering department, most of them with Ferrari F1 experience.

Despite the presence of a 'mini-Enzo' mock-up on the podium, there was no official launch of a '1,000 Kg car'; it was just the future engineering direction of the company that was showcased. The lesson from F1 was clear – if you make something smaller and lighter you don't need so big an engine to propel it along, you don't need massive brakes to stop it, and the resulting design will be safer – as a result of lower kinetic energy released in an accident because of lower weight – and more economical.

In each presentation, examples of F1 technology past and present were compared with existing and experimental road car usages. The car of the future may well have a fixed seating position, with both the pedals and a new 'hub' steering wheel moving to suit. Experimental tyres from Michelin, together with smaller CCM (Carbon Composite Material) brake discs from Brembo would improve rolling-resistance, while transferring 'no ball-joint' technology from the GP cars leads to more effective, lighter suspension.




The auditorium reverberated with talk of 'hybrid' when the subject of electric motors was brought up but this, again, is merely following F1 principles when new technical regulations will allow Kinetic Energy Recovery Systems in 2009 so that energy stored during braking can be released as an 'overboost', or as an aid to bring the road cars' F1 gearchange down from 100 milliseconds of the F599 GTB to 30 milliseconds. The electric motor continues to turn the gears while the engine lifts off.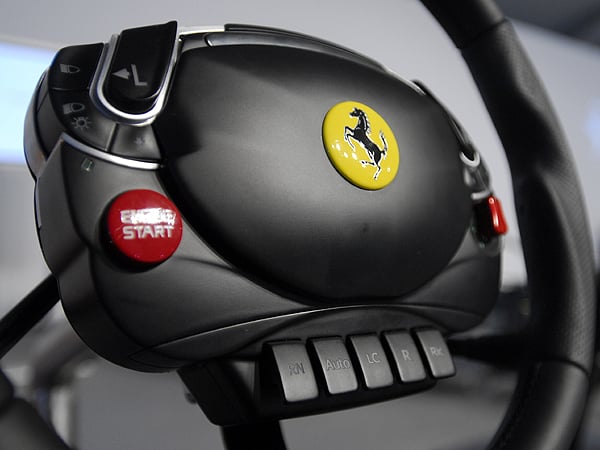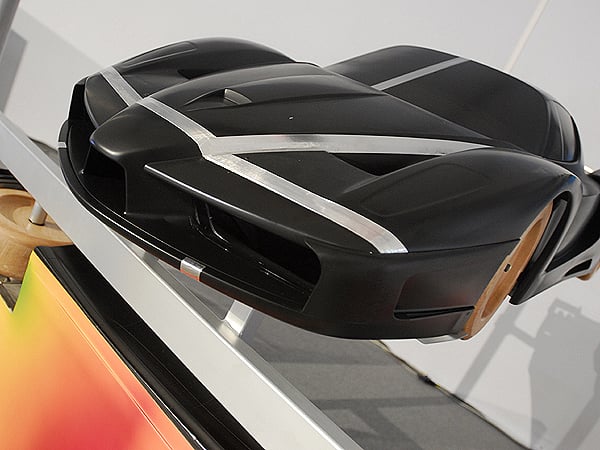 The technology behind the 'synthetic jets' is that small devices similar to loudspeakers can emit a stream of air to artificially affect the wake vortices, the turbulent air that leaves the rear and sides of the car causing drag and instability. Couple these electronic controlled devices to powerful ECUs with a computing capacity many times what we are used to today and you have a car with 'active aerodynamics'.

On the engine front, we may well be seeing the phasing out of large scale V12 production, in favour of turbo-charged V8s for reasons of emissions and packaging. Ferrari traditionalists will be pleased to note that however sophisticated the semi-automatic gearchanges become, there will always be a manual on offer.




Like a modern F1 car, every single part of the next generation Ferrari will be made for a specific purpose and not a gram or sq cm wasted.

Faster, 'greener' and more acceptable to a changing world but no less exciting, the point was made by Roberto Fedeli, Technical Director GT for Ferrari:

"It is possible, if one wants to increase performance, to follow two roads: raising power or decreasing weight. The first alternative is quite incompatible with the more and more stringent norms in terms of environmental pollution; thus it is preferable to decrease the weight of the cars, optimising the architecture of the cars itself, constantly raising the specific engine performance, which is the true field for a constructor."

A constructor that, as Ferrari's President Luca di Montezemolo stated in his address, finished first or second in the constructor's or driver's world championship every year since 1997.

Story - Steve Wakefield
Photos - Ferrari GB All Strictly Copyright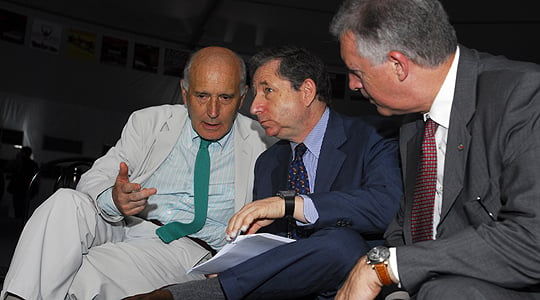 ---
ClassicInside - The Classic Driver Newsletter
Free Subscription!