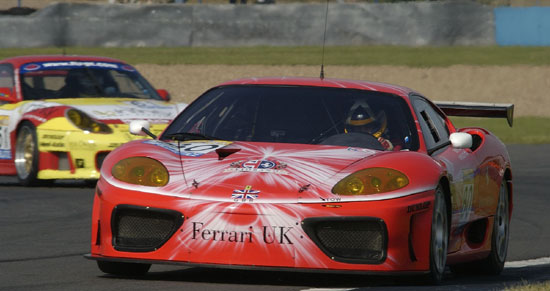 Having arrived at Donington full of confidence and optimism, the FIA GT Championship again proved how competitive and compelling a race series it is by creating a frustrating, but ultimately satisfying, weekend for the Brackley-based TMC operation campaigning their two Ferrari 360 N/GT race cars.
Car 88, driven by 2002 British GTO Champion and 2003 GTS class Le Mans winner, Jamie Davies, and his race partner Tim Mullen, finished the three hour race in fifth place. Unfortunately, car 89, driven by Kelvin Burt and Darren Turner, despite demonstrating potential race-winning pace by claiming pole position in class yesterday, retired after 37 laps with a broken gear linkage. However, the team's third Ferrari 360 Modena, race number 80, entered under the banner of 2002 British GTO Champions and TMC's parent company, Veloqx Motorsport, was rewarded with an excellent sixth place having started the race from the pit lane.
Despite surrendering the Team Championship lead for the first time this season, TMC drivers Davies and Mullen now jump ahead of the JMB Ferrari team of Bertolini and De Simone to claim the lead in the Drivers' Championship by one point.
Kelvin Burt: "I started the race from pole position and was looking forward to a good drive after our run of bad luck to date. The car felt good until 30 or so laps in and then I detected a vibration from the back of the car. Shortly after, I got stuck in gear and the team called me in. As the gear linkage had broken, the guys made a sensible decision and retired the car. I crossed my fingers yesterday in the Press conference after claiming pole position but clearly for not long enough!"
Jamie Davies: "What a race! Tim (Mullen) and I have had a real rollercoaster ride again today. Starting from P4, car running well, pit stop for fuel and new tyres, losing a wheel, back to the pits with not too much damage thankfully, out again, fighting for points and finishing fifth in the end. It just demonstrates that persistence pays dividends as at least we take the lead in the Drivers' Championship home with us. We now need a good result at Spa next month to ensure that we open a gap."
Tim Mullen: "I share Jamie's thoughts. An unbelievable weekend. We were expecting good things here, were disappointed with fourth on the grid, fought hard to make up the distance, were frustrated mid-race, but ultimately satisfied in the end to be leading the Championship before Spa."
Darren Turner: "Our bad luck strikes again! I can't explain my frustration as we know that we have the pace to win races. We've demonstrated this time and time again. Having not had an opportunity to drive today, I'm convinced that the team will resolve our gear linkage issues and enable Kelvin and I to claw back some points at Spa."
Andrew Kirkaldy: "We were making some last minute adjustments to the car and ran out of time to get onto the grid. A frustrating start, but the car felt really good right from the off. I clawed back some distance and handed the car over to Guy (Smith) in good shape. His stint went smoothly too, and he handed back to me for the closing stages. We were heading for third place and then I felt a vibration from the back of my car, just like Kelvin (Burt). The team called me in and tightened up the gear linkage and sent me out again. After another couple of laps, I felt the same vibration so pitted once more. A rear wheel had to come off to gain access to the linkage this time but that did the trick. However, we slipped back to sixth at the end."
Guy Smith: "Despite our ups and downs, I've really enjoyed driving the Ferrari this weekend. Car 80 was in good shape all through my session and considering how little time Andrew (Kirkaldy) and I have had to practice ahead of Donington, we are really quite satisfied. We came here knowing that the ultimate result for us was not as important as time in the car ahead of Spa next month. I'm now really looking forward to the 24 hour race – having plenty of experience in endurance racing, I know what to expect."
Editor's note - As a guest of Team Maranello Concessionaires over the Donington weekend, I was able to gain an insight into the world of FIA GT Championship racing, its drivers and enthusiastic followers. This will form the basis of a feature article in the near future.
Text/Photos - Team Maranello Concessionaires