Team Maranello Concessionaires - 2nd and 3rd at Catalunya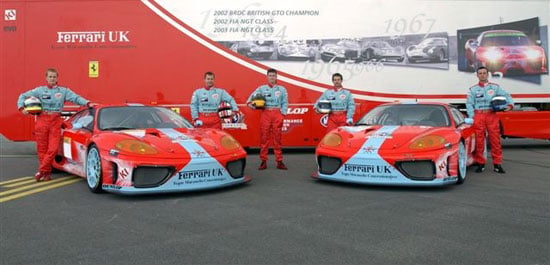 After an action-packed weekend in Spain, Brackley-based Team Maranello Concessionaires secured second and third places in N/GT with cars number 88 (Jamie Davies/Tim Mullen) and number 89 (Kelvin Burt/Darren Turner) respectively during the opening round of the closely-contested FIA GT Championship.
After a brace of drama-filled qualifying sessions yesterday (Saturday 5 April), which saw car number 89 of Burt/Turner achieve provisional pole position only to be relegated to the back of the grid due to an on-track incident, Kelvin Burt (starting) fought his way through the pack during his stint in the car. Darren Turner took over and drove through to the lead in the N/GT class. Unfortunately, a puncture to the right rear tyre caused an unscheduled pit stop but, due to some careful fuel load planning by the team, the car continued with the minimum loss of time to finish third in class.
Car number 88 of Davies/Mullen, starting third on the grid, had a consistent race with one exception (see Jamie Davies' comments) to finish in a strong second place.
Kelvin Burt: "We have had a real roller-coaster of a weekend. We qualified in first place, started at the back, lead the race and finished third due to the puncture. Overall, I'm very happy considering but the one thing that has impressed me more than anything is how hard the team has worked to ensure this result. It's thanks to them that Darren and I are on the podium."
Jamie Davies: "I had a good solid race today but with one scary moment when three of us span together on some oil in turn six. Thankfully, we all came out unscathed. We have some more learning to do to improve our race pace but we will get there soon, I'm sure."
Tim Mullen: "I was suffering from inconsistent grip towards the end of my stint and we had one problem with the gearbox. I got stuck in third gear for three quarters of a lap but clipping a kerb relieved the problem for the rest of the race. Overall, I'm very happy with the result considering that this is my first race in the Championship."
Darren Turner: "This is a great result considering the ups and downs of the weekend. The car was running really well and I'm sure we could have carried the pace through to the end if we had not been baulked by the puncture. Our qualifying speed is a good measure of what we can achieve and I'm now really looking forward to Magny Cours."
"A good result for the team, for sure, as we now lead the Championship," said Rod Benoist, TMC's Team Manager. "We know where we need to improve and we will travel to Magny Cours in a couple of weeks time with a good deal of knowledge inherited from Barcelona. The team has made a monumental effort this weekend and 14 points is a satisfying reward."
For enthusiasts wishing to learn more about the re-launched Team Maranello Concessionaires, there is now a new web site dedicated to the historic race team. Launched recently, www.maranelloconcessionaires.com will provide access to a whole host of information, including:
The latest news about the team's endeavours in the 2003 FIA GT Championship, as it is written.
A comprehensive history of the team charting the successes during the sixties in the hands of such names as Graham Hill, Sir Jackie Stewart, Jack Sears etc.
Driver profiles, featuring video interviews with the team's 2003 drivers Kelvin Burt, Jamie Davies (2002 British GTO Champion driving for Veloqx Motorsport), Andrew Kirkaldy, Tim Mullen and Darren Turner.
A library featuring stunning photography of Veloqx Motorsport on their way to victory in last year's British GT Championship, shots of the team's three cars in action during the Ferrari Maserati Festival 2002 at Brands Hatch with special guest, Ferrari's Ross Brawn, and the team's recent launch at Tower Garage in Egham, Surrey, the historic home of Maranello Concessionaires Ltd .
The latest Sky Sports TV broadcast schedule under the banner of 'TMC ON TV', providing up-to-the-minute details of the transmission times of the team's unique fly-on-the-wall documentary series.
Story and Photos – TMC - copyright
To see all Ferraris For Sale on Classic Driver please click here.