STOP PRESS - CLICK HERE TO VIEW THE LATEST BONHAMS GSTAAD LOTLIST
Bonhams' much-anticipated annual Sale of Fine Ferraris at Gstaad's charismatic Palace Hotel on December 19th will star the extraordinary Lepeltier Collection of 14 Ferraris – ranging from a 1961 250GT Short-Wheelbase Berlinetta, through the 1972 Geneva Salon 365GTB/4 Daytona to a pair of low mileage modern Ferrari classics, the 1984 288GTO and the 1989 F40 – the latter having covered barely 3,000kms in its life.
Michel Lepeltier was a hard-working Swiss garagiste, whose small family-run garage and local shop was situated in Thonex, just outside Geneva. A lifelong Ferrari enthusiast, he saved money assiduously until, in 1964, he was able to realise an ambition by buying a year-old Ferrari 250GT Lusso, a beautiful Berlinetta finished in dusky Rosso Rubino paintwork.
This exquisite Lusso has been preserved ever since – complete with its original and rare paintwork and leather - within the collection, and as Michel Lepeltier and his wife Denise thoroughly enjoyed using it, so they buckled down and worked even harder, built their always small garage business into an even more successful enterprise and became able to indulge their passion with further Ferraris.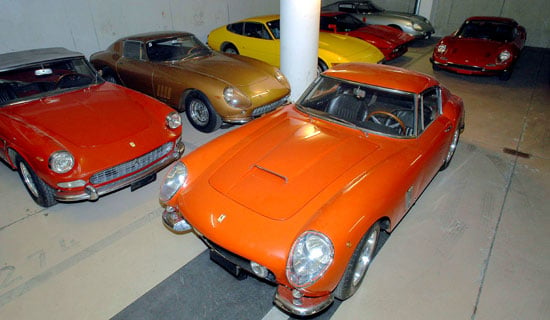 In March 1972, Michel Lepeltier saw the bright yellow 365 GTB/4 Daytona displayed on Ferrari's Geneva Salon stand and bought it immediately. This magnificent acquisition was followed in 1973 by the steel-bodied Ferrari 250GT SWB Berlinetta, which Lepeltier bought second-hand and which is one of only two such cars known featuring fared-in covered headlight nose treatment.
As offered for sale by Bonhams at Gstaad, the Lepeltier Collection today also features two Ferrari Dino models plus their successor, the early dry-sump engined 308GTB with bodywork in glassfibre (Vetroresina) – this striking car also wearing one of the rarest of all factory paint options, Verde Germoglio…peppermint green. After some 27 years in the Lepeltier Collection, this most attractive 'affordable Ferrari' has seen as little as 7,900kms use.
Michel Lepeltier also acquired two front-engined 3.3-litre V12 Ferrari GTBs, a startling gold-liveried 2-cam car – which is to be offered at Gstaad with only 25,500kms recorded since new – and a 1967 275GTB/4 4-cam example. The only open car in the collection is a sister Ferrari 275GTS model, which is equally certain to arouse tremendous interest from would-be buyers.
In 1980, the Lepeltiers added a brand-new bright red Ferrari 512 Berlinetta Boxer supercar – which at Gstaad is to be offered with only 9,067kms 'on the clock'.
The full inventory of Lepeltier Collection Ferraris to be offered for sale includes:
1971 Ferrari 246 GT Dino
1961 Ferrari 250 GT SWB Berlinetta
1963 Ferrari 250 GT Lusso
1973 Ferrari 246 GT Dino
1965 Ferrari 275 GTB
1966 Ferrari 275 GTS
1967 Ferrari 275 GTB/4
1969 Ferrari 365 GTB/4 Daytona
1972 Ferrari 365 GTB/4A Daytona
1974 Ferrari 365 GT4 BB
1976 Ferrari 308 GTB Vetroresina
1980 Ferrari 512 BB
1985 Ferrari 288 GTO
1989 Ferrari F40
Every one of these Lepeltier Collection Ferraris is to be offered in highly original condition, every one of them having been acquired either brand-new or, in most cases, when second-hand from the first owner.
The Lepeltier Collection presents examples of every prominent production road-going Ferrari manufactured between 1961 and 1989. The Collection has not been seen in public for well over a decade and Gstaad is to be the first occasion on which any of these cars has been offered for public sale.
Michel Lepeltier fell victim to a would-be car thief in France in 1990 – being fatally shot during an apparent attempt to prevent the theft of his recently-acquired F40. Partly in consequence this car is to be offered at Gstaad as one of the lowest-mileage examples of its type still surviving – with only 3,000kms recorded.
Simon Kidston, President of Bonhams (Europe) SA, said: "Having been working for over five years to secure this remarkable collection for sale we are delighted to be able to offer it at Gstaad on December 19th – the timing is perfect given the ever greater interest amongst collectors for unrestored cars of impeccable provenance."
For further details please contact -

Bonhams Europe
10 Rue Blavignac,
1227 Carouge,
Geneva
Switzerland

Tel; +41 (0)22 300 3160
Fax; +41 (0)22 300 3035

E-mail; [email protected]
Bonhams Europe also conduct Private Treaty Sales. CLICK HERE for a current stock listing.
In addition to The Lepeltier Collection, the Sale will feature many more rare Ferrari models including -



1972 Ferrari 365GTB/4A Daytona Competizione, an ex-NART team car which placed 6th overall at Le Mans in 1972 (2nd in class) and came 6th overall (1st in class) at the Watkins Glen 6 Hours the same year. It raced at Daytona as late as 1977 and has been in the same ownership since February 1985. One of the best Group 4 Daytonas of the 15 originals made.
Estimate; $US1,5 - 1,8m.


| | |
| --- | --- |
| Ferrari 330 America | Ferrari 342 Pininfarina America |
1997 Ferrari 550 Maranello GT ex-Le Mans 2003
Classic Driver are delighted to announce that all the motor-car lots for the December 19 Auction are included in their car database. CLICK HERE to see all the lots in the sale.
Click HERE to view the lotlist.
Bonhams next UK Sale is at London, Olympia, on 1st December.