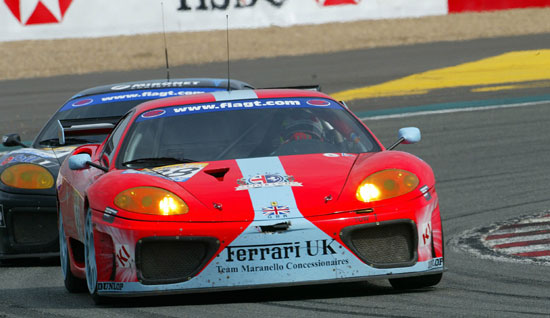 After a weekend fraught with emotion, Brackley-based Team Maranello Concessionaires secured first and second places in N/GT with cars number 89 (Kelvin Burt/Darren Turner) and number 88 (Jamie Davies and Tim Mullen) respectively during the second round of the closely-contested FIA GT Championship.
After the two qualifying sessions which resulted in car 88 starting from sixth in class on the grid, and car 89 in ninth position, the race was always going to be full of drama, action, and excitement. Pit stop strategy was critical to success, with car 88 requiring a short 'splash-and-dash' with less than fifteen minutes to the chequered flag. Car 89, working to an alternative race strategy, completed the three hour race having stopped just once shortly after the half-way point. Tim Mullen started in car 88, handing over to 2002 British GTO Champion (with Veloqx Motorsport), Jamie Davies. Darren Turner (starting) fought his way up the grid and handed over to team mate, Kelvin Burt. The last 20 minutes of the race witnessed a closely-fought battle between both TMC Ferraris and the Porsche of Stephane Ortelli. Two spins for car 89 ensured plenty of drama for the team as well as Burt, who recovered from both incidents to achieve victory for the famous red with Cambridge Blue-liveried Ferraris.
Kelvin Burt: "Bearing in mind that I had not driven at Magny Cours before this weekend, and I did not have any time on Friday due to the engine problem, I'm clearly overjoyed with this result. It was extremely exciting during the last 20 minutes, with Stephane (Ortelli – car number 50) and I enjoying each other's company! Altogether, great racing!"
Jamie Davies: "Tim (Mullen) and I were working to a different strategy to car 89 and this meant we stopped twice for fuel. We also had a problem with the gearbox which hampered our performance and we had to be careful with our fuel consumption. It was down to the wire at the end and a second place is great news."
Tim Mullen: "This is a great result for the team! I had an exciting few laps dealing with an oil spill from one of the Porsches. Otherwise, an uneventful drive but I'm clearly delighted to be sitting in joint first place in the Championship at this early stage of the season."
Darren Turner: "I wish I'd driven the last 20 minutes! Wow! It's always exciting towards the end of the race once everybody has completed their stops and each driver knows where he is and what he needs to do. It was an emotional time on the pit wall with the team and everybody was really pleased that the strategy worked so well. After Friday's fright (engine failure in car 89), it's been a brilliant day!"
"A dream result for the drivers and team," said Rod Benoist, TMC's Team Manager. "The guys worked so hard to replace the engine for Kelvin and Darren on Friday and a win is just reward for everybody. We now lead both the drivers' and team Championship which is just where we want to be at this early stage in the season. The team now can't wait to race at Enna in a few weeks time."
* Due to an alleged technical infringement, car 89 has been excluded from the race result by the Stewards. An appeal has been launched by the team.
For more information on Ferrari in the UK please visit www.ferrari.co.uk
For more information on Team Maranello Concessionaires please visit their excellent new website www.maranelloconcessionaires.com which not only covers the activities of the new, 2003, Team but also features a lot of historic material from the 1960s and 70s.
Text & Photos: Team Maranello Concessionaires