As Strong As Ever: Gooding and RM's Amelia sales gross $55m
INCLUDES FULL RESULTS. The smallest of the 'big three' US auction events, Amelia Island in 2013 nevertheless showed that interest in collectable classic cars is as strong as ever.
Both RM Auctions and Gooding conducted one-day sales, with customarily high-quality catalogues featuring blue-chip investor cars very much in the news at the moment (just about any Enzo-era Ferrari, plus 'DB' Astons, 300 SL Mercedes and rare Porsches). These were joined by more traditional fare from the golden, inter-war era of American elegance.
There were also some highly sought after 'earlies'; big-engined cars from the pioneer era always so popular at an American auction. Cars such as the 1911 Lozier Model 51 Seven-Passenger Touring sold by RM for a very 21st Century USD 1,100,000.
Gooding & Co., 8 March
David Gooding and British auctioneer Charlie Ross started proceedings on the Friday, conducting a $28m sale that saw 96% of cars sold. An impressive eight lots broke the million-dollar mark, with the 1928 Bentley 4 1/2 Litre Semi-Le Mans Tourer (below) leading them home at USD 2,750,000.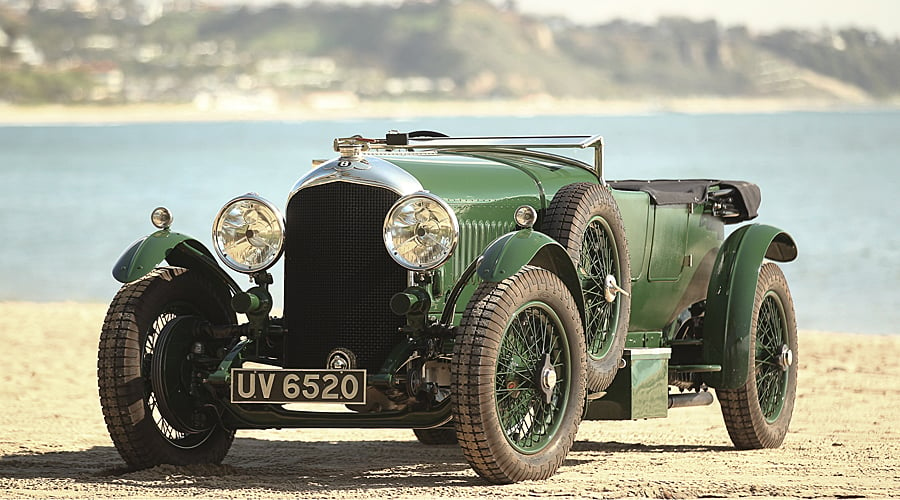 Close on its heels were two very different motor cars: the USD 2,365,000, alloy-bodied, long-nosed 1966 Ferrari 275 GTB and the 1929 Rolls-Royce Phantom I Derby Speedster (USD 1,980,000), a rakishly elegant car perfect for the concours lawn.
Other big-sellers included the yellow, top-estimate 1973 Porsche 911 Carrera RS 2.7 (USD 550,000) and the 1995 Ferrari F50 which sold for USD 1,375,000 – my goodness, aren't these two models appreciating in value? And what about the 1969 Ferrari 365 GTC (top) formerly the property of Woolworth heiress Barbara Hutton? The car, resplendent in its orginal Rosso Speciale (in fact, 'Lipstick Coral') paintwork, sold for USD 1,072,500.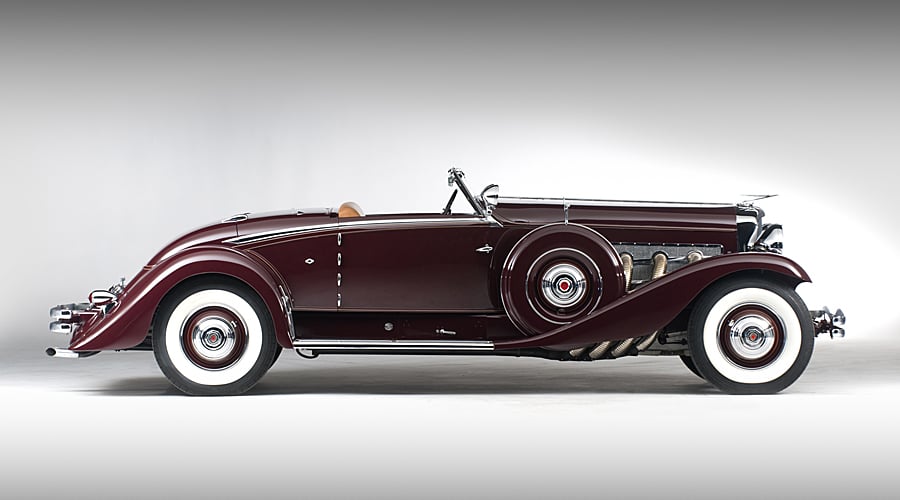 RM Auctions, 9 March
As with Gooding, RM's top seller was an older car, the 1935 Duesenberg Model SJ Convertible Coupé (above) which achieved a very strong USD 4,510,000 – by some margin the most expensive car sold at Amelia Island this year.
Other significant inter-war Americana of the finest order selling at RM's event included the 1933 Stutz DV32 Convertible Victoria (USD 1,512,500) and the 1930 Cord L-29 Sport Cabriolet (USD 990,000).
Shelby Cobras and GT350s are popular entries and RM had one of the most desirable Cobras in the form of a genuine 'side-oiler' big block 1966 Shelby 427 (below) that went for USD 836,000 and two Mustang GT350s. The 1965 car, restored and really in top order, sold for USD 242,000 and the '66, a fantastic road/track car with many 'R' modifications, achieved USD 154,000.
On the Ferrari front, potential buyers had to be quick on the 1965 275 GTB as bids came thick and fast, the red berlinetta finally selling for a strong USD 1,375,000.00. The interesting 1952 225 Sport Berlinetta Tuboscocca raised USD 1,237,500.
Finally, picking interesting results from the 92% of lots that sold in the USD 26,854,600 sale, how about USD 489,500 for the 1966 Aston Martin DB6 Vantage? Or USD 220,000 for the quite superb 1955 Mercedes-Benz 190SL Roadster?
And one for the Classic Driver office? It's a roll of the dice between the USD 110,000, 1953 Allard K3 and the grey metallic 1967 Lancia Flaminia Super Sport by Zagato, a good 'Aston/Ferrari alternative' for USD 192,500.
Related Links

Gooding at Amelia Island, 8 March 2013: Results

RM Auctions at Amelia Island, 9 March 2013: Results


Text: Steve Wakefield
Photos: RM Auctions / Gooding & Co. - All Strictly Copyright