Spyker D12 Peking-to-Paris
Dutch luxury car manufacturer Spyker launched its latest model at Geneva this week. From the company that has brought the world individual coupes and cabrios - a Super Sports Utility Vehicle. The Spyker D12 Peking-to-Paris is a four-wheel drive, four-door, luxury four-seater with a spacious interior and a high performance W12 500 bhp engine.
The new Spyker features rear-hinged rear doors, and is powered by the 6.0 litre, 12 cylinder, 500 bhp W12 engine from Volkswagen. It will accelerate from 0-100 KM (0-62 MPH) in 5.0 seconds, and top speed is 295 km/h (185 mph). The six-speed automatic transmission features a multifunctional steering wheel with F1 style shift paddles, a triple dashboard designed in the style of an airplane cockpit, and a sumptuous interior. The vehicle has an all-aluminium body fitted to an aluminium space frame, and sits on 24" Aeroblade ™ wheels. It has a length of 4.95 m, a width of 2.0 m excluding mirrors, a minimum height of 1.68 m and a maximum height of 1.77 m and weighs 1895 Kg. The fuel tank capacity is 100 litres (22 gallons).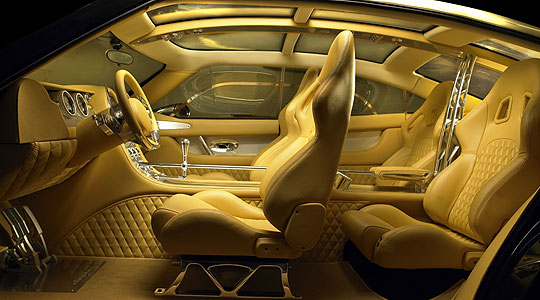 Victor Muller, CEO Spyker Cars, says: "We have high expectations for the new SSUV. Its future looks extremely promising and we have already received numerous orders based solely on the design drawings. We expect the car to be very popular in our primary markets such as the Middle East, the United States and China, its sales numbers likely exceeding those of our sports cars. Our SSUV combines high speed performance with excellent off-road capabilities whilst offering its passengers a spacious and luxurious cabin as well the exquisite Spyker signature cockpit interior. It will come standard with state of the art AP Racing carbon ceramic matrix brakes and Koni FSD shock absorbers."
Production is due to start in the fourth quarter of 2007.
Text: Classic Driver
Photos: Spyker
---
ClassicInside - The Classic Driver Newsletter
Free Subscription!