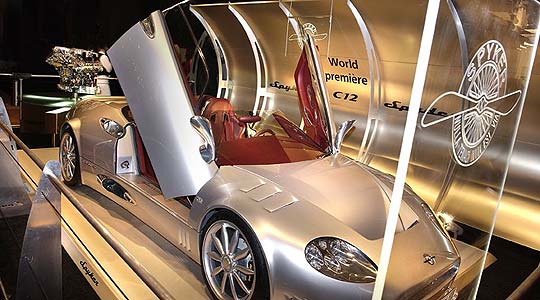 On Thursday 9 December at 10 pm Tom Coronel, Spyker's race driver during the 24 hours of Le Mans 2003, and Victor Muller, CEO and Founder of Spyker, unveiled Spyker's latest prototype the Spyker C12 Spyder, a magnificent car in distinguished silver and red. It will be the first Spyker powered by the 6-litre W12 Audi engine. Tom Coronel and Victor Muller then continued to introduce the prototype of the limited edition platinum version of the Chronoswiss Spyker Double12 Pilot Watch. Only 48 pieces of this highly exclusive watch will be made.
Victor Muller, CEO Spyker Cars says: "I am extremely proud to present this prototype as an extension of our range of super cars. Assuming customer demand meets our expectations this car could go in production sometime in the last half of 2006."
Powerful Passion

The Spyker C12 Spyder will be the first Spyker to run on the extremely powerful 6 litre Audi W12 dry sump aluminum engine. This car will have a power output of 500 BHP and a gigantic torque of 600 NM. Top speed of this light weight road racer is 325 km per hour with an acceleration of 0-100 km/h (0-60) in less than 4 seconds. Weight of the car is a mere 1400 kg. The car will be fitted with a manual six-speed gearbox or an automatic gearbox with pedal shift. The C12 Spyder is fitted with Spyker's in-house designed 19" Aeroblade™ wheels. Further specifications include rear wheel drive with limited slip differential, ABS and an aluminum space frame with integrated roll cage. The exhaust makes the overwhelming signature Spyker sound.

The price, including glass hard top, is estimated to start at 290.000 Euro, excluding any taxes and ex factory.
This new prototype model brings Spyker's long wheel base range up to three different models: the eight cylinder C8 Double12 R (Le Mans race car) and C8 Double12 S (street version) and the twelve cylinder Spyker C12 Spyder (open version). The total Spyker range is now up to 6 models.

Muller continues: "Clients have repeatedly asked us for a Spyder version of the Spyker C8 Double12 S. Now we have not only complied with their wishes but have exceeded their expectations by providing a new super car with an extra powerful and exclusive engine."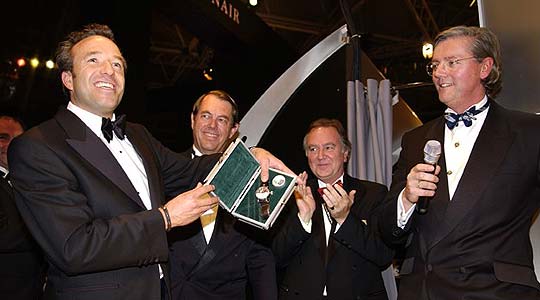 Timeless Passion in Platinum

The prototype of the highly exclusive edition of the exquisite platinum version of the Chronoswiss-Spyker Double12 Pilot Watch was also introduced during the Miljonair Fair. The watch is limited to only 48 pieces worldwide. The watch with the model number CH 6430 SPY has a platinum case, a diameter of 44.0 mm and a height of 12.3 mm. Both Chronoswiss and Spyker logos are featured on the dial. Each watch is individually numbered. The recommended retail price is 34.700 Euro. The first delivery is expected by August 2005. The platinum version of the watch comes with an extra large aluminum box and Spyker scale model car. Spyker owners can have their own chassis number engraved in the case.

All Chronoswiss-Spyker Double12 pilot watches are available through the Chronoswiss Benelux distribution network as well as through all Spyker dealers worldwide.

Spyker and Chronoswiss joined forces in 2003 to design outstanding timekeeping equipment for the Spyker cars. Gerd Rudiger Lang, CEO and Founder of Chronoswiss designed an exclusive Chronoswiss Spyker dashboard and the Chronoswiss-Spyker Double12 Pilot Watch. The name of the watch pays tribute to Spyker's aviation heritage and racing tradition. The watch was inspired by the Spyker C8 Double12 R and named after the famous speed races which, in the past, were held in two 12-hour laps. Though it would seem that Chronoswiss has been around for centuries, it was founded in 1983 by the Master Watchmaker Gerd-Rudiger Lang. In a short period of time, Chronoswiss has established itself as an example of excellence for the watchmaker's art and trade.
Text/Photos: Spyker
---
ClassicInside - The Classic Driver Newsletter
Free Subscription!