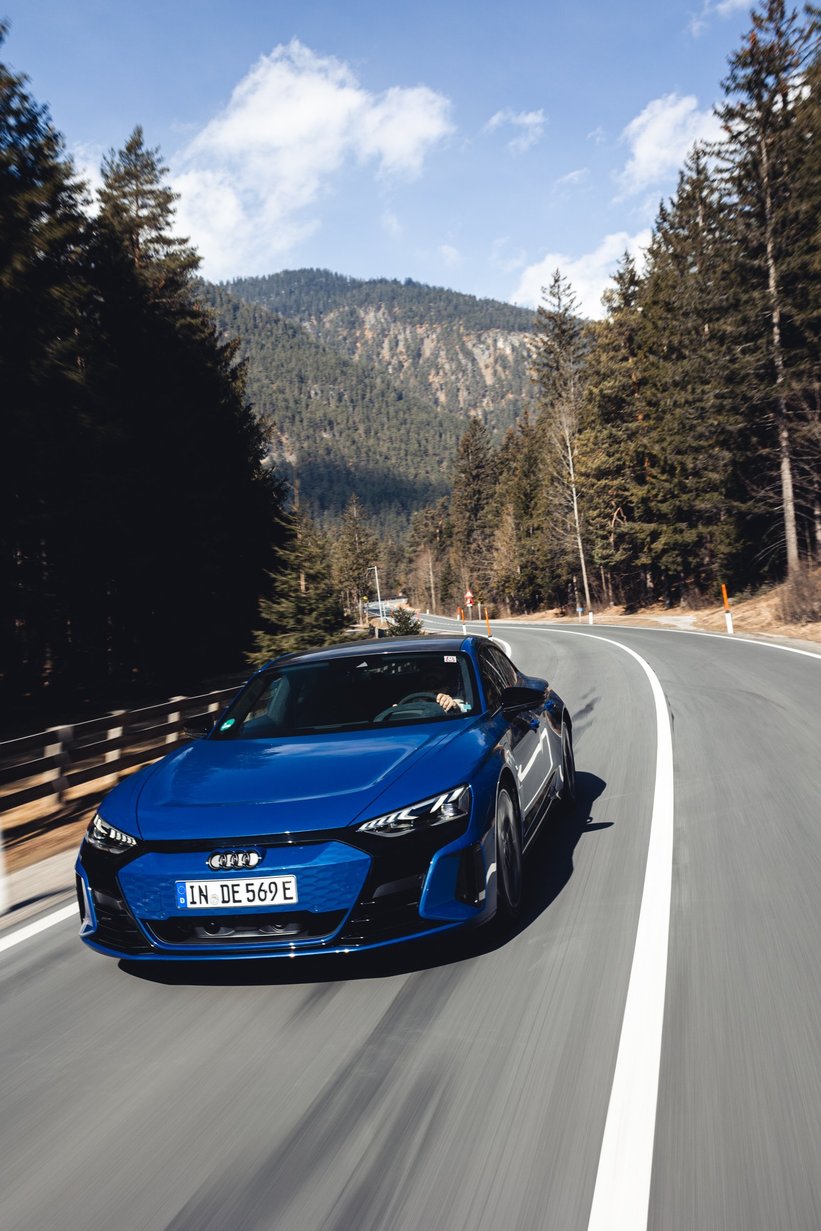 One early Monday morning in March, we leave Munich Airport in a rush and head towards Hochgurgl, a skiing resort located at the very end of the majestic Ötztal valley. You might not have heard of this particular point on the map, but you are probably aware of neighbouring Sölden. The Las Vegas-style, Austrian ski resort, which is a gateway to one of the coolest James Bond museums in the world, called "007 elements", is on the way to Hochgurgl. The name might not be very easy to pronounce for non-German speakers, but it is worth a visit - not only for skiing. There is a great Motorcycle Museum located on top of the mountain and, as luck has it, the rescue helicopter hangar built right behind it with spectacular 270° degree views of the surrounding peaks is our actual destination.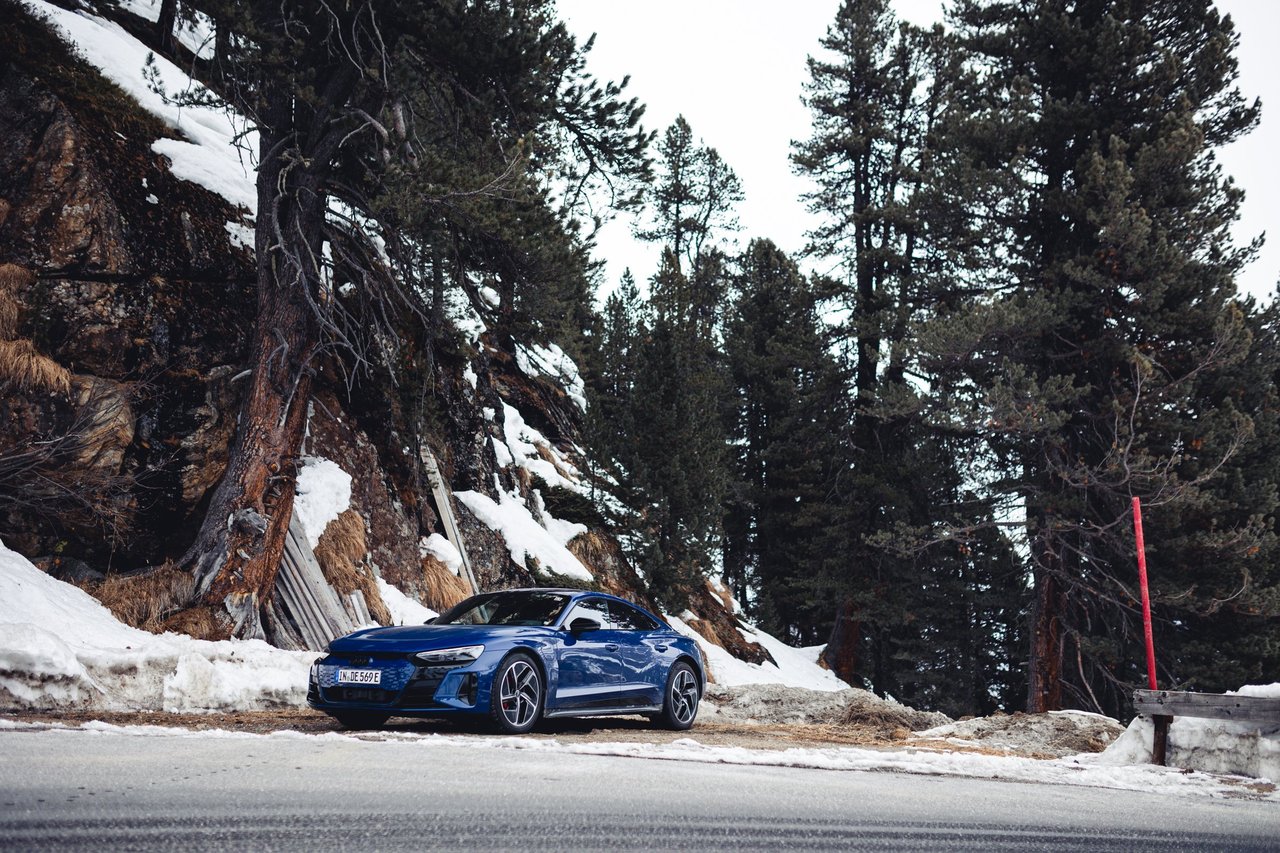 This means we have to cover around 250km today. "Easy-peasy" as the support car for this particular mission - kindly supplied by Audi - is a near identical car to the concept we are about to discover. An Estoril Blau Audi RS e-tron GT. A veritable monster of an electric car with almost 600 horsepower and 830 NM of on-demand electric torque. This helps it accelerate from 0 to 100 km/h in an organ-shifting 3.3 seconds, a feat it accomplishes with ease, despite having to haul around almost 2,5 tonnes of batteries, our little team of three, plus luggage and equipment.
The upside is that with up to 472 km of range, we will surely make it on one charge. Even if the road leads uphill, and even if we engage in a bit of spirited driving as we ascend, encouraged by the permanent quattro four-wheel drive system ND direct steering. We therefore briskly make our way up the passes, while engaging in a bit of "carpool karaoke" with "Sag mir Quando" by Peter Alexander playing from the excellent 16-speaker B&O system.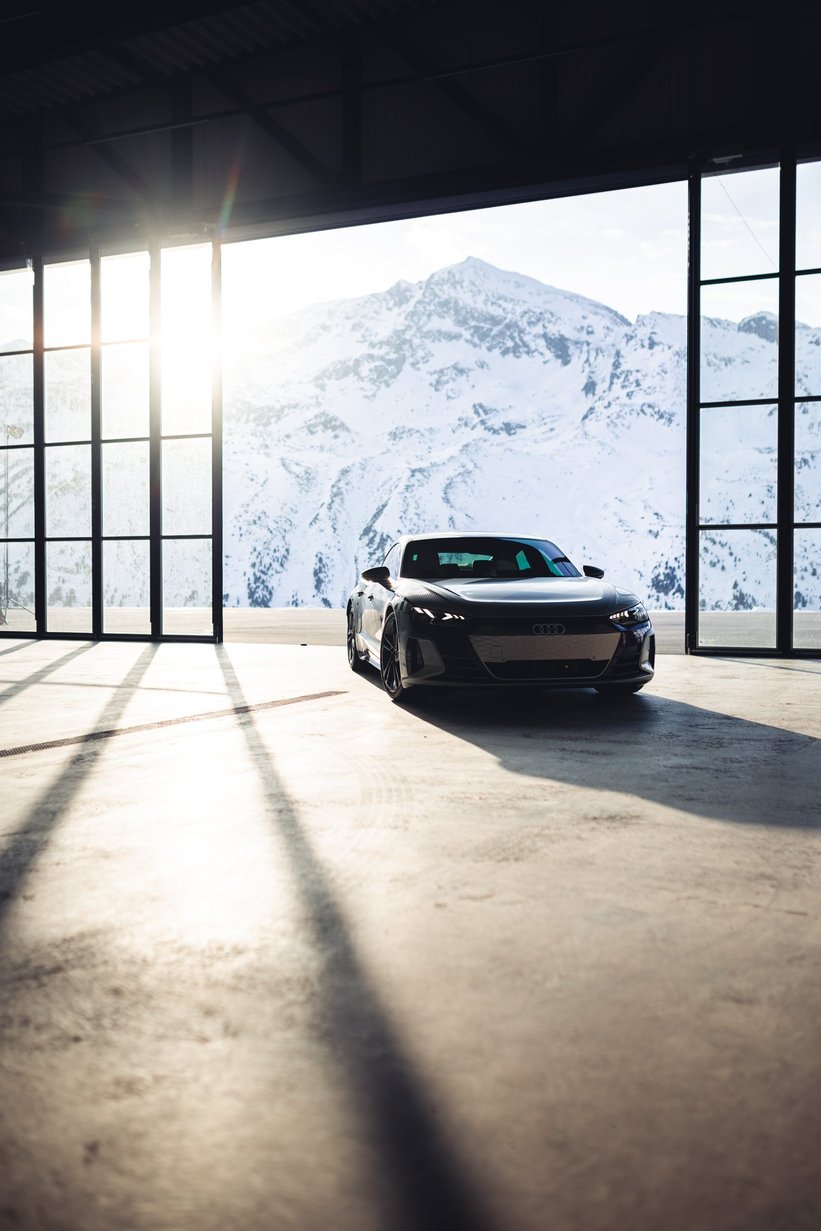 In reality, we wouldn't be able to miss our destination even if we wanted to as it is the final stop on Ötztalstrasse before Timmelsjoch pass, which is closed for the winter. When we arrive, the massive glass hangar door is open. Film lights shine through a six-by-six metre butterfly diffuser and put a spotlight onto the car we came to see, as the photographer takes the stills that will accompany the video produced here today. We park out of sight and approach the set for the first time.
The hero of the week-long shoot is the Audi RS e-tron GT ice race concept. The car celebrates the ongoing collaboration between the Ingolstadt-based brand and the ice driving winter festival in Zell am See - recently rebranded under its umbrella company F.A.T International, which also launches an automotive-themed restaurant called FAT Mankei, located up the famous Grossglockner Hochalpenstraße on May 26th 2023.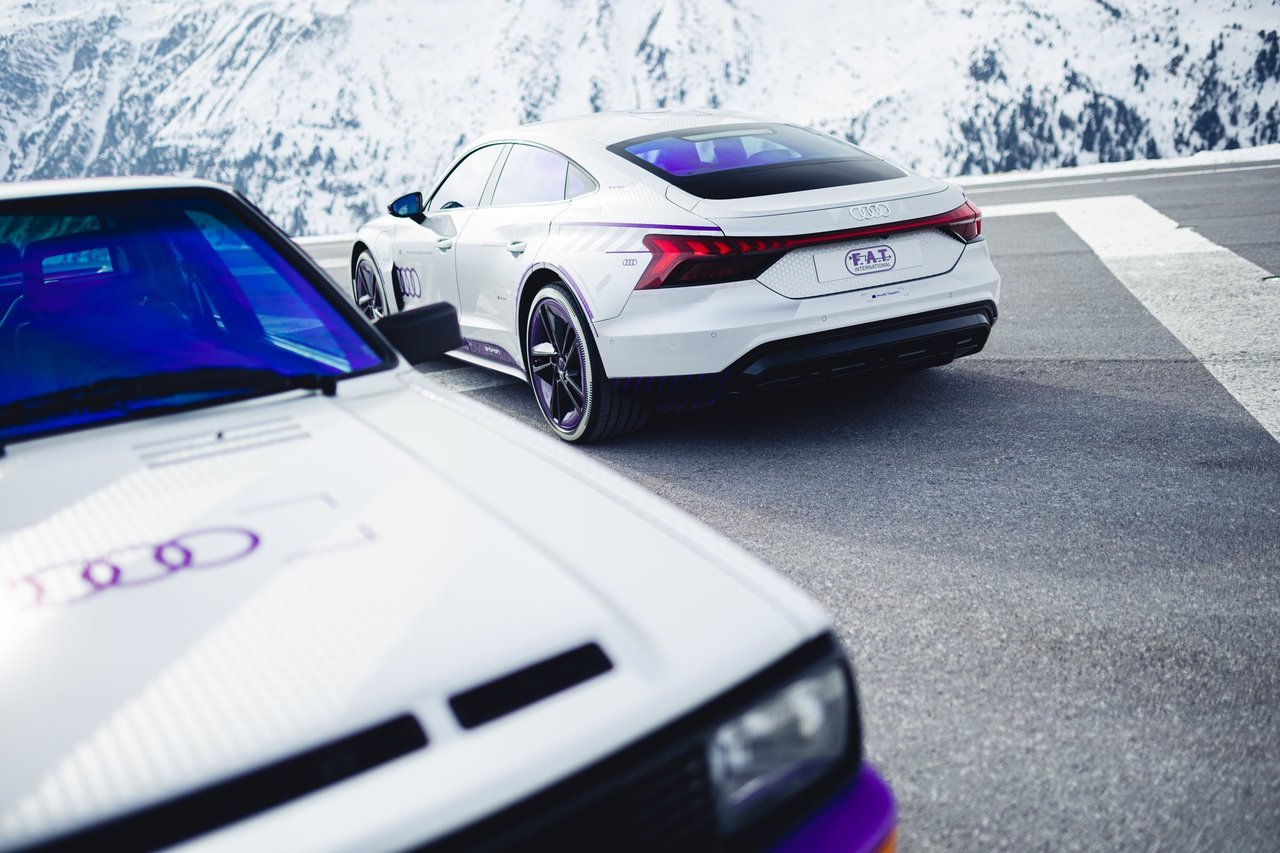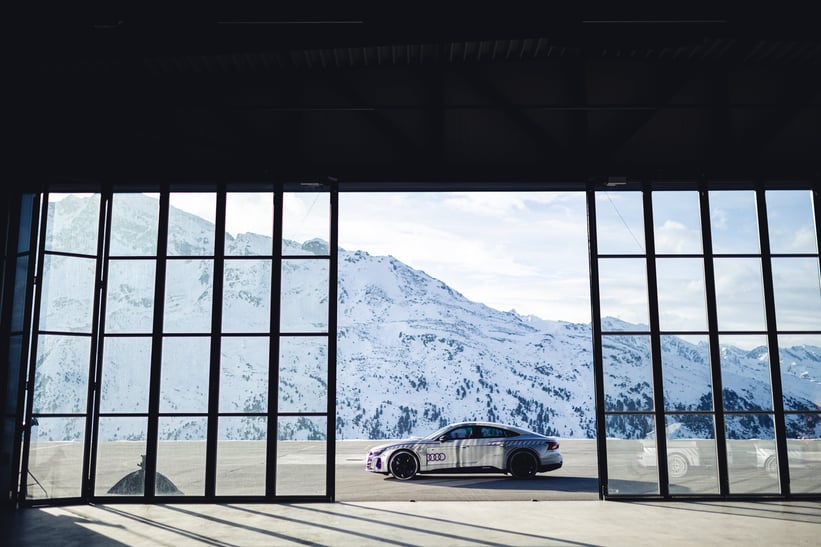 The changes to the car are mostly stylistic, but have a profound effect. We marvel at how the geometric, purple-white and grey livery of the honeycomb mesh pattern accentuates the phenomenal proportions this car has, giving its rounded, almost feminine shapes a surprising edge. We arrived in what is, in essence, an identical car, but now ours looks subdued by comparison. As per usual with this sort of thing, some of the best styling cues would not be possible for a production vehicle. The tinted windows, covered in a special foil that changes colour between green and purple depending on how the light hits it, and the geometric white print on the tire sidewall, which over the next few days almost disappears anyway due to tricky winter conditions, are part of what would not be feasible.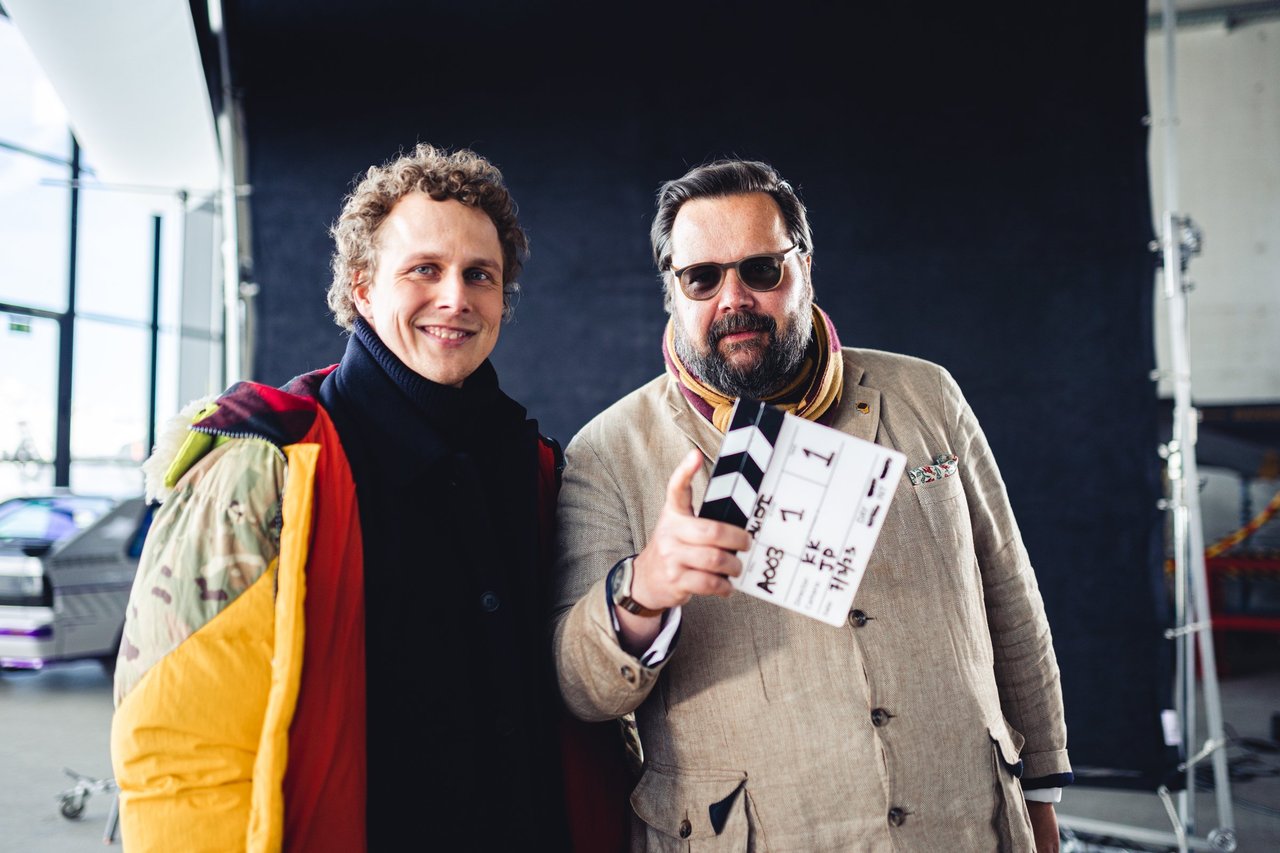 While the crew is preparing to shoot interviews with the projects "spiritus movens", Ferdi Porsche, we discover yet another machine we were not aware of at first. A mint condition 1983 Audi Sport quattro, which for this occasion has been outfitted with an identical styling package to that of the concept car. We are blown away by the effect created by combining a modern, "technological" livery with the 1980's styling of this legendary car, and can only imagine what it must be like to drive the great-grandfather of our Audi RS e-tron GT on Alpine mountain passes at full chat. Scary perhaps? If so, then only because these cars have lately been commanding the same kind of prices as a brand new Ferrari SF90 Stradale at auction.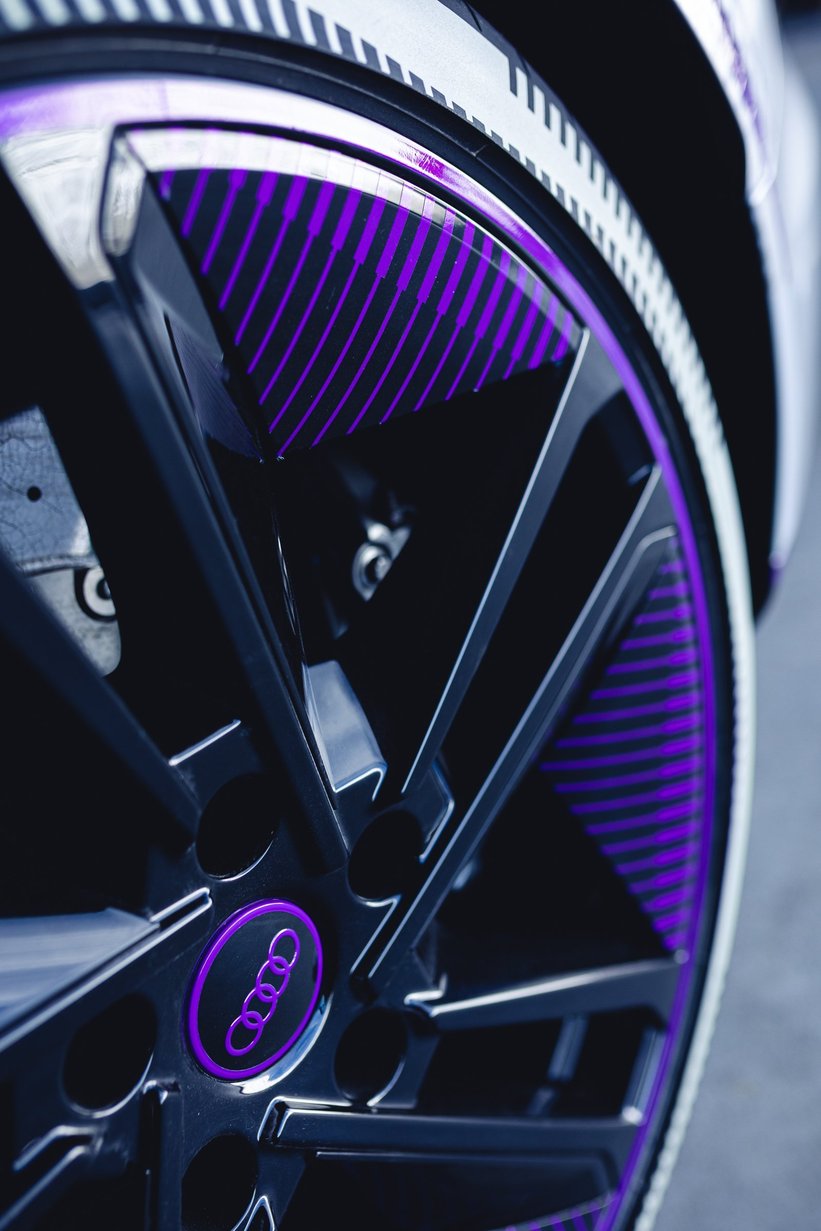 Our two days of shooting interviews and static "beauty shots" of the two cars pass by very quickly. The crew packs up the massive crane and all the equipment. Down the mountain, having charged our car in a little more than 20 minutes on a quick 350kW charger (the car accepts up to 270 kW), we point our own Audi RS e-tron GT towards Kaunertal. The private, spaghetti-like road leading up to the glacier is the perfect spot to safely shoot dynamic on-road rolling shots, but the conditions are less than ideal: minor snowfall, wind, clouds and mist. Fortunately, the crew are prepared. The back of the blacked-out SUV camera car, sporting a composite U-crane arm on its roof, gets outfitted with a massive rubber skirt to prevent spraying the concept and museum car with melted, salty snow. The camera - tightly wrapped in clingfilm - is fitted with a clever contraption that dissipates water by spinning a filter really, really fast right before the lens.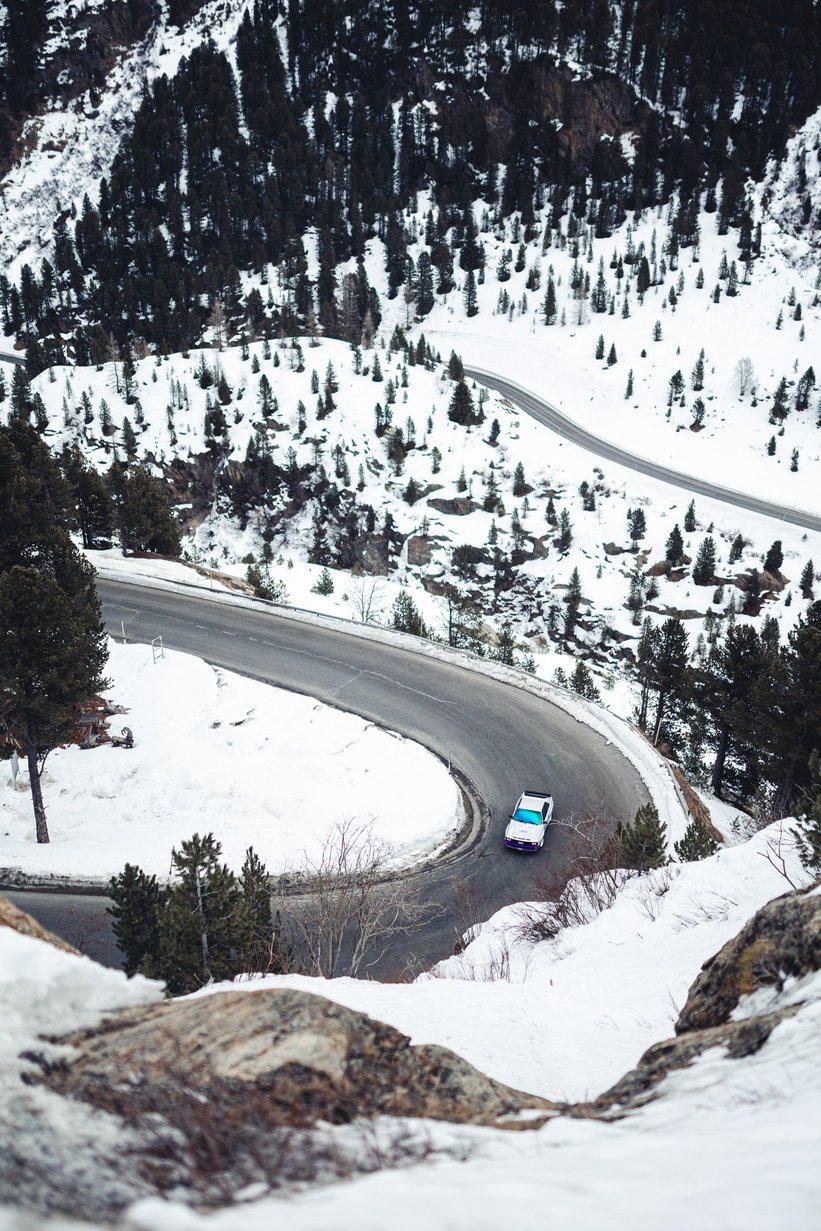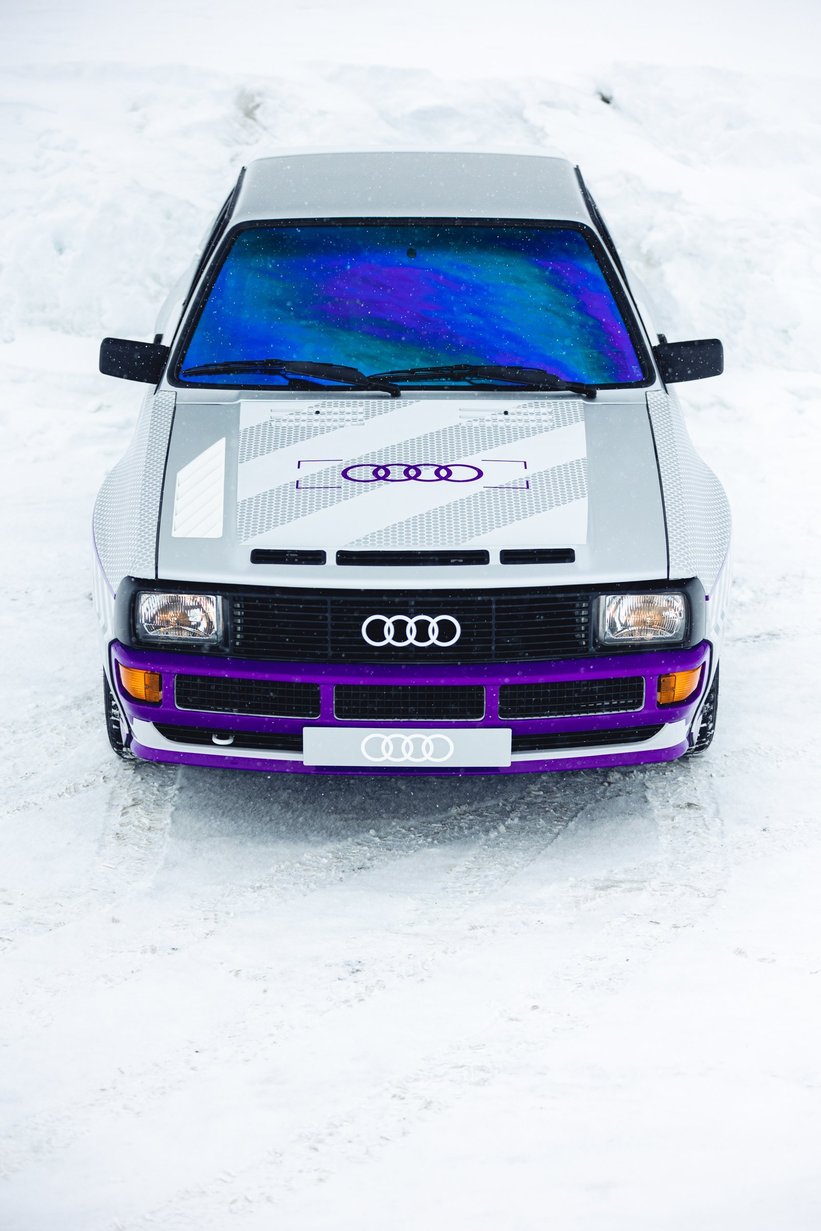 For a day, both cars are driven between snowbanks in what is called "a rolling roadblock", with crew cars spear-heading and closing the convoy in a way that is both safe and efficient. This all means the road can stay open for civilians, but the crew doesn't get unwanted cars in the shots themselves. This pass is definitely popular, as we encounter another massive crew shooting a TV series about mountain rescue personnel for an Austrian network. Lunch is served at almost 3000 meters above sea level, which makes a few of us a bit dizzy. Or maybe it's the launch-controlled starts we tried in both of the Audi RS e-tron GTs, profiting from the road closure.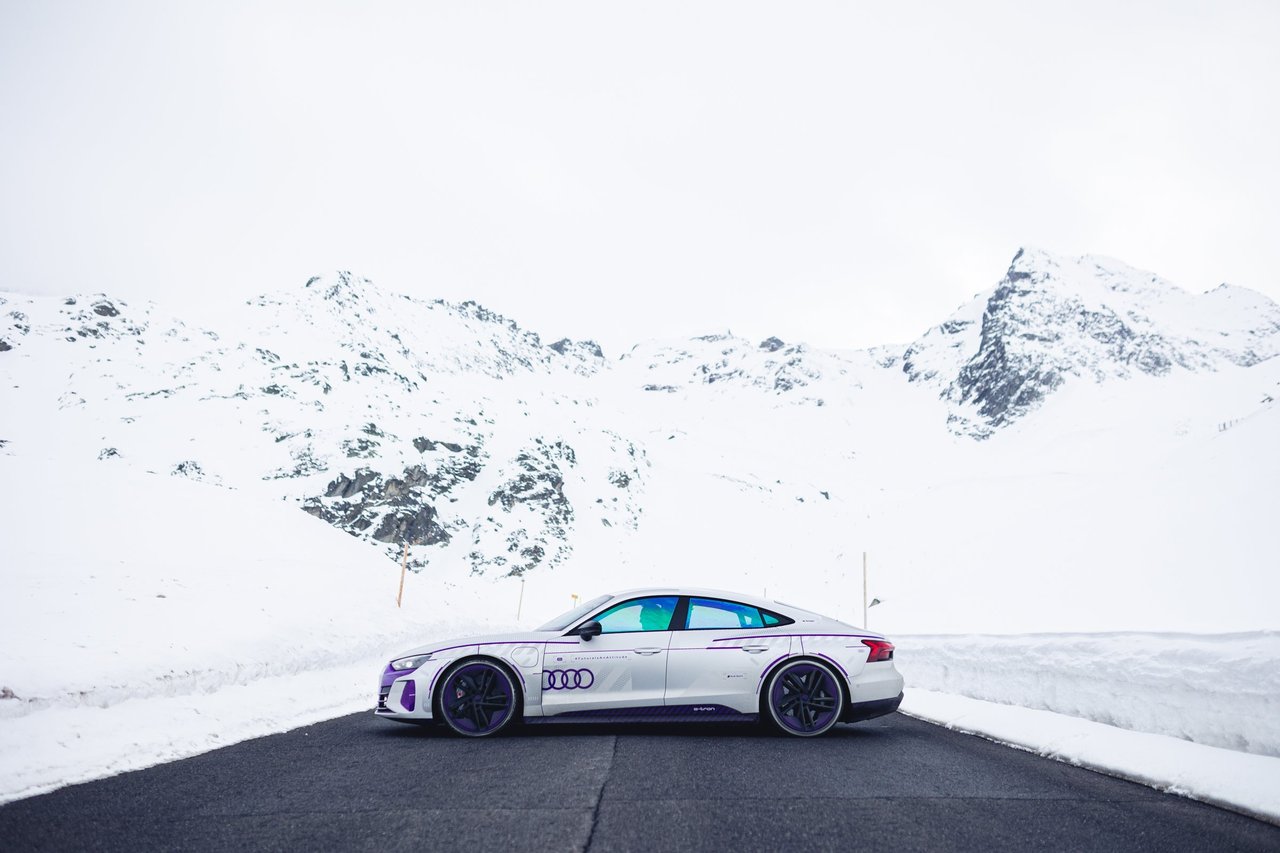 The next day, we head to Davos in Switzerland, traversing mountains on a special car-carrier train. The journey is short and pleasant. Our car gets there with almost 80% charge (having been fully-charged overnight, thanks to a three-phase socket in the hotel carpark and a clever adapter). The fact that we have been mostly moving downhill and regenerating a lot power from braking also helps. The next two days will be spent on a little field at the bottom of the Fluelapass, where some Skijöring scenes will be shot. Legendary Group-B driver Harald Demuth is standing in for Mattias Eckström, who has been recalled on urgent business at the very last minute. We grab the pass barrier keys, kindly provided by production manager, and whisk him away for some photos and a quick chat on the road, which is normally closed for winter.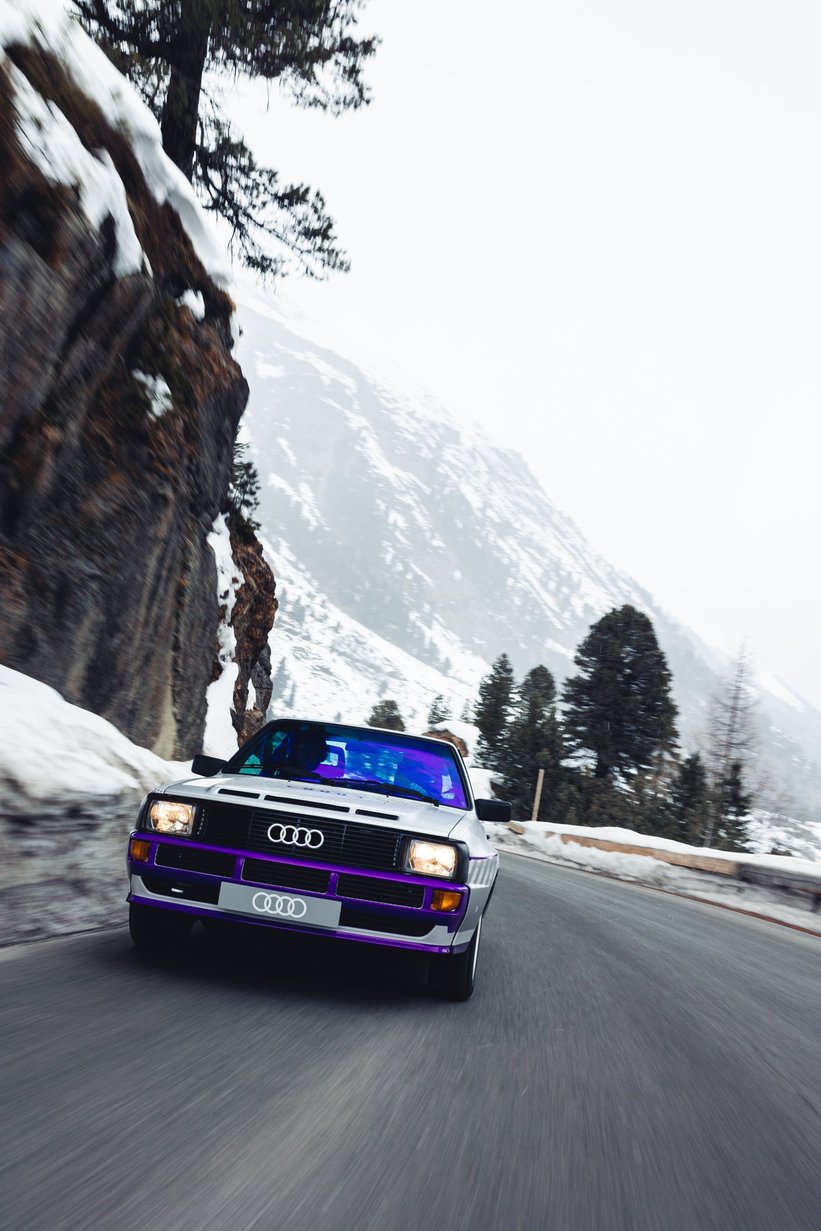 We talk about the crazy days of 1980s rallying and his involvement in the development process of the original quattro. He points out how revolutionary the idea of putting a 4-wheel drive system - derived originally from a Dakar-winning VW Iltis - into a road car actually was. Back then, they were rallying a front-wheel-drive version of the Audi 80 to get a feel for the sport. At the same time, having realised how much quicker the Itis was when the surface was loose or slippery, even with its less-than-sophisticated leaf spring suspension, they were also secretly developing their future weapon. One which, in the coming years, would score 23 WRC victories and two manufacturer and drivers titles in the hands of Röhrl, Mouton and Mikkola.
Is the Audi RS e-tron GT as revolutionary? It can't be compared as it serves a different purpose, but it definitely shows a vision of the future in which driving an electric car can be engaging and extremely fun. Audi still upholds the tradition of doing revolutionary things in motorsport even today, the RS Q e-tron being a good example.
Over the next two days, the crew shoots a massive amount of Skijöring scenes with German skiing champion Frank Wörndl as stunt skier. Frank - whose skis wear a printed a sticker matching the car's livery - patiently goes up and down the field, take after take, first being pulled behind the Sport quattro and then behind the Audi RS e-tron GT ice race concept. The camera car comes back into play, and it's funny to observe how the heavy and powerful SUV can't turn as quickly on the slippery snowy surface as the 1980s rally car.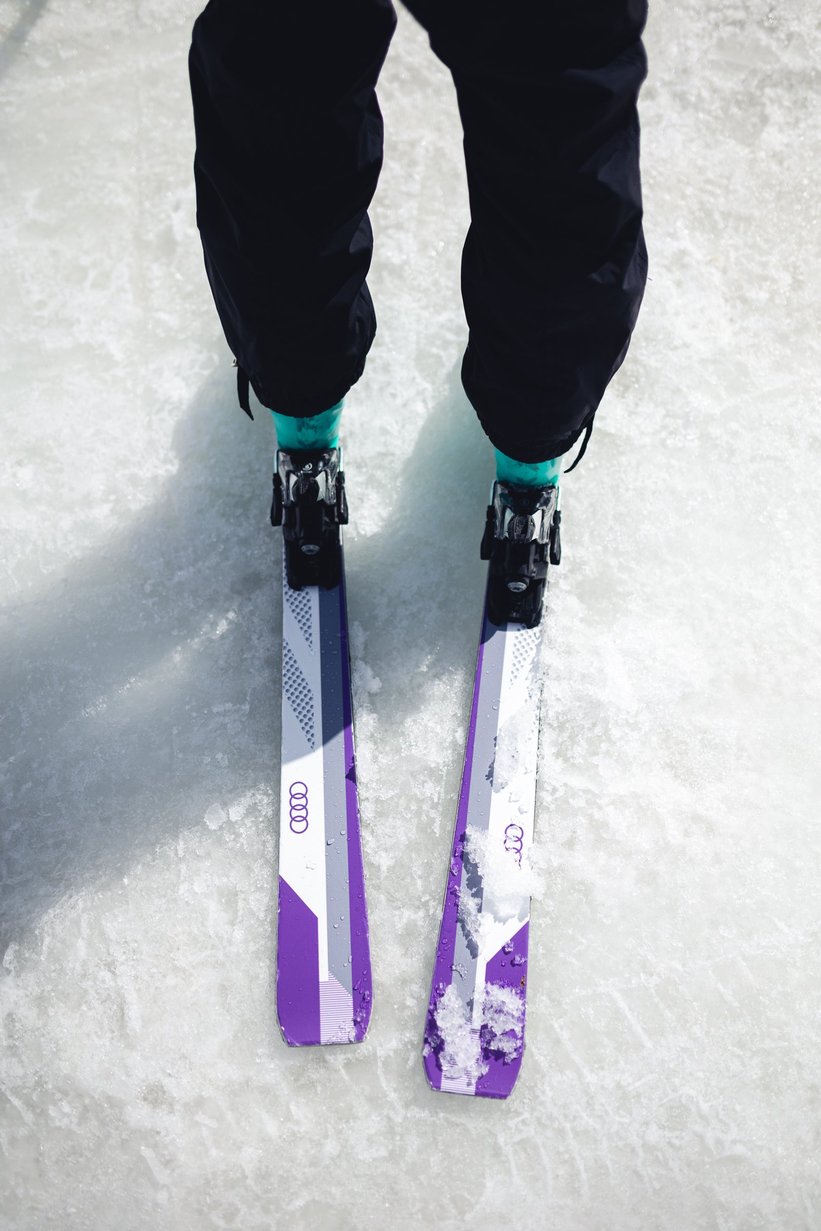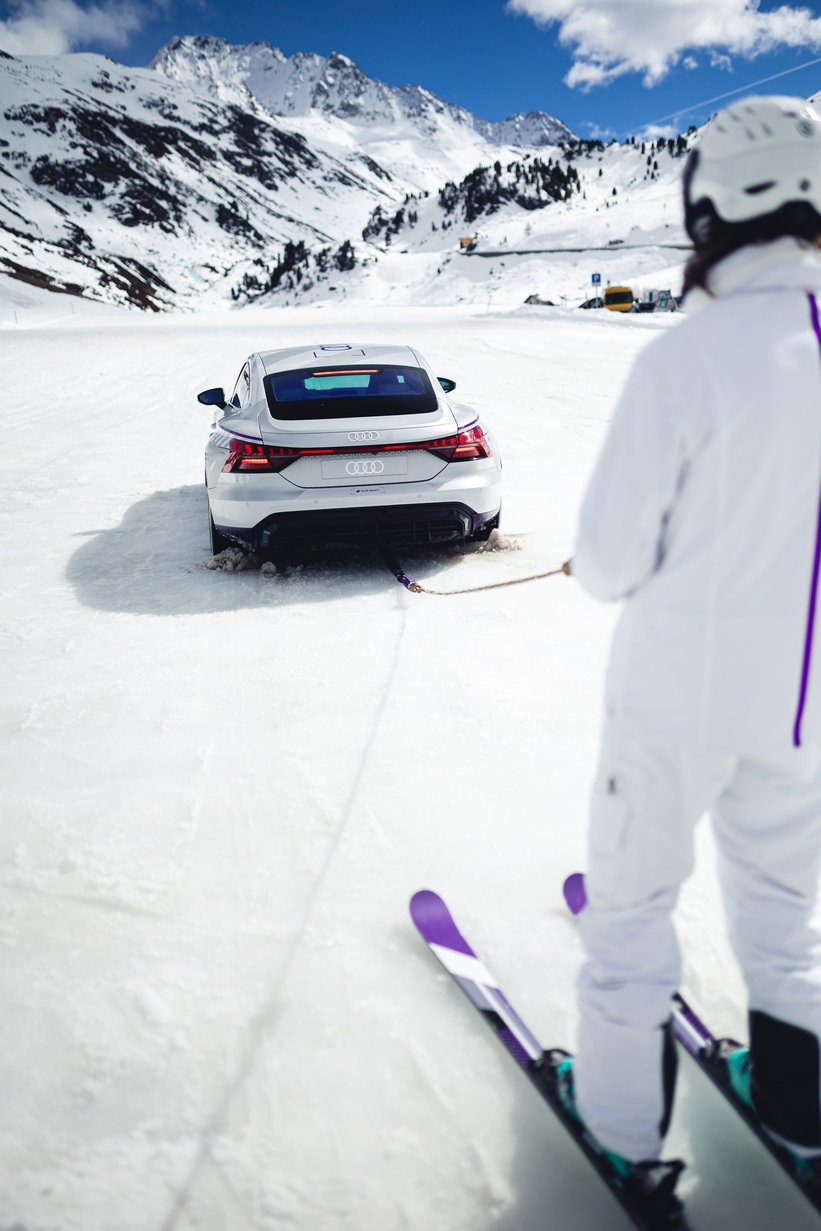 We also get to witness the most menacing drone we've ever seen in action. A quadrocopter which is as fast as a small FPV drone, but capable of lifting a RED Komodo camera with a proper cine lens. The legal requirements for being able to use such a drone, which outfitted with something other than a camera could actually be quite dangerous, are just as mind boggling to us as the precision skills of its pilot.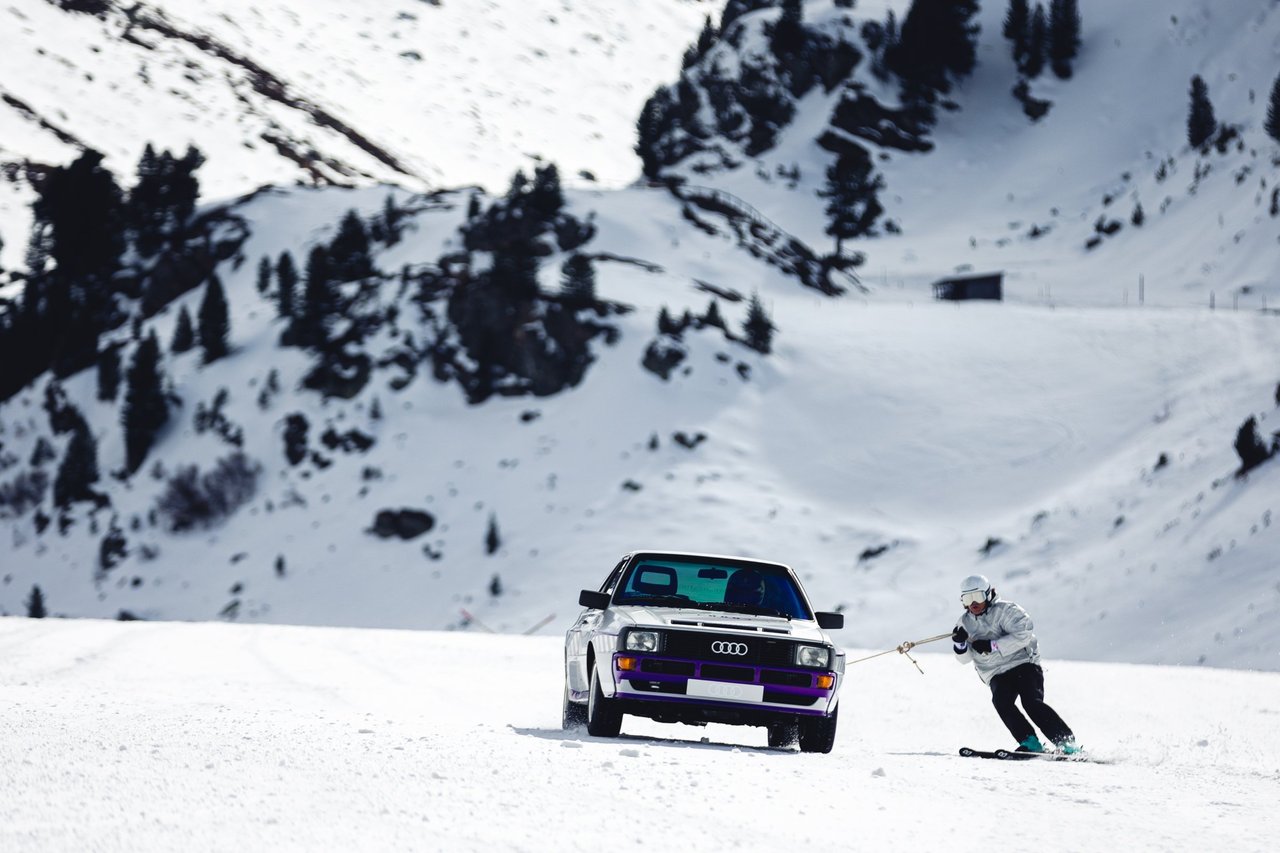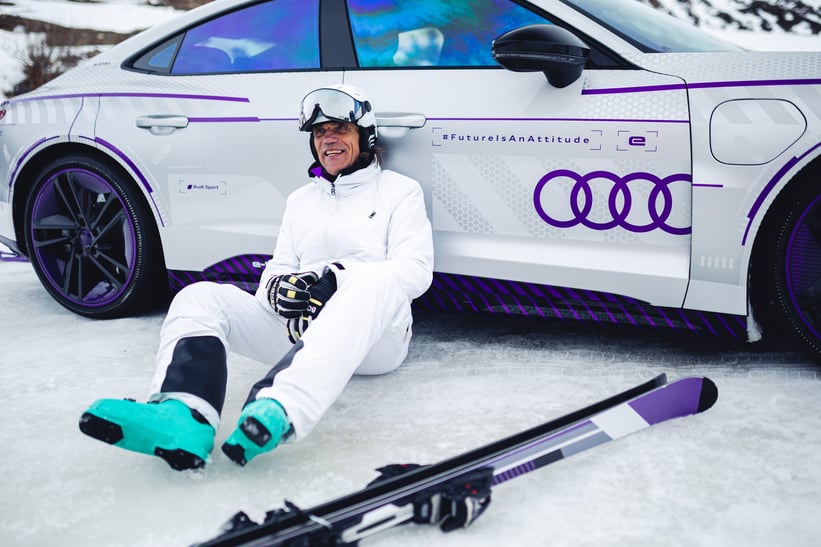 After almost two entire days of sun, the weather moves down the valley and catches up with us. We take one last glimpse at the concept car and discover new details, like the purple stitching in the white leather interior. Everyone says goodbye, one happy family after a week of honest work. And with that, it's a wrap.
Watch the final film
Photos: Mathieu Bonnevie for Classic Driver