Sleeping Beauty Nº7: Maserati 3200GT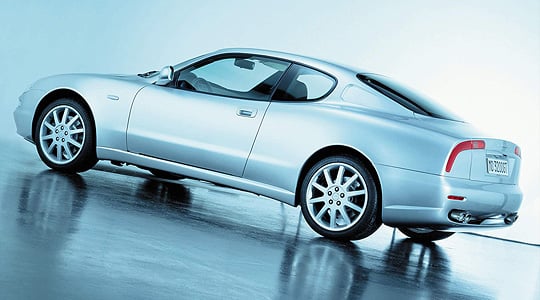 'Jolly hockey sticks.' No, it's not that Maserati's first car under Ferrari ownership was particularly popular with privately educated, well-heeled ladies: it's a reference to the unusually styled rear lights, a trademark of the all-new car.
Since the heydays of the sixties and early seventies, Maserati had stumbled on, producing interesting cars of variable quality until first, its purchase by Fiat in 1993, and secondly, the strategic decision taken by the parent company some four years later to place the Modenese marque directly under the supervision of Ferrari. Maserati has never looked back and, as the brands have moved apart again, is now as strong as ever in its own right.
The 3200GT was the first of the 'Ferrari cars'. It featured a twin-turbo, 3.2-litre V8 from the Quattroporte IV and Shamal that endowed the 2+2 with 170mph+ performance. Styling was by Italdesign and although generally sober – as befitted a Maserati, rather than a Ferrari – was best known for its rear-light treatment, the LEDs fashioned into a 'boomerang', or 'hockey stick' design.
These early cars came with either a four-speed, conventional auto gearbox or six-speed manual. The model was replaced with an updated design in 2002, the 'GT', which did away with the turbos but increased capacity to 4.2 litres. It was, in effect, a detuned version of the 360/430 Ferrari V8 and was (mainly) paired with a robotised manual, six-speed transmission.
Sadly, the new car lost its characteristic stop lights in the process, as they did not meet the US legislation of the time. In 'GranSport' configuration the car was a very fine handling machine with strong V8 performance that could better most mid-engined cars on a track – as well as being a Grand Tourer in the true Maserati tradition. Without doubt, it's the pick of the bunch; but it owes its existence to that first, innovative, immediately recognisable 3200GT.
Do have a look at the Classic Driver car database to see what 3200GTs are available...
Text: Classic Driver
Photo: Maserati


---
ClassicInside - The Classic Driver Newsletter
Free Subscription!