Sleeping Beauty Nº19: BMW Z1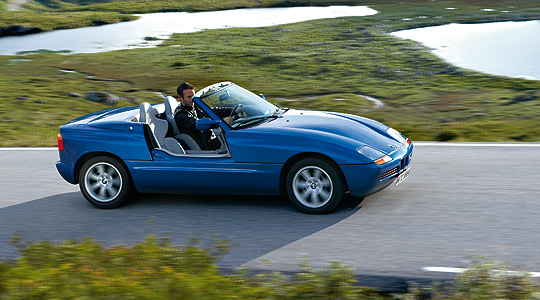 Always a rare beast, the Z1 started as a technical experiment but the BMW Chairman took a big liking to it and the car was shown at the 1987 Frankfurt show. The controversial styling got a favourable reception there, and thus the two-door roadster 'experiment' entered limited production early in 1989.
The 'slide-down' doors got attention as they seemed excitingly futuristic and, technically, the Z1 really was ahead of its time The 'Z' stood for 'die Zukunft', German for 'Future'. New methods of chassis and body construction included replaceable outer panels, 13 in all, some in a new thermoplastic material and some in glassfibre.
The monocoque chassis was made of lightweight steel and zinc, using the latest zinc-welding techniques. The composite floorpan was glued in place. These successful experiments were probably expensive to build but Z1 quality and general refinement were excellent.
The 170bhp straight-six engine, from the 325i, was mounted in the front but 10 inches further back than in the saloon. Tried and tested front suspension was derived from the 3-Series, too, and the Z1's special 'Z-axle' rear suspension was a clever new multi-link set-up. Good traction, excellent roadholding and a superb, near-neutral handling balance were hallmarks of the Z1.
It worked so well that many people felt it was crying out for more power but the top speed of 136mph and 0-60mph time of 7.9 seconds were respectable enough.
At first, BMW couldn't make enough of them and huge premiums were commanded. Priced at £26,500 in the UK, new owners could drive round the corner and get over £50,000 for a Z1 when it first arrived, and never mind that they were all left-hand drive.
A production run of tens of thousands seemed certain but, curiously enough, the demand mysteriously tailed off and only 8000 had been made when production ceased in 1991. The reasons for that remain unclear but the Z1 is surely an intriguing classic now. It paved the way for the successful later roadsters, starting with the Z3 in 1996. What about the Z2? You may ask. Well, that's due in 2011, of course!
You can search for a BMW Z1 in the Classic Driver car database.
Text: Classic Driver
Photo: BMW


---
ClassicInside - The Classic Driver Newsletter
Free Subscription!