Sleeping Beauty Nº17: De Tomaso Mangusta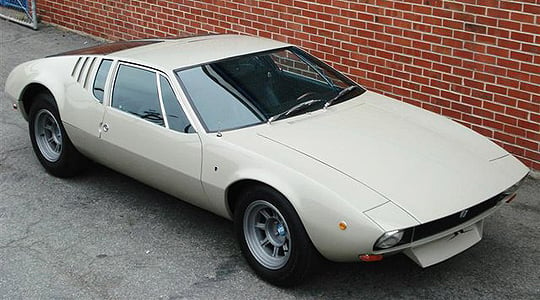 1967 was a pretty good time to introduce an Italian mid-engined sports car. The Miura had been out for a year and Ford had just won the Le Mans 24 Hours two years running with American V8-powered GTs.
Why not make an exotically designed, 'classic' Italian supercar with a tried-and-trusted small block Ford V8, the engine used so successfully in Cobras and GT40s? This is what the Argentine-born Alessandro De Tomaso did, fitting a 289ci (later 302ci) Ford V8 and transaxle into a simple 'spine' chassis clothed in bodywork by Ghia. In fact, one of the reasons for the existence of the car at all was the Ghia connection – the great Italian styling house needed something to demonstrate its skills at the 1966 Turin motor show.
De Tomaso already had a design on the books, the '70P', a stillborn sports-racer that he'd developed with Carroll Shelby and Pete Brock. Giugiaro penned the attractive design with its distinctive 'clam-shell' engine cover and the car was born.
The car should be seen as a precursor for the far more practical and sorted Pantera that was to follow in 1971. Its looks are sensational. But, from a practical point of view, ample luggage space (yes!) and an everyday 'Detroit iron' motor did not make up for a 'cosy' driving position for tall owners and a propensity to lift its nose at 120mph+ speeds.
The weight distribution too, at 32 per cent front, 68 per cent rear, made for exciting handling. That said, the cars look a million dollars, yet are available from 60,000 euros.
You can see all the De Tomaso Mangustas for sale in the Classic Driver cars for sale database.
Text: Classic Driver
Photo: Fantasy Junction


---
ClassicInside - The Classic Driver Newsletter
Free Subscription!