Sleeping Beauty Nº1: Alfa Romeo Montreal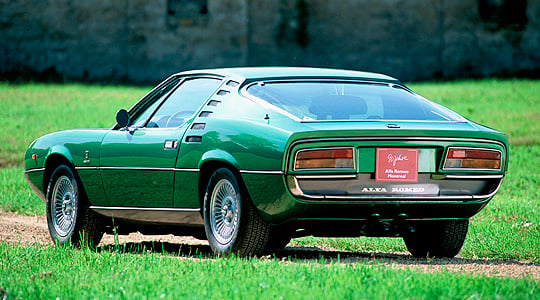 The words 'Alfa Romeo' have always conveyed sophistication. With its eight-cylinder engine, the Montreal recalled the Milanese marque's 1930s heydays. Forty years later, the Bertone-styled GT carried a sharp-cut suit of Italian steel, rather than curvaceous, hand-beaten aluminium.
The Montreal was presented as a concept in 1967 at Expo 67, held in the Canadian city that gave it its name. Bertone's Marcello Gandini (of Miura and Countach fame) was entrusted with the styling, producing a modern design that went into production from 1970 to 1977. The louvres on the C-pillar may suggest a mid-engined model but the car has a front-mounted 90°, 2593cc V8. The complex, 197bhp motor featured a dry sump, fuel injection and four cams, and was derived from the sports-racing T33's engine. With a refined interior, more mechanical sophistication via double-wishbone front suspension and a limited-slip differential, the car, in Germany, retailed for 35,000 marks – that was double the price of a well-equipped Mercedes-Benz saloon. Launched into the eye of the 1970s fuel crisis, just under 4000 of the 140mph coupés were produced.
Like all Italian models of that period, the Montreal has a serious rust problem. Any car you might consider will either be rusty and filler-laden, or has been the subject of a proper restoration, with little in between. Really top-notch examples are rare.
The Montreal was a stab at recalling former glory, powered by an exotic engine – but spare parts are hard to come by and expensive – and by modern standards, it wasn't that quick. It pretended to be a 2+2 but the utterly impractical rear seats amounted to no more than a parcel shelf. The main drawback was its live rear axle, rightly seen as primitive, which made it understeer on lefthanders and oversteer on righthanders. Interesting, beautiful, unusual… but flawed.
Buyers looking for a well-maintained car today will have to spend over 30,000 euros, with less well-tended examples available for around 25,000 euros. With its wacky 1970s colour palette, a Gandini-penned, futuristic body and race-derived engine and running gear, the Montreal is a more modest rival to a Miura — at 90 per cent discount.
Fancy a Montreal? Visit the Classic Driver car database to see what's available...
Text: Classic Driver
Photo: Alfa Romeo


---
ClassicInside - The Classic Driver Newsletter
Free Subscription!