The Sir Stirling Moss Trophy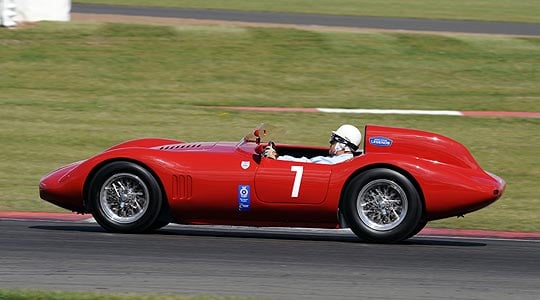 "There is a strong and persistent message from our racers that reinforces, time and again, the desire for longer, two-driver races, with strict eligibility restrictions and careful scrutineering. They tell us they want historic motor racing to be as close to the 'original' experience as possible."
So says Duncan Wiltshire of Motor Racing Legends, explaining the thinking behind the new-for-2010 historic race series. The Sir Stirling Moss Trophy, named in honour of an undisputed hero of motorsport (who regularly races his own OSCA FS 372 at Motor Racing Legends events), will be for genuine, pre-1961 sportscars and sports-racers.
"The reaction from competitors to the one-off race of this name at the Algarve in October was overwhelming," continues Wiltshire. "So much so, that we want to offer the experience as an all-year series of invitation races at some of the greatest race tracks in Europe.
"Our aim is to offer the most authentic historic motor racing possible, with longer, two-driver races at high-profile meetings. The Sir Stirling Moss Trophy, supported by JD Classics, will build on Motor Racing Legends' ethos of inviting only genuine cars built to period specification, with an expectation of driving standards that are 'gentlemanly' as well as highly competitive."
What has enabled Wiltshire to take this big step is the help and support not only of Sir Stirling Moss, but also of the world-famous classic car sales and restoration enterprise 'JD Classics', which is sponsoring the series. Says Derek Hood, JD Classics' founder and proprietor, "The new race series is the perfect alliance for us. Motor Racing Legends and JD Classics have commonality with clients and also with the heritage of motorsport. Increasingly, racers are buying cars of the correct provenance, from the right stable and from trusted sources, specifically to compete in certain top-level historic events. We can definitely see ourselves as a catalyst along this journey with the Sir Stirling Moss Trophy."
The new Sir Stirling Moss Trophy will absorb the current BRDC Historic Sportscars series but extend the entry criteria to include GTs, as well as sportscars and sports-racers. The 2010 race calendar will shortly be announced but provisionally includes the Grand Prix de l'Age d'Or at Dijon, the Silverstone Classic, the Oulton Park Gold Cup, the Six-Hours meeting at Spa and the Algarve Historic Festival.
Entry forms and further information will soon be available from www.motorracinglegends.com. Or contact Duncan Wiltshire, at Motor Racing Legends, Woodbine Farm, Thorndon, Eye, Suffolk IP23 7JJ. Tel +44 (0)1379 678101. E-mail: [email protected].
Text: Charis Whitcombe
Photos: Motor Racing Legends
---
ClassicInside - The Classic Driver Newsletter
Free Subscription!