The Royal Automobile Club Woodcote Trophy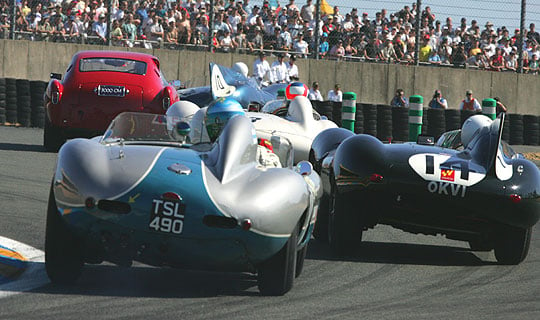 At the Royal Automobile Club in Pall Mall on Tuesday 14th March, a new historic race trophy was launched to a packed audience of competitors, owners and the media.
To be run by Motor Racing Legends, the Royal Automobile Club Woodcote Trophy is a new series of stand-alone invitation races for genuine sports-racing cars of the post-War era, up to and including December 1955. The races will embrace many of the big names from the golden era of motorsport - Jaguar D- and C-types; Ferrari 750 Monzas; DB3S Aston Martins and 300S Maseratis. But all sports cars of the period are welcome, as long as they are running to period specification.

Opening proceedings, Royal Automobile Club Chairman Tim Keown explained that the Woodcote Trophy itself is an entirely new trophy. "I tried to find out when we last launched a trophy for international motorsport," he commented, "and it seems it might have been the Tourist Trophy in 1905." He added that he hoped the new Woodcote Trophy would "last as long as the Tourist Trophy and one day attract as much attention."

Chairman of Motor Racing Legends, Duncan Wiltshire, explained that the ethos of the new races is for cars to run strictly to period specification, while high driving standards will be demanded. "There has been a prevalence at some levels of historic motorsport to accept a degree of panel-bashing as the norm. This is very wrong. Motor racing is a non-contact sport. Each Woodcote Trophy race will therefore be very much by invitation – and there is an expectation of proper sporting conduct."

A lively debate with questions from many of the competitors present confirmed a genuine demand for races paying strict attention to period specification and high driving standards.

"Long-distance races are also proving to be increasingly popular," continued Wiltshire, "so the races will typically last for a minimum of one hour and be for two drivers."

Each round of the Royal Automobile Club Woodcote Trophy will be held at a premier historic meeting, with the first two races being part of this year's Silverstone Classic (28–30 July) and the Six-Hour meeting at Spa-Francorchamps (30 Sep–1 Oct). Further details of the new Royal Automobile Club Woodcote Trophy will be posted on the Motor Racing Legends website, www.motorracinglegends.com.

For further information please contact:

Motor Racing Legends,
Woodbine Farm,
Thorndon,
Eye, Suffolk IP23 7JJ.
Tel/fax +44 (0)1379 678101.
E.mail: [email protected]

www.motorracinglegends.com

Text - Classic Driver Photos - Motor Racing Legends



---
ClassicInside - The Classic Driver Newsletter
Free Subscription!