Rolls-Royce – Spirit of Ecstasy Centenary Collection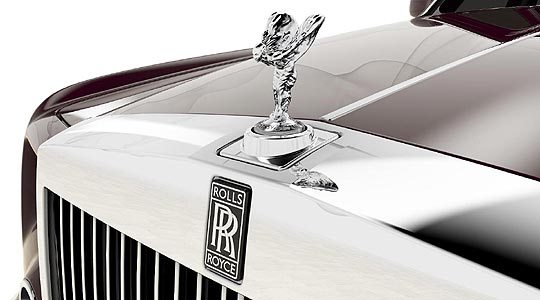 Rolls-Royce Motor Cars is celebrating the centenary of the Spirit of Ecstasy in 2011, with a collection of 100 bespoke Phantom models.
The bespoke features start with the Spirit of Ecstasy mascot herself. Cast in silver, its base will come with a black-gold-plated bezel bearing the inscription Spirit of Ecstasy Centenary – 2011, a legend repeated on the cover plate when the mascot is lowered.
Underneath the Spirit of Ecstasy, on the boot lid as well as on the front side panels, is a new badge – developed to identify the Collection – which reverses conventional design, showing a white enamel RR detail set on a black chrome background.
A trademark Rolls-Royce twin coachline is accentuated on Collection cars, and a further tribute comes in the glovebox lid, which carries an original Sykes quotation embossed into the colour-matched leather lining: "A graceful little goddess, the Spirit of Ecstasy, who has selected road travel as her supreme delight and alighted on the prow of a Rolls-Royce motor car to revel in the freshness of the air and the musical sound of her fluttering draperies." – Charles Sykes, 1911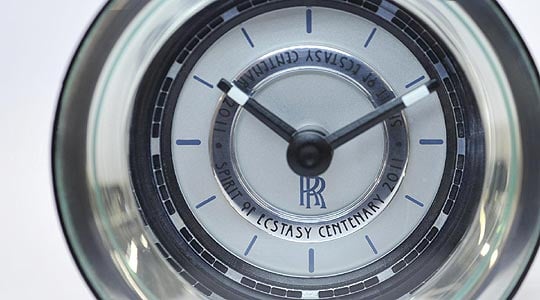 Inside the cars is further bespoke detailing, including an analogue clock with an outer bezel crafted from Britannia Silver, and incorporating a set of six hallmarks, plus a discreet, solid Britannia Silver commemorative plaque on the lid of the centre console, engraved with the inscription Spirit of Ecstasy – One of One Hundred.
Four exterior colour options are offered, all exclusive to the Spirit of Ecstasy Centenary Collection: Rhapsody Black, Maiden Blue, Ethereal White Pearl and Wildflower. Owners will also receive a desk ornament with their cars – a polished steel Spirit of Ecstasy mounted on a piano black base.
Text: Charis Whitcombe
Photos: Rolls-Royce
---
ClassicInside - The Classic Driver Newsletter
Free Subscription!