Riva on snow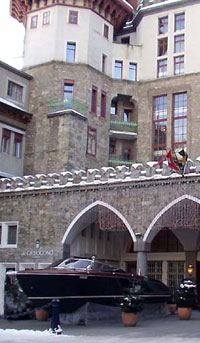 Not normally seen outside the smartest waters, this time Riva's classic Aquariva sports boat was displayed at one of the most desirable alpine locations in the world, the Palace Hotel, St Moritz.
The occasion was the 21st Cartier World Cup on Snow, the traditional winter polo match, and provided by Linneo Poroli, the official Swiss Riva dealer.

The Cartier Polo World Cup on Snow is officially one of the "Top Events of Switzerland", events that include Art Basel, the legendary Montreux Jazz Festival and the Allianz Swiss Open at Gstaad (the Wimbledon of the Alps). Team Maybach won the match with 4 points (15:10). The other teams entered were Siemens, Bank Hofmann and Cartier

More information can be found at
www.polostmoritz.com
The Sunriva 33' and Opera 85' to receive 'The Millennium Yacht Design Award 2005' at 'Seatec'


The Sunriva 33'
Two Riva boats of the latest generation have an award at the
3rd International Exhibition of Technologies and Subcontracting for Boat and Ship Builders
, known as Seatec, to be held at Carrara (near the Tuscan coast) from the 3rd to 5th February.
The 'MYDA' prestigious prize is given to the best four boats in the world (each judged in its own category) for design, beauty and innovation.
The Sunriva is a modern rendition of the legendary powerboat of the '60s and '70s, which was used by such movie stars as Brigitte Bardot, Peter Sellers, and other afficionados of the dolce vita in the Tigullio area and the Cote d'Azur. Today, the Sunriva offers the same old 'wind into your hair' sensation with all the modern comforts and technology of a latest-generation boat; from the power-operated convertible top to leather upholstery and common rail diesel engines that propel it over 90km/h.
The Opera 85'
The Riva Opera 85 motor-yacht is a large-scale development of the 1970s Riva powerboats with accommodation, projected into a dimension that exudes luxury and cutting-edge design in style, quality and habitability. In order to build these large yachts, the Riva shipyard (which belongs to Gruppo Ferretti, and is the owner of nine different yacht-building brands), had to move from its home base of Sarnico on Lake Iseo to La Spezia, near Porto Lotti, where it found large areas and deep waters to build crafts that this year will measure over 30mts long.
More information can be found at -
www.riva-yacht.com
www.sea-tec.it
Text/Photos: Classic Driver/Riva
---
ClassicInside - The Classic Driver Newsletter
Free Subscription!