Ridden: Triumph Tiger 800
Pundits who decry the decline of British manufacturing sometimes forget to mention that for the past two decades there's been a motorcycle maker in Leicestershire turning out terrific machines, writes Tom Stewart, and in the process pinching sales in ever increasing quantities from Japanese, Italian and American manufacturers.
Now, having noted the dramatic increase in the popularity of so-called adventure bikes spearheaded by BMW's rugged GS models, Triumph has entered the adventure bike fray with the Tiger 800.
Aficionados of the brand will know that for many years Triumph has had an adventure bike of sorts in the shape of the big Tiger 1050. But while some adventure bikes are built for genuine adventure – Timbuktu here we go – others, Tiger 1050 included, are soft-roaders that aren't really cut out for more than the gentlest excursions off road.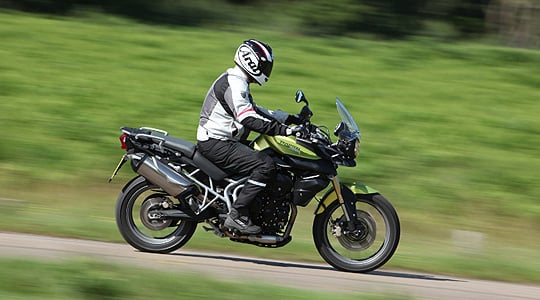 Not so this new middleweight Tiger, which Triumph has been shrewd enough to make in two guises: the 800 tested here and the even more off-road-orientated 800XC version. Both share the same steel-tube frame, suspension and 94bhp 3-cyl engine (itself a derivation of the existing motor from the Daytona 675 and Street Triple models), while both also have the same screen, 19-litre fuel tank and height-adjustable seat.
As Timbuktu wasn't on the agenda for this test, I chose the £600-cheaper, non-XC version and it proved to be a highly competent companion on most types of UK road. I use the word 'most' because, due to the width and height of the handlebars and mirrors plus a slightly limited steering lock, the Tiger isn't ideally suited to filtering through tiny gaps in dense city traffic. However, should you make it to the front of the queue before the lights turn green then you'll have no trouble arriving at the next set first, because a sub-4-second 0-60 time is achievable.
The Tiger's engine spins freely, throttle response is crisp and there's a generous spread of torque. If you do gun the motor to the 9750rpm redline then you're rewarded by the glorious throaty wail that only a triple can provide. A top speed of around 130mph is feasible, which is very much on a par with that of big daddy adventure bikes like the BMW 1200 GS and Yamaha XT1200. More importantly, in top (6th) gear at 70mph, the motor is turning over at a leisurely 5000rpm so it has no trouble holding its own on the motorway.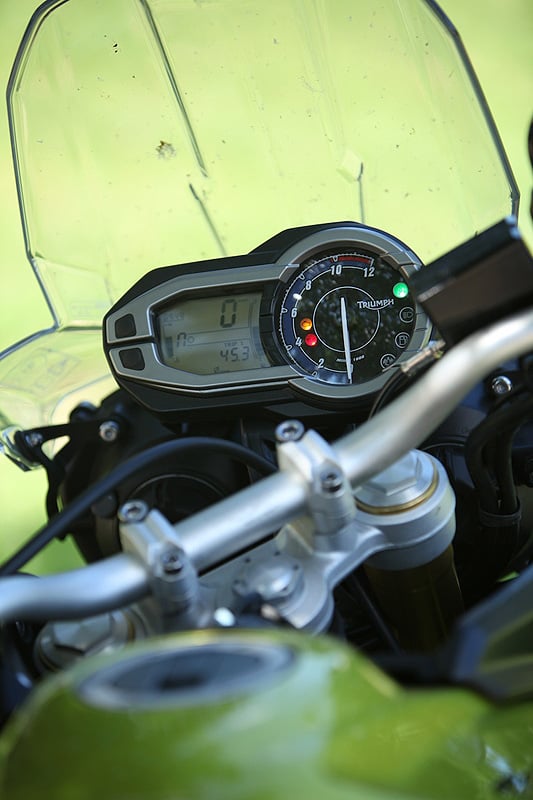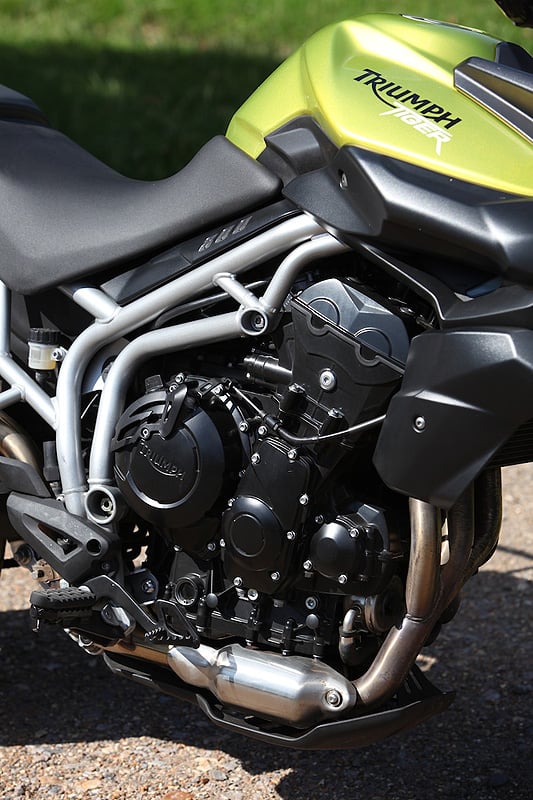 The riding position feels relaxed and natural and, despite the high-ish bars and upright riding position, much of the wind blast is deflected by the small Perspex screen. Ride comfort is good, too. The suspension mops up the worst B-road bumps and yet doesn't feel too firm. Take a sweeping bumpy corner at speed and then hit the brakes and, despite 43mm inverted forks, the front end might flex a bit, but it's not unsettling. The brakes themselves have good feel and are adequately powerful, but they don't have eyeball-popping bite; probably a good thing if you're not on dry Tarmac. (Switchable ABS is a £600 option.)
The Tiger 800 may be a two-wheeled SUV, but it handles more like its sporty Daytona 675 and Street Triple stablemates than, say, a BMW X3 does to an M3. In fact, because it's so friendly and easy to ride, it encourages you to late-brake into roundabouts and fly through bends.
Standard equipment includes comprehensive instrumentation with a gear position indicator, a trip computer and trip meters, a clock, a coded key immobiliser and an auxiliary power socket. A beefy 550W generator is fitted to power options such as heated grips and auxiliary lights, and in addition to the ABS there's an extensive range of Triumph accessories that, even with some restraint, could bump up the price by £3000 or more.
But even without a single option fitted, as per this test bike, the Tiger 800 is a fine all-rounder. It'll carry a pillion and/or luggage with ease, do 200 miles between fill-ups and it has keen, contemporary styling. I reckon Triumph has another winner.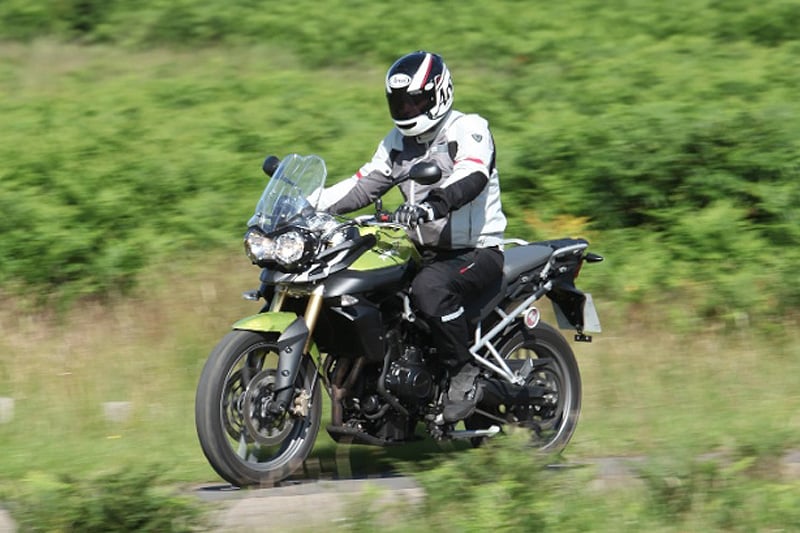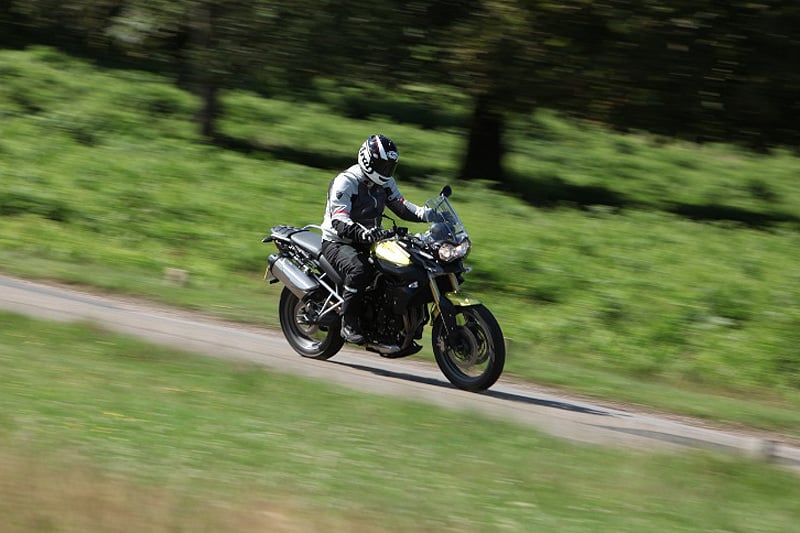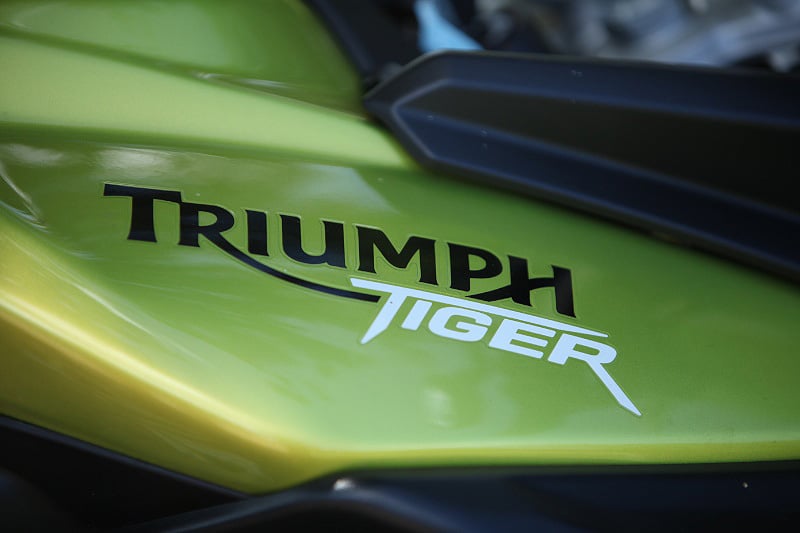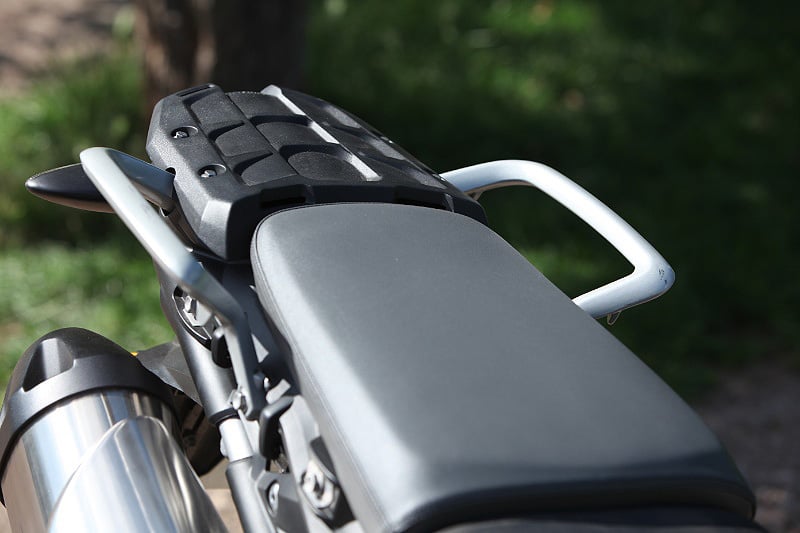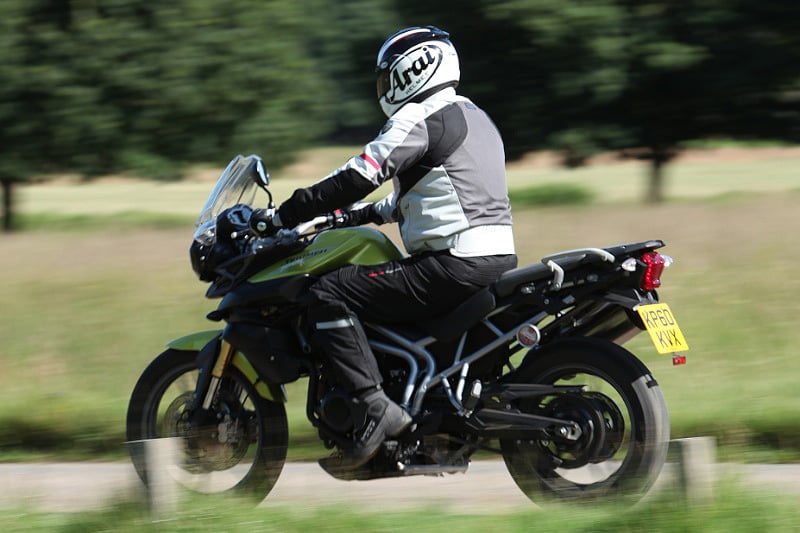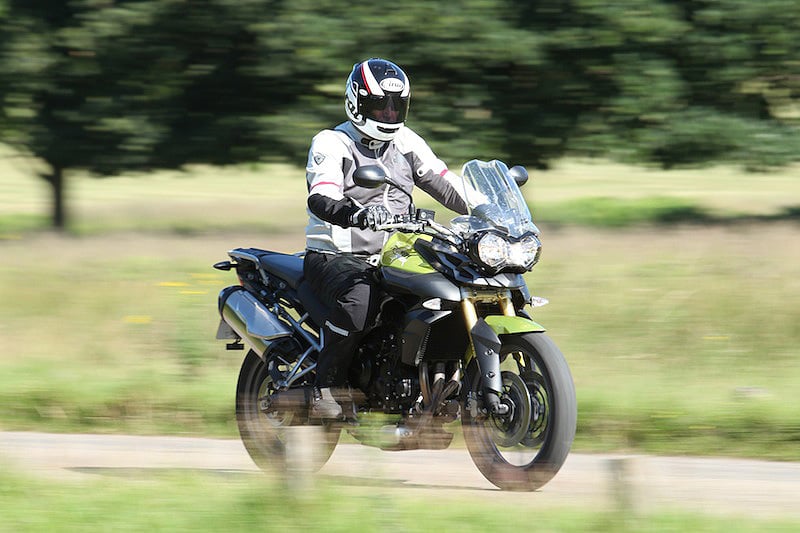 Price in UK: £7299 on the road
Text: Tom Stewart
Photos: Jim Forrest


---
ClassicInside - The Classic Driver Newsletter
Free Subscription!