Ridden: Kawasaki W800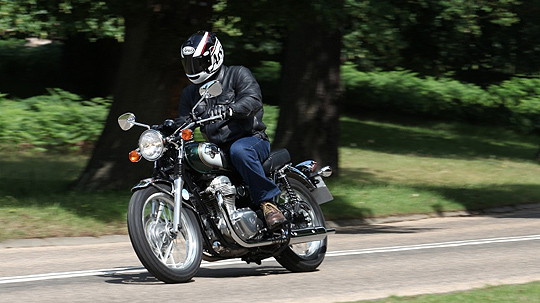 Classic Driver doesn't generally feature vehicles from the Orient, writes Tom Stewart. The closest I can find here is the Suzuki-powered but otherwise British Icon Sheene motorcycle – but here's an exception.
Why? Because despite the string of retro-styled models in recent years from BMW, Chrysler, Fiat, Ford, GM, Mercedes, VW and others, not to mention offerings from Guzzi, Harley and Triumph, arguably no manufacturer has yet marketed anything on wheels that's as authentically retro as Kawasaki's new W800.
Though not an exact copy of any particular British bike from the 1960s, the W800 is fabulously faithful in appearance. Yes, there are a few details that have had to change out of necessity, such as the front brake and the LCD display set into the speedo's face, and unlike the current Triumph Bonnevilles, this Kawasaki doesn't have fuel injectors that look just like carburettors, but the W800's overall proportions and styling, even its Dunlop TT100-style tyres, are all essentially spot-on.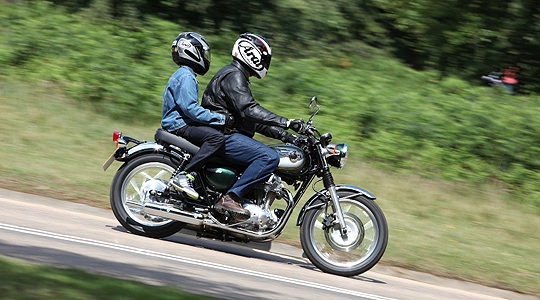 The W800 hasn't just been created from scratch; it's an updated version of the W650 produced from 1999 to 2007, which was inspired by Kawasaki's 650cc W1, W2 and W3 models built from 1966-1975, which in turn were updated versions of the Japanese Meguro K series bikes of the early 60s, which in turn were originally based on BSA's 500cc A7 vertical twin produced from 1946-1961.
More recently, Kawasaki engineers wisely reckoned that modelling their late-90s W650 on a 1946 BSA probably wasn't the best way forward and so a completely new air-cooled vertical twin was designed which retained the traditional 360-degree crankshaft but employed a unit construction gearbox, wet-sump lubrication, internal engine balancers, 4 valves per cylinder and an exotic bevel gear-driven overhead camshaft similar to that found on racy 1970s Ducatis. Unlike most Brit bikes of the 60s and 70s, the W650 was also properly reliable, and it didn't compete with the Torrey Canyon for oil leakage.
To turn the W650 into 2011's W800, engine capacity was increased from 675cc to 773cc, and with this comes improved torque at significantly lower revs. Additionally, the W650's 34mm carbs were replaced by 34mm injectors, the 'peashooter' exhaust silencers were slightly re-shaped, the seat height was lowered slightly and the W650's kickstart lever was deleted in favour of electric start only.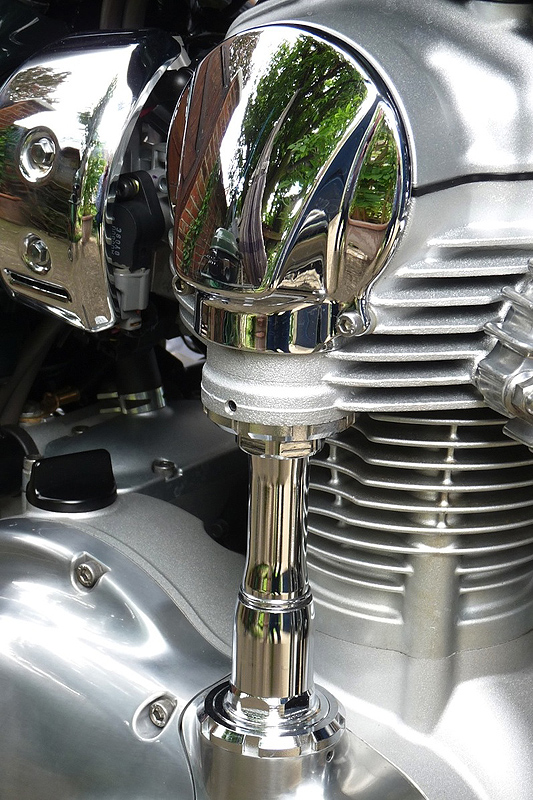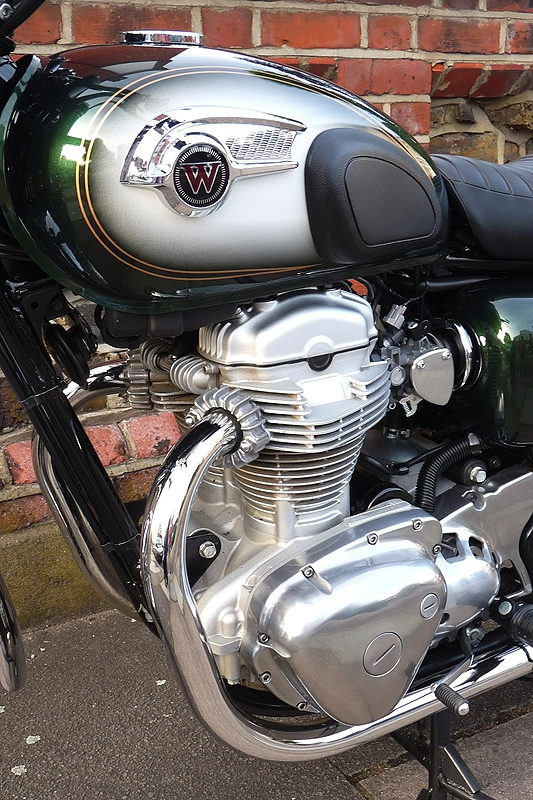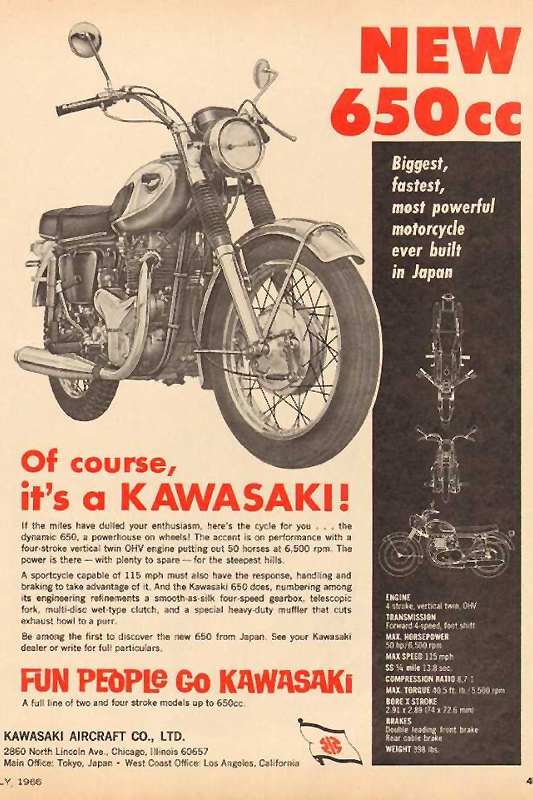 With just 48bhp the W800 certainly isn't fast by modern standards, but it can still be first away from the lights, overtake briskly enough and cruise quite comfortably at 80mph or more. Also, being able to regularly grab big handfuls of throttle is fun, especially when at least 50mpg comes as part of the reward. As you'd expect, the engine vibrates a bit, but this is one essential ingredient of this bike's character and the vibration doesn't really register until it's revving close to the 7000rpm redline. One aspect that is definitely missing, though, is a bona fide 1960s exhaust note; those pretty 'peashooter' silencers are far too effective.
The new W handles much like an old-timer, too. Steering response isn't quick, although this is mitigated by the leverage afforded by the wide handlebars. The suspension is soft, but at least the frame and dampers are a huge improvement over similar Japanese-made items of 40 years ago so there's no wallowing or weaving. The narrow Dunlops grip tenaciously in the wet, and easily well enough in the dry to reveal limited cornering clearance. The front brake feels a little spongy and requires all four fingers to scrub speed in a hurry, although the period-style rear drum works just fine. And it's unlikely that you'll have ever used a motorcycle transmission where neutral is more easily found when you want it, but not when you don't.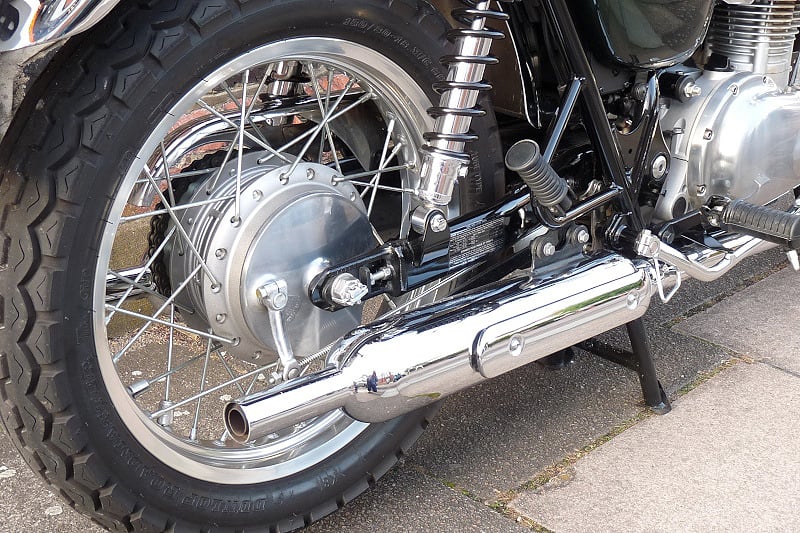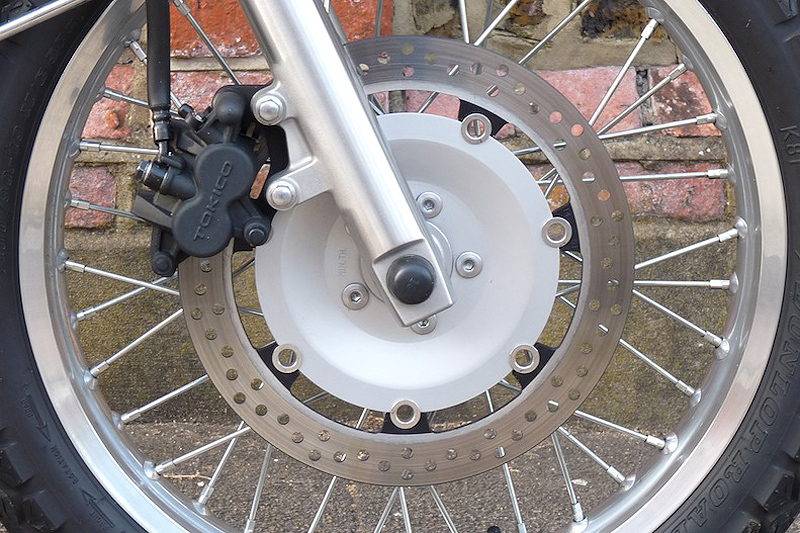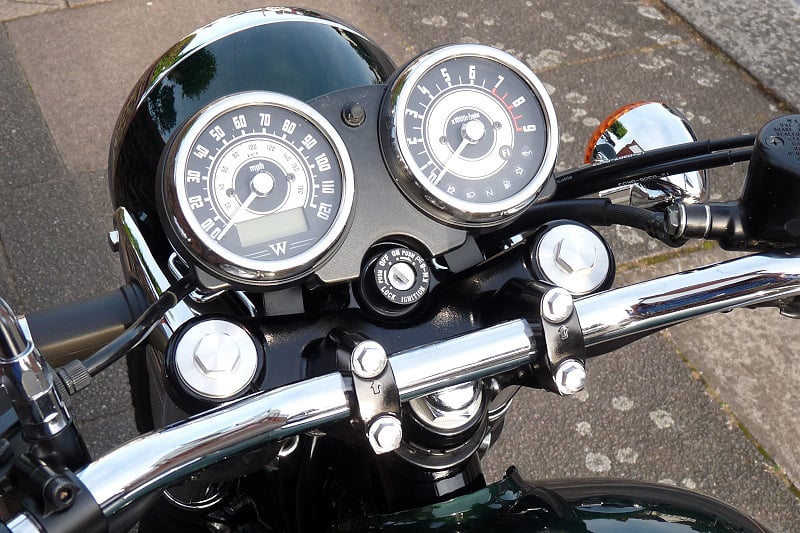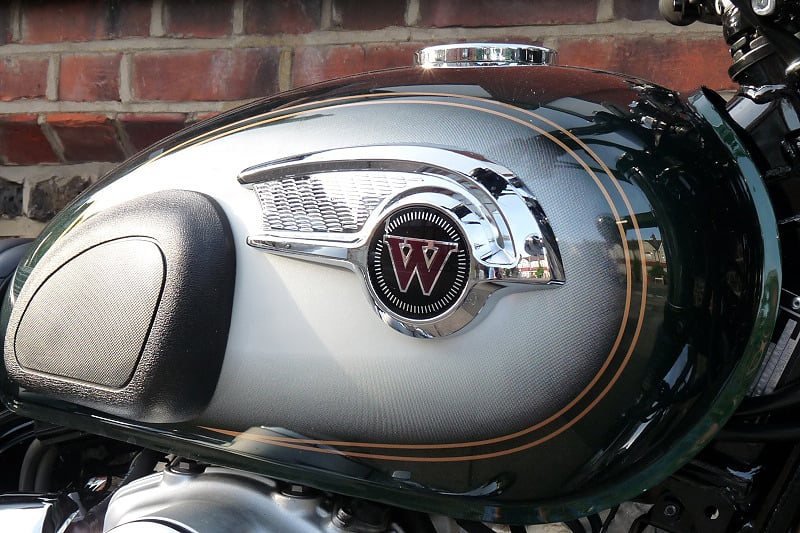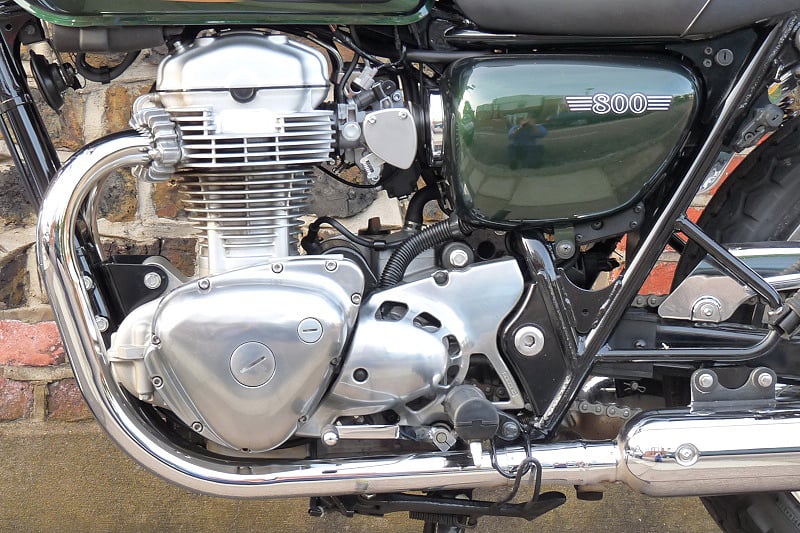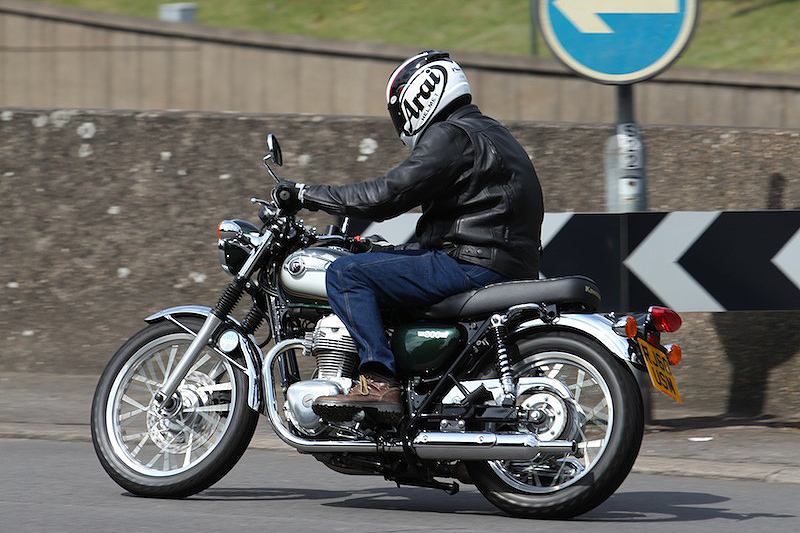 The finish stands up to very close scrutiny; the paint, lacquered alloy and chrome all look deep and lustrous, and the net result is a charming bike that turns heads, is blissfully easy to ride and even impresses teenagers. However, because some may still consider it 'too Japanese', Kawasaki branding is limited to the back of the seat. Marketing psychology aside, as a contemporary interpretation the W800 is at least as pukka as anything else, either on two wheels or four.
Price in the UK: £6723 on the road.
Text: Tom Stewart
Photos: Jim Forrest and Tom Stewart


---
ClassicInside - The Classic Driver Newsletter
Free Subscription!