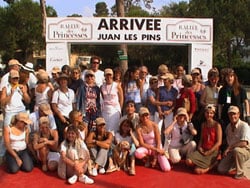 Created in February 1929 by the Comte de Rohan-Chabot, the first ladies race Paris-Vichy-Hyères-Saint-Raphaël combined the agreeable qualities of competition and the pleasure of having a good time.
The organisers of the 2002 event have just announced the format and route for what is now known as the Rallye des Princesses. Taking place from June 2 to June 7 the route will take in a start in Paris (where else?), a mid week section travelling east and south through Troyes, Beaune and Aix-les-Baines and finishing in style with a beach presentation at Juan-les-Pins.
The regularity event is open to ladies' teams in one class and a second class for ladies partnered by gentlemen. It has a very honourable tradition having been a tough rally in the 50's and 60' with stars such as; Michelle Mouton for whom it was the real first race, Martine de Cortanze, Annie-Charlotte Verney, Christine Dacremont, Pat Moss and Marie-Claude Beaumont. Many of whom competed at the very highest International level at Rallying and Le Mans.
Organised by Patrick Zaniroli Promotion, (Patrick Zanoli himself a past winner of the Paris-Dakar Rally) the rally is open to classic cars from 1925 to 1974. As the organisers say it "is a real adventure along the marvellous roads and the beautiful landscapes of France."
For further details contact the organisers:: Patrick Zaniroli Promotion - 3 rue Gustave Rey - 92250 La Garenne Colombes, France. Phone :+33 (0)1 56 05 05 26 - Fax : +33 (0)1 56 05 05 30 or email: [email protected]
For more information on entering please look at the website www.zaniroli.com