Production version of Audi "Pikes Peak" quattro SUV design study to bear the name Q7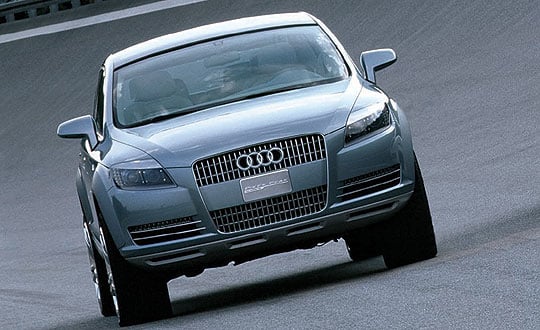 The new Audi sport utility vehicle (SUV) will bear the name Q7 when it goes on sale in 2006. This announcement was made at the Paris Motor Show by Prof. Dr. Martin Winterkorn, Chairman of the Board of Management of AUDI AG. . "The letter Q denotes a new type family within our company, alongside A, S and RS. The 7 indicates that it is positioned between the A6 and A8," explained Prof. Winterkorn.
The Q7 will make its market debut at the start of 2006. The production version will be based on the Pikes Peak quattro concept study unveiled at the 2003 Detroit Motor Show. In common with the study, the five-door, seven-seater Q7 will combine the qualities of a fully-fledged off-road vehicle with the typical dynamism of an Audi high-performance sports saloon. The Audi SUV will moreover offer cabin space that sets new standards in its class.
Text/Photos: Audi
---
Classic Inside – The Classic Driver Newsletter
Free Subscription!