Porsche Develops Prototype Golf Car
Porsche Engineering Group, a subsidiary of Dr. Ing. h.c. F. Porsche AG, has delivered two very special open two-seaters to the customer after a development period of just four months. These prototypes are conceived especially for use on the golf course, offering not only two comfortable seats, but also ample loading space at the rear for two golf bags.
This absolutely unique golf car not only bears the Porsche logo on its front lid, but is reminiscent of Porsche's Cayenne sports utility in many further features – albeit at a scale of 1:2. Measuring 2.7 metres (106.3") in length and 1.25 metres (49.2") in width, this new golf car comes with an exact rendition to the last detail of the Cayenne's engine compartment lid, front wheel arches, headlights, front section, and 20-inch wheels. Given the open loading space, the rear section, on the other hand, does not have all the optical features and the precise looks of the Cayenne. But even here the oval exhaust tailpipes, the rear lights and the original stainless-steel loading sill carry over striking design features clearly identifying the new golf car as a "mini-Cayenne" also from behind.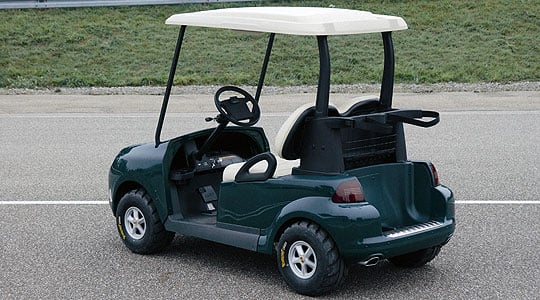 The exhaust tailpipes on the golf car are of course "only" a design feature, the car itself being powered by a 3.2-bhp electric motor driving the rear wheels through direct transmission. The drive technology as well as the chassis have not been modified by Porsche's engineers, but rather come as they are from the basic vehicle developed by Divaco GmbH in the German city of Essen. Top speed is 24 km/h or 15 mph achieved under full acceleration within just 10 metres. The cruising range of the Cayenne golf car is approximately 30 kilometres or a bit less than 20 miles, without the headlights switched on.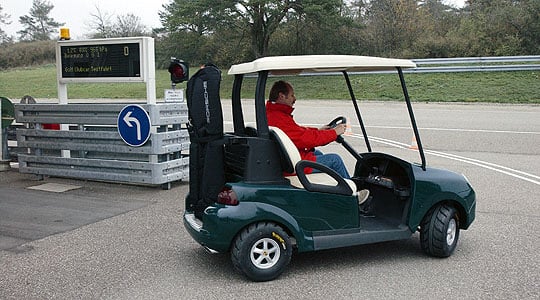 Before the two golf cars in Cayenne-look were delivered to the customer, they were put through a series of tests on the trial circuit at Porsche's Development Centre in Weissach near Stuttgart. Only then, after Porsche's development engineers were fully satisfied with their exceptional test candidates, were the cars cleared for delivery to the Spanish island of Majorca, where they will be used by Hans-Peter Porsche, who commissioned these exceptional vehicles in the first place, on the Alcanada Golf Course as of spring 2005. No decision has been taken yet whether the Porsche Engineering Group will be building further golf cars, thus offering the mini-Cayenne also to other golf courses in other parts of the world.
Text/Photos: Porsche
---
ClassicInside - The Classic Driver Newsletter
Free Subscription!