Porsche Classic Cooler: 911 cylinder turned Champagne cooler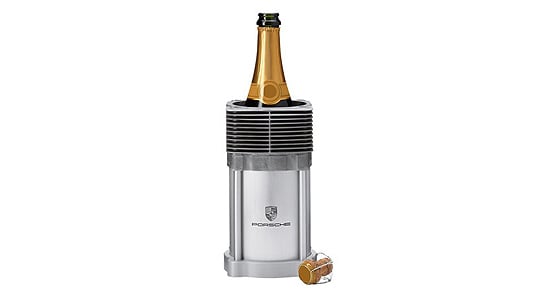 What happens when German engineers are told to tighten their belts? They ingeniously invent the Porsche Classic Cooler: a cylinder from a G-series 911 recycled and sold as an exclusive Champagne cooler.
G-Series Porsche 911s are regarded as icons of motoring history and, even if some examples fell by the wayside over the years, this doesn't mean their components should suffer the same fate. An inventive idea – a collaboration between Porsche Design and Porsche Engineering Services GmbH – has resulted in cylinders from air-cooled 911 engines being given a new purpose: to 'air-cool' bottles of Champagne.
The fortunately-sized ribbed cylinders are tastefully engraved with the Porsche emblem and given an anodised aluminium base, as well as a £430 price tag. You can take a look at the Porsche Classic Cooler in the Porsche Design shop.
Text: Joe Breeze
Photos: Porsche