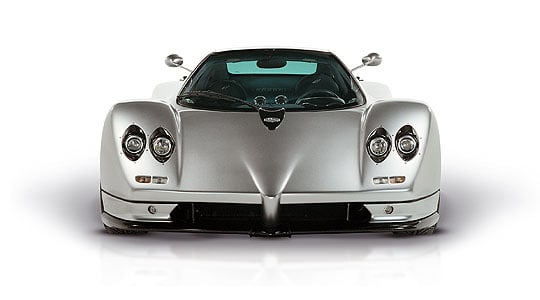 Bespoke manufacturer Pagani has diversified its extravagant 'Zonda' series by producing a high-performance "F" version. In the middle of the two-seater is a 602 bhp, 7.3 litre V12 AMG motor that will catapult the car from zero to 200 km/h in less than 10 seconds. The model will be premiered at Geneva in March.
Like its predecessor, the Zonda "S" coupé and roadster, the car carries the same AMG-tuned engine but this time modifications mean an extra 47 bhp, at a peak of 6,150 rpm. Maximum torque of 760 Nm at 4,000 rpm is transferred to the rear wheels via a 6-speed gearbox. The low weight of 1,230 kgs, combined with the improved power means 0 - 100 km/h is achieved in only 3.6 seconds and the car will run effortlessly on to a top speed of 345 km/h! Braking is similarly potent, aided as it is, by ceramic brakes 380 mm (front), 355 mm (rear).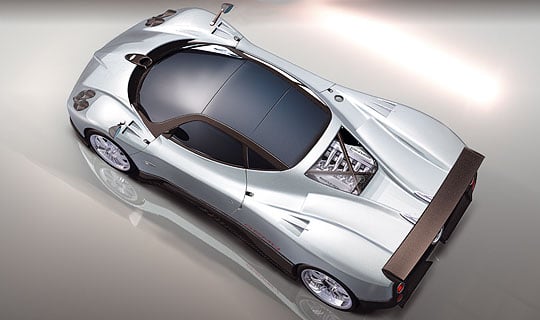 Visually the Zonda "F" is little changed from its brothers, just a new one-piece tail spoiler and new engine parts on show under the rear hood.
As far as prices are concerned, the small manufacturer is keeping quiet. Prospective customers for their cars are unlikely to ask the price anyway.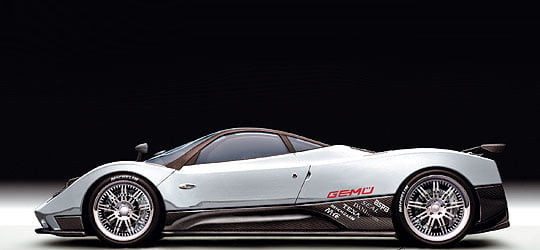 Text: Jan Richter
Photos: Pagani
---
ClassicInside - The Classic Driver Newsletter
Free Subscription!