Overfinch Range Rover Sport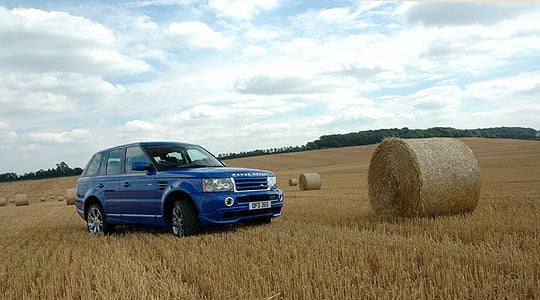 Synonymous with improvements to Range Rovers for 31 years, Overfinch has turned its attentions to the Range Rover Sport, with a totally bespoke interior and uprated 440 bhp V8.
The Farnham-based engineers have developed the Overfinch name into a manufacturer's brand in its own right, and visiting the facility the other day, with several new model-Range Rovers and Sports in the workshops, it seems a long time ago that the company carried out such extensive work as complete engine transplants and all-new suspension and transmission on the world's most prestigious 4 x 4.

The current production from the Solihull factory is infinitely better than in years' gone by, yet the demand for bespoke cars by Overfinch is as strong as ever, and the company can always find that little extra in the handling, engine and braking departments for the discerning connoisseur

Many of the company's customers have owned Overfinch Range Rovers since the early days, and needless to say these cars are probably just one of a fleet of vehicles that may include examples of Bentley, Ferrari or Aston Martin motor cars. So it's the job of the Overfinch technician and stylist to produce a car that will not only perform in such company, but also be just that little bit different from the 'standard' car.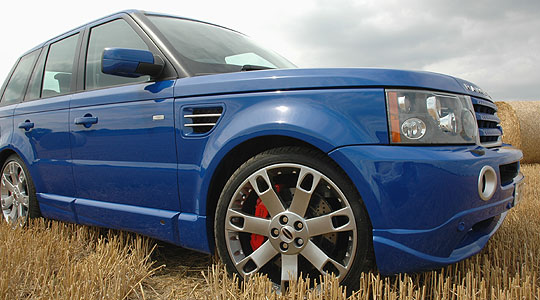 Specially repainted in Supersport Blue, and sitting on SuperSport 22" Alloy Wheels, the demonstrator Range Rover Sport really looks the part – and that's coming from someone who takes a lot of convincing about 4 x 4s in general, and wide-wheeled suburban cruisers in particular. Peeking out from behind the spokes of the alloys are the red-painted Brembo brake callipers (6-pot front + 380mm drilled, floating discs, and 4-pot rear, same disc size). The engine has been uprated to 440 bhp (+52 bhp/80 lb/ft torque over production) and the interior extensively improved with a long check-list of Overfinch options, all designed to blend in with any unchanged production trim of the car.

For those familiar with a 'regular' Range Rover Sport 4.2 Supercharged all the advantages of the car are there to be enjoyed as usual. The fine seating position (and really comfortable seats, re-trimmed by Overfinch in 'Bentley Style' contrast seat covers in Alcantara ) direct steering and fine handling of the petrol car means a big, high-riding off-roader can be hustled along the country roads of the test route with a certainty not dissimilar to that of a GTi.

From a performance point of view the Overfinch modifications should make it not only go faster, but also stop quicker, as well as holding the road even better courtesy of the wide rims and rubber. So do they do that in practice?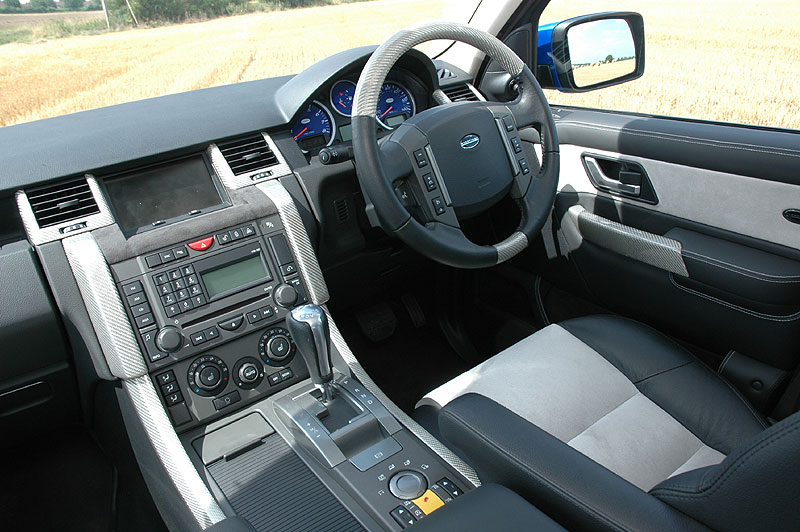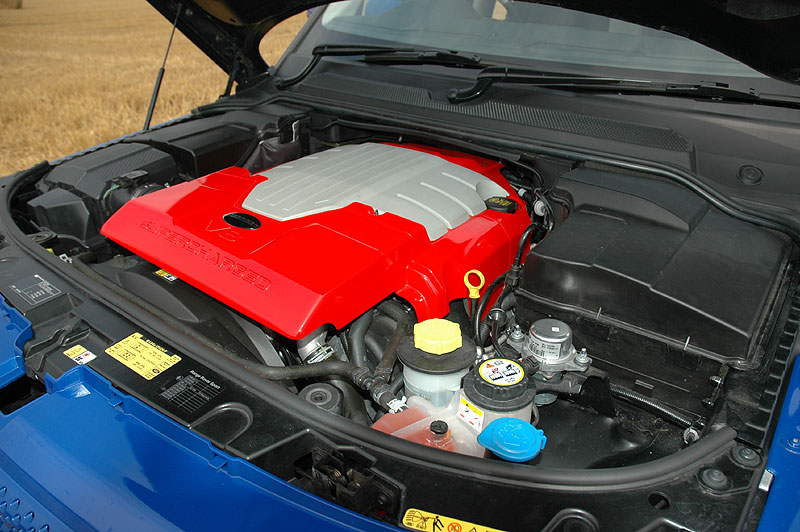 The two most impressive features of this car are a) the brakes, and b) the way, despite its colossal wheels, it rides the bumps and ripples of everyday British roads. Put your foot down and it will take off, accompanied by a V8 waffle that belies the engine speed, but press the 'slow' pedal and the car just stops as if landing on HMS Ark Royal. The brakes are fabulous and really allow you to extend the potent performance of the big car on public roads, its size seeming to shrink the faster you go while the standard petrol (the diesel is not as sophisticated, my learned 4 x 4 friends tell me, although Overfinch do also offer a 33 bhp hike for the oil-burner) car's handling and ride is only aided by the new wheels and tyres, not degraded.

Inside the Overfinch modified car, the cabin ambience is raised from only average quality (large areas of fake leather) to quite high with the door cappings replaced with leather, the door pulls, air vents and centre console trim elements in silver carbon fibre weave and Alcantara for the door inserts and centre console top tray. Overfinch can supply all the extra trim in leather to exactly match the original car's, or offer a complete re-trim as an option. There are also faux-Bentley diamond-pattern or ribbed seat inserts that are very often specified to match the owner's 'other' cars.

It's a nice cabin in which you could cover some serious mileage.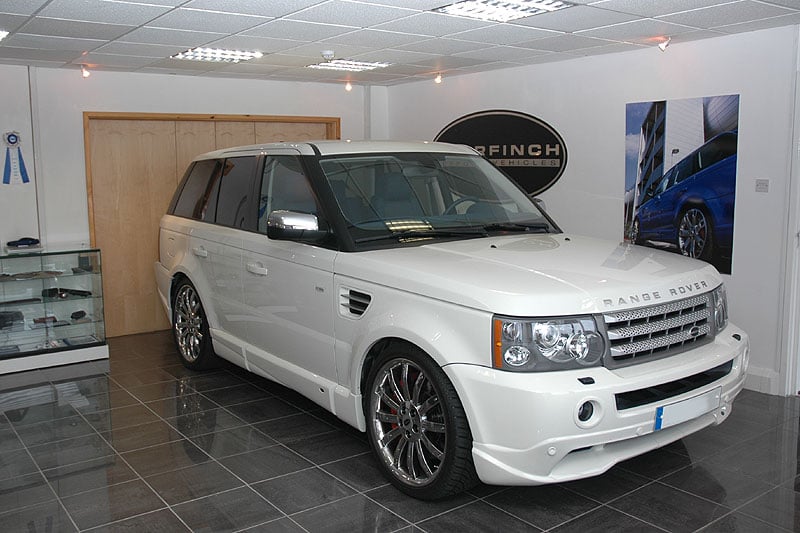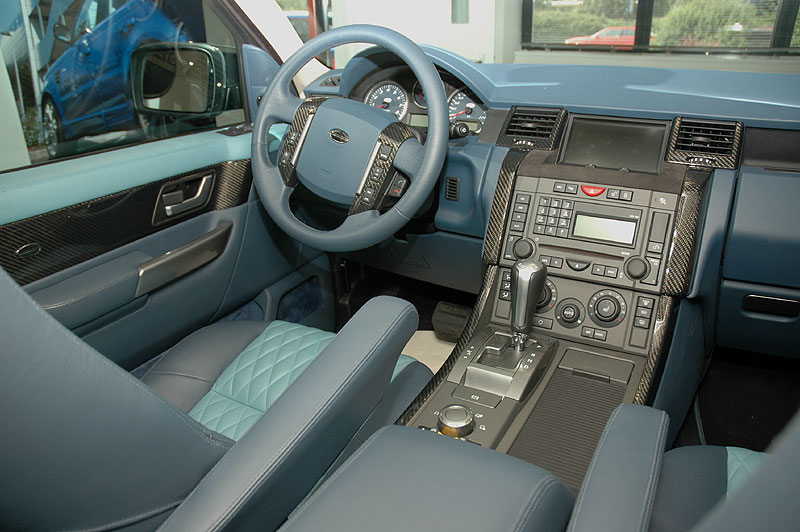 Back at base, there was time enough to look at the whole catalogue of Range Rover modifications, as well as seeing some of the cars in for either regular servicing or upgrade work. The all-white car you see above has the Bentley diamond-stitched interior, as well as special - not for all markets - Tiger 22" wheels in special 'show finish'. Not for all tastes perhaps, but beautifully done.

I also saw the popular Deluxe 6/7 Seater conversion for the rear loadspace of the standard Range Rover. This comes complete as one unit, is split/folding, stowable and completely removable in a matter of seconds. It comes with inertia 3-point seat belts and is trimmed in the original Land Rover hide to match your car.

A clever idea that makes a very good car that much more usable.

Having arrives slightly sceptical, I drove away a wiser man; not necessarily a potential customer, but for those liking the presence and style of a regular Supercharged Sport, you must consider an Overfinch upgrade. In every single area it improves on the original car.

For further information please visit www.overfinch.com.




The demonstrator we drove was equipped with the following options:

Supersport Aero Styling Pack, Clear Indicator Repeaters, SuperSport 22" Alloy Wheel Set (Titanium Colour) inc Tyres, Colour Design Side Vents, Colour Coded Door Handles and Mirrors, Performance Upgrade +52bhp 80lbs/ft torque, Colour Change to SuperSport Blue, Overfinch /Brembo Front Brake Pack, Overfinch/Brembo Rear Brake Pack, Sports Instrument Pack (Blue/White), Elegance Door Pack, Door Sill Scuff Plates, Door Pulls x 4 in Carbon Fibre Weave – Silver, Door Main Inserts x 4 in Alcantara Suede, Centre Console Top Tray in Alcantara Suede, Centre Console Trim Elements x 4 in Carbon Fibre Weave – Silver, Fascia Air Vent Bezels x 4 in Carbon Fibre Weave – Silver, Steering Wheel in Leather/Carbon Fibre Weave – Silver, Contrast Seat Covers in Alcantara Suede.

The engine performance upgrade is £4,995 incl. VAT. All other work is itemised in the company's excellent Price List & Product Guide.

Story: Steve Wakefield
Photos: Classic Driver
---
ClassicInside - The Classic Driver Newsletter
Free Subscription!