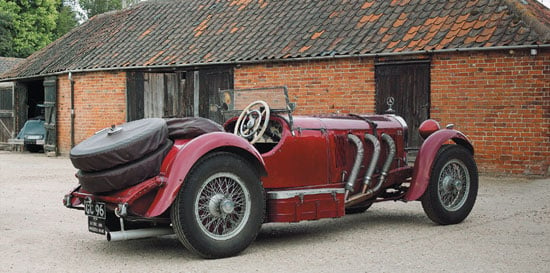 Bonhams is to offer one of the last great pioneering English country gentleman's private collections of cars, locomotives and steam machinery in its Goodwood Revival Meeting Sale on Friday, 3 September 2004.
The George Milligen Collection Sale - comprising some 38 individual cars, plus steam and marine engines and automobilia - includes a remarkable cross-section of long-time privately-preserved classics from such renowned marques as Mercedes-Benz, Rolls-Royce, Bentley, Delage, Hispano-Suiza, Sunbeam, Ford and Fiat backed by further supreme quality rarities from the Motor Manufacturing Company (a 19th century veteran car), Sizaire-Berwick, Excelsior, Armstrong-Whitworth, Windsor and Sava.

Star of the Collection - and one of the stars of Bonhams Goodwood Revival Sale - will be George Milligen's much-loved 1929 7.1-litre supercharged Mercedes-Benz 38/250 SSK - bought by him in 1940 and therefore having been preserved within his very private Collection, away from public gaze, for no fewer than the past 64 years!

This short-wheelbase two-seat Mercedes Benz 'Super Sport Kurz' model is one of the most spectacularly high-performance of all vintage sports and sports-racing cars.

It was designed for the Stuttgart company by Prof Dr Ferdinand Porsche while 'Kurz' - German for 'Short' - indicates the model's shorter chassis length to minimise weight and so maximise performance from the immense 300-horsepower 6-cylinder supercharged engine.

The famous Mercedes-Benz supercharger system on this SSK model was only engaged when the throttle pedal was fully open, and the wail of this supercharger and its drive-gears became the defining sound-effect accompanying Mercedes in such great races as the Le Mans 24-Hours event, the Mille Miglia and the German and Monaco Grands Prix.

George Milligen - who has died aged 94 - was one of the most private and secretive surviving members of the tiny and uniquely distinguished group of pioneering motor car collectors whose activities began in the 1920s.

Such men were true pioneers and their appreciation, taste and connoisseurship set standards to which subsequent collectors have ever since aspired.

George Milligen's fellow pioneers included such names as Henry Ford and Henry Austin Clark in the USA, and the founders of the Dutch National and Daimler-Benz Museums in Europe. These intensely focused and far-sighted enthusiasts founded their collections through years in which motoring first became a collecting interest.

Born in 1910, George Milligen attended London's first major Motor Show at Olympia in 1919, accompanied by the family chauffeur. After education at Harrow and Cambridge, George Milligen began farming in north Norfolk, moving into his lifetime home there in 1932-33. Comparatively small by Norfolk standards, the Milligen farm was always impeccably and profitably managed and - perhaps most significantly - George Milligen pioneered a high degree of agricultural mechanisation.

In the 1930s it took considerable foresight to appreciate the potential of investment in new tractors and combine harvesters yet George Milligen's appreciation for mechanical artefacts and farming accounted for his Collection's extraordinary breadth, from cars and associated automobilia to steam engines, locomotives, a steam organ, one of his 1950s farm tractors and many models.

Through successive decades his Collection changed and grew. Many items were of the utmost rarity or possessed fascinating individual histories - each one carefully tracked - and every one was both maintained and used with abiding expertise and genuine affection. His meticulous documentation of each car - to be included in the sale - is in itself a fascinating history of the motor car collecting hobby through eight decades.

George Milligen became a highly experienced and capable engineer and mechanic and while he enthusiastically enjoyed his Collection by participating in local fairs, steam events and motor rallies up to International stature, he always regarded his Collection as something very private indeed.

He allowed access to it for only a small group of enthusiast friends, and for him it was never something to be publicised nor commercialised.

Partly as a result, the George Milligen Collection today represents a little-known but immensely important chapter in motor car collecting. Its emergence for sale by auction is an event of major significance throughout the collecting world and it offers - for the first time in many decades - the opportunity to acquire artefacts blessed with history and provenance that few, if any other, collections worldwide can boast.
Bonhams Motor Cars Dept.
10 Salem Rd
London W2 4DL
UK

Tel: +44 (0)20 7313 3176
Fax: +44 (0)20 7313 3170
Text/Photos - Bonhams