Next Stop Le Mans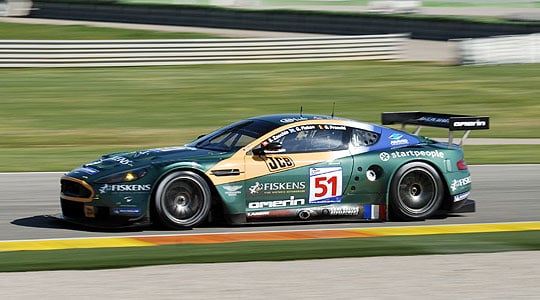 Earlier this year, Gregor Fisken – of historic automobile dealership Fiskens – achieved a lifetime dream when he was confirmed as a factory-supported Aston Martin DBR9 driver for the 2007 Le Mans Series and Le Mans 24 Hours. In three weeks' time, he will face the year's toughest challenge: Le Mans. When I spoke to him this week, he was fresh from his regular French conversation lesson, complete with an increasing vocabulary of 'pitlane French'. It seems he's not leaving anything to chance...

Although an experienced Le Mans driver, most recently with the LMP1 works Courage team, Fisken admits to finding the DBR9 highly demanding: "In many ways, the LMP1 Prototype cars are much easier to race. The Aston is a phenomenal machine, with quite extraordinary brakes, and it does sometimes seem to defy physics for its size and weight – but it is nevertheless derived principally from a road car. It's far heavier than a Prototype and doesn't have anything like the aerodynamic downforce. True, you feel some benefit from aerodynamics in high-speed corners but it's nothing like the great blanket of security you get with a Prototype, where you know you can rely on the downforce in all but the very slowest part of a corner.

"There's also the fact that Prototypes often weigh 900kg or less, so you can make quick direction changes and 'jink' from left to right. With a GT car, particularly on small, tight, twisty circuits like Valencia, you need to work very hard indeed."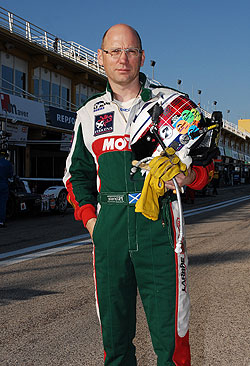 Valencia was the venue for Fisken's first – and until Le Mans his only – race in the DBR9. It was an eventful weekend. "We had an excellent start but I made a mistake after the first half hour, when a Prototype bullied its way past me and I ended up in the gravel. This put us down from fourth in class, to sixth. We would probably have regained the lost ground but for a small fire, caused by all the rubber on the track, and the fact that the protective mesh round the exhaust had been buckled when I went off. We picked up so much rubber in the wheelarches that it formed a 'blanket' around the exhaust… the heat built up and eventually the sill caught light. We had to stop to have the fire put out." Even so, the sixth place scored some Championship points, not bad for Fisken's first race in the car. Was he helped not only by his LMP1 experience, but also by his many successes in historic racing?

"Yes, there's a lot you learn from historics that can be applied to modern GTs. You learn about managing the transfer of weight; and while the Aston has traction control, it doesn't help at all when it comes to lateral forces. With almost 600bhp, you need to balance the car on lateral change when exiting tight corners. Out of chicanes, any big GT car will want to oversteer – and that's something you're fighting all the time with historics.

"There are, of course, some big differences. On a modern GT car, if those sticky tyres break traction and the rear steps out, you're going to lose a lot of time. It's not at all like a historic car where you can use a massive power slide as part of stringing a quick lap together."

Fisken also admits to feeling "the spirit and soul" of the great front-engined cars of the past, particularly the Iso Bizzarrini of 1964 and '65, in the DNA of the DBR9. "Giotto Bizzarrini pioneered the concept of pushing the engine of a front-engined car as far back as possible, shifting the centre of gravity backwards and keeping it low, rather than the engine pottering about over the front axle with very little weight in the rear. He also took the fuel tanks forward, away from the rear of the car, to give good balance. The DBR9 has a similar feeling of balance, making it handle far, far better than a traditional front-engined machine. Our weight distribution is around 51:49."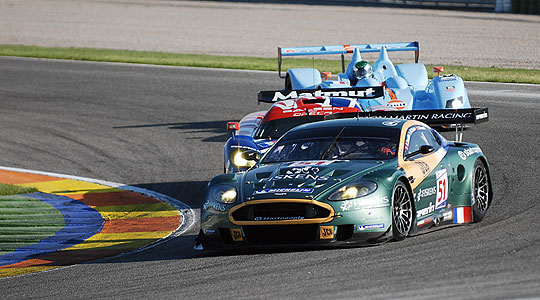 As for the team's chances at Le Mans, Fisken is being "realistic". He points out that there are 55 cars at Le Mans, with 16 strong entries in GT1. "It's a stellar line-up. If we can get a top 10 finish in GT1, I'll be delighted. But it's a long, long way from the start to the finish. The main thing is to finish: after that, anything can happen."

In the Le Mans 24 Hours next month, Gregor Fisken will drive the Aston Martin Racing Larbre DBR9 alongside Frenchmen Patrick Bornhauser and Roland Berville.

Please click HERE to see all Fiskens' cars for sale in the Classic Driver car database.

For further information on Fiskens, please visit www.fiskens.com.


Fiskens
14 Queens Gate Place Mews,
London SW7 5BQ
UK

Tel: +44 (0)207 584 3503
Fax: +44 (0)207 584 7403
Email:

[email protected]
Text:
Charis Whitcombe
Photos:
Tim Scott - Strictly Copyright
---
ClassicInside - The Classic Driver Newsletter
Free Subscription!