New showroom opens at Maserati HQ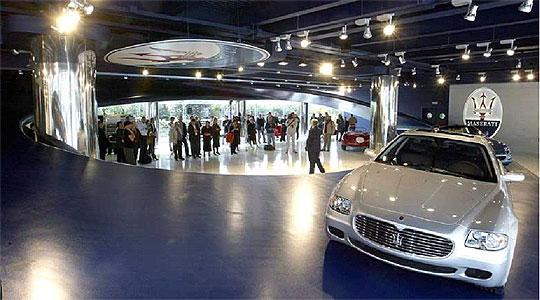 The new showroom at Maserati headquarters was officially inaugurated on 7th October in the presence of Ron Arad and Maserati's CEO and Managing Director, Antonello Perricone.
The House of the Trident is renowned for the smooth lines of its high performance luxury vehicles and for the fact that it excels in everything it turns its hand to. The design of the refurbished production workshops complements that of the new showroom; the structures sit harmoniously side by side, their form the perfect mix of tradition and modernity. To reach the high goals it sets itself, Maserati employs partners of international standing: from Pininfarina for the new Quattroporte to the celebrated designer, Ron Arad, for the showroom.
Arad was born in Israel in 1951. He studied both in his homeland and later in England, where he established Ron Arad Associates. Arad quickly established himself as one of the best contemporary designers. Working mainly in interior design, he became known for his use of unusual forms. He now teaches in London after a period of lecturing in Vienna. Arad has exhibited his work all over the world: at the Pompidou Centre in Paris, the Metropolitan Museum of Art in New York and London's Victoria & Albert Museum. The Tel Aviv Opera is one of his most significant projects.
For Maserati, Arad designed the new showroom's interior and, amazingly, the futuristic loop - a huge, parading circular work. Its construction was complex as it is composed of 21 separate sections and was built on a wooden frame with radiating branches, similar to an aeroplane wing. The whole loop is coated in a unique mix of fibreglass and carbon. The structure is 80 metres long, 33 metres of which are taken up by the main axle alone. It weighs all of 10 tons - most of which is suspended, being self supporting.
The complete Maserati range is displayed on the loop while on the showroom floor there is an area dedicated to some classic models from the past. The Officine Alfieri Maserati personalisation area and the merchandising area are also housed inside. Clients will be able to take delivery of their vehicles here if they so desire and the space can also be used for exhibitions and conventions.
Text & Photos: Maserati Media