New Premises for Aston Sales Kensington and Aston Service London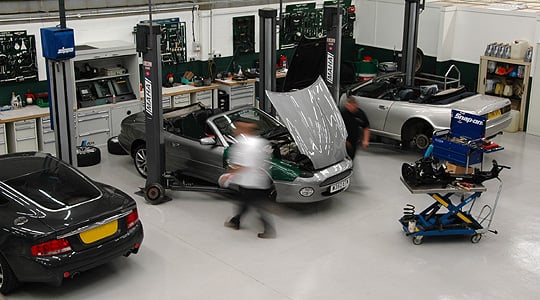 Aston Sales Kensington, and Aston Service London, have moved. The West London-located Aston Martin specialists have relocated to more modern, larger premises just a short walk away from the recently opened Westfield shopping centre.
The move now places both companies on the other side of the West Cross Route from their old home in Freston Road; and now out of the Congestion Zone. It's much easier to park and, although Alan Baker would rather sell you a pre-owned Aston, the Westfield shopping centre (Europe's biggest and newest) is a 5-minute walk away. It's handier for the Underground, too.
John Moore and Steve Clark, whom many readers will know from their long service with Ian Mason, are now joined by Peter Hamilton, Workshop Manager, a service engineer with 30 years' experience of working on specialist marques. Hamilton has, for the last 12 years, been the senior technician of the largest Aston Martin dealership in the world. All three are factory trained, and the ever-knowledgeable Mason still works a couple of days a week on a consultancy basis.
They also have an apprentice "because Desmond [Smail] believes in it" – something you don't often see in the UK nowadays.
I had a chance to look round the set-up a little while ago. Baker, forever the genial host, was my guide and explained what the business's objectives were, and how it dovetailed into sister company Desmond J. Smail's operation in Olney, Bucks.
"We can service Astons from DB4 onwards, up to and including Vanquish and 'new era' DB9s and V8 Vantages. Desmond will handle the older cars, as well as carry out restoration and more extensive work on the 'classic' Astons. In London we have customers based in the Capital, as well as out of town – because they have bought cars from us – and as far afield as the South of France.
"Dropping a car off with us is easy – they can then either do some shopping or carry on to the office. We can carry out all the usual work, as well as tyre replacement, audio upgrades, leather and hood refurbishment and accident repairs."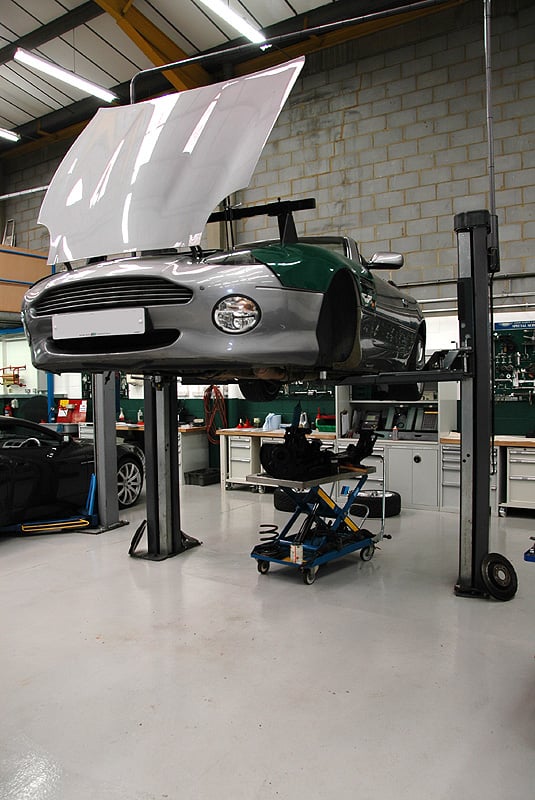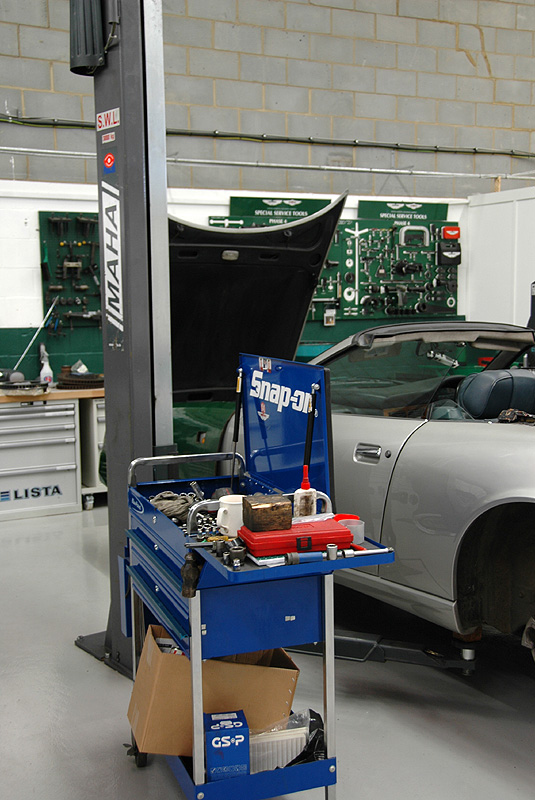 Receiving some attention during my visit was a DB9 Volante in for a service, a Vanquish likewise (with new discs, too), and a DB7 having its air-conditioning overhauled. Alan Baker is, of course, well known for selling DB7s, Vanquishes and other more modern Aston Martins. In a mirrored showroom near the entrance, a Vanquish S shared floor space with a classic 1980s V8 and a DB6.
Three cars of the sort the company specialises in – for sales and service.
To see all Aston Sales Kensington's cars in the Classic Driver car database please CLICK HERE.
For further information, visit:
www.astonkensington.com
www.djsmail.co.uk
www.astonservicelondon.com
Aston Sales Kensington
1 Silver Road
Westfield Village
London W12 7SG
UK Tel:

+44 (0)20 7985 0111

Fax:

+44 (0)20 8749 0330

Email:

[email protected]

Aston Service London
1 Silver Road
Westfield Village
London W12 7SG
UK Tel:

+44 (0)20 7727 1944

Fax:

+44 (0)20 8740 6244

Email:

[email protected]

Desmond J. Smail
36 East Street
Olney Buckinghamshire MK46 4AP
UK Tel:

+44 (0)1234 713083

Fax:

+44 (0)1234 240104

Email:

[email protected]
Text: Steve Wakefield
Photos: Classic Driver
---
ClassicInside - The Classic Driver Newsletter
Free Subscription!