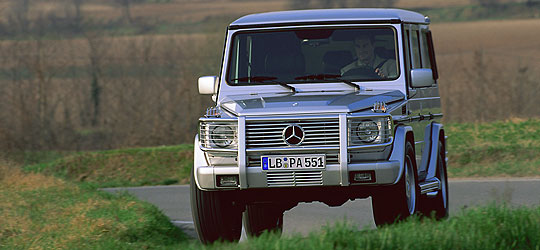 First unveiled 25 years ago, since when 182,000 units have been sold, the Mercedes-Benz G-Class has developed a worldwide reputation. At the Geneva Motor Show the Stuttgart-based auto maker will present the most powerful version of the durable cross-country vehicle yet: the G 55 AMG.
The new arrival's supercharged V8 engine brews up 350 kW/476 hp of power and puts maximum torque of 700 Nm on tap as low down as 2650 rpm. The G 55 AMG thus outstrips the output of the predecessor model, with its naturally aspirated V8 power unit, by 34 percent and boasts an increase in torque of 32 percent. In other words, the G 55 AMG is blessed with remarkable reserves of power for both on and off-road motoring, treating its passengers to unrivalled authority, exclusiveness and driving dynamics.
There is certainly no doubting the performance credentials of the G 55 AMG, with acceleration of 0 to 100 km/h in 5.6 seconds and a top speed of 210 km/h leaving some sports cars in its tyre tracks.
The new G 55 AMG is available as a five-door station wagon with a long wheelbase and will be arriving at Mercedes-Benz sales and service outlets and dealerships in June 2004.
Text/Photos: DaimlerChrysler