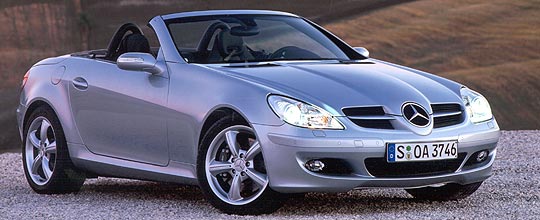 One of the most exciting and successful sports cars is now ready for Round Two: Mercedes-Benz unveils its new SLK-Class. More attractive, more powerful and sportier than its predecessor, this appealing two-seater will be celebrating its European market launch in March 2004. The new model offers a choice of three new engines with a performance range extending from 120 kW/163 hp to 265 kW/360 hp. This includes – for the first time in this vehicle class - an eight-cylinder supplied by Mercedes-AMG. The SLK 350 is powered by a new 200 kW/272 hp V6 engine delivering dynamic driving pleasure.
The second generation of this two-seater again captivates the eye with its sophisticated design featuring details reminiscent of Formula motor racing. This quality enables the SLK to uphold its reputation as a trendsetter and a tech-nology leader among the sports cars in this class. A further development of its vario-roof transforms this roadster into a coupé in just 22 seconds. The range of standard equipment also includes head-thorax sidebags, adaptive front air-bags and two-stage belt force limiters. Mercedes engineers have added even more sports refinement to the suspension, steering and manual transmission.

As a global first, Mercedes-Benz is offering the AIRSCARF neck-level heating system. This delivers a flow of warm air from the headrests at the touch of a button, thereby enabling SLK occupants to keep the roof down even when there is a chill in the air. This extends the top-down driving season to the full calendar year. Automatic climate control, bi-xenon headlamps with cornering light, COMAND and the unique 7G-TRONIC 7-speed automatic transmission add to the technological innovations which can now be supplied as options to the SLK-Class for the first time. .

The new Mercedes roadster is now taking the place of its predecessor, a car which has delighted more than 308,000 owners since it first appeared in the autumn of 1996. Worldwide, this model holds the number one position in this market segment and has already established itself as a symbol for the new, dynamic brand image of Mercedes-Benz.
The design and technology employed in this second generation of the SLK-Class place even greater emphasis on sports performance. With more powerful engines, redesigned suspension, direct steering feel and a responsive six-speed manual shift system, the new model offers an even more athletic driving experience than ever before. The body size has grown by 72 mm in length and 65 mm in width, affording driver and passenger more space and even higher standards of comfort than the previous model.
The range of engines available with the new SLK-Class is also unique for this market sector. Mercedes-Benz is the first carmaker in this segment to respond with an eight-cylinder engine to the wishes of performance-minded car drivers. The new SLK 55 AMG now sets a new benchmark in terms of power (265 kW/360 hp), torque (510 newton metres) and acceleration (0-100 km/h: 4.9 seconds). The V8 power unit is twinned as standard with the recently developed 7G-TRONIC seven-speed automatic transmission controlled by the driver using gearshift buttons on the steering wheel.
Text & Photos: DaimlerChrysler