New Maserati FIA GT car - the MCC - revealed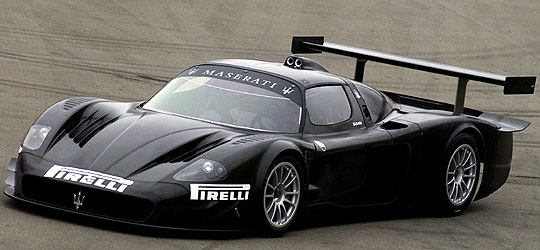 Modena, 12th January. Today at Fiorano saw the track debut of the Maserati that will take part in the FIA GT championships. The car, which for the time being goes by its project code name of MCC, will be launched at the forthcoming International Geneva Motor Show, alongside the Trident marque's new road-going Granturismo car, the MCS, from which it is closely derived.
The two cars were designed in a joint operation between the Maserati engineers and those of the Modena company's racing department under the technical direction of engineer, Giorgio Ascanelli.
The Ferrari-Maserati Group's race test driver, Andrea Bertolini completed the first few laps, with no lap times recorded. Most of the day was devoted to a general technical check on the car.
" This is a very important programme for Maserati, which the Racing Department has tackled with great enthusiasm ," stated Gestione Sportiva Managing Director, Jean Todt. " Today, we have witnessed the MCC's track debut and as usual on these occasions, it was a really emotional moment ."

Text/Photos:Maserati