New BMW 7 Series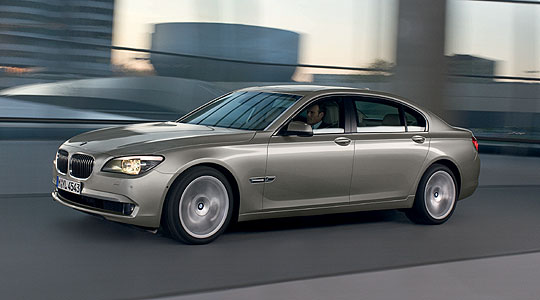 As is so often the case with newly launched BMWs, the first thing to hit you is the styling. But this time, the shock is that the fifth-generation 7 Series looks so… conservative.

Chris Bangle's view is that BMW designs should progress through a cycle of revolution-evolution-revolution and so on, and the new 7 Series is firmly in the evolutionary stage. Maybe even a little regressive; or at least toned down, harking back to the more conventional elegance of the past. But then, it's not the styling that's the exciting bit about BMW's latest luxury saloon.

The new 7 Series is a technological powerhouse: the first car in the world to offer a side-view camera system, with two forward-facing cameras in the front bumper to help negotiate an obscured junction or narrow gateway; and that's just for starters. You can also choose a night-vision system that, unlike any other on the market, has a pedestrian recognition system that 'analyses video data of human behaviour' and alerts the driver if it senses a human moving into your path.




And there's more. The 7 Series is the first BMW to feature a combination of lane-change warning and lane-departure warning (expect a gentle vibration in the steering wheel if you start to stray), while the lane-change camera also keeps an eye on your blind spots, up to 60 metres away, and prompts you (via a triangular symbol in the door mirror housing) if there's a vehicle you might not have seen.




The lane-departure warning camera can also be used, where the car has a head-up display, to scan oncoming road signs to alert the driver to impending speed restrictions. This is the first time a production car has been offered with a speed-warning system that can read road signs.

And then there's the option of speed-related 'Integral Active Steering', which allows the rear wheels to turn by up to 3deg. This rear-wheel-steering gives manoeuvrability at low speeds and enhanced composure at higher speeds, says BMW.

The new 7 Series also comes with plenty of emissions-reducing and fuel-saving technology. Initially, there will be one diesel and two petrol engines (the petrol-powered cars also come in a long-wheelbase variant), with all three engines promising more power, while using less fuel and emitting less CO2 than the models they replace.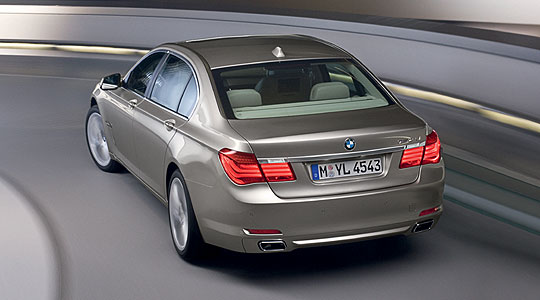 The BMW 730d is likely to account for some 85% of UK sales. With its new, all-aluminium 3.0-litre straight-six diesel unit, it produces 245hp at 4000rpm – and yet posts the lowest ever CO2 figure for a BMW 7 Series (192g/km) and burns the least fuel (39.2mpg combined). All new BMW 7 Series models come with a six-speed automatic gearbox and EfficientDynamics technologies as standard, including Brake Energy Regeneration.

The fifth-generation BMW 7 Series will go on sale in the UK in November. Prices have yet to be announced.


| | | | | | | |
| --- | --- | --- | --- | --- | --- | --- |
| Model | Power hp | Torque Nm | 0 – 62mph seconds | Top Speed mph | Combined mpg | CO2 g/km |
| BMW 730d | 245 | 540 | 7.2 | 153 | 39.2 | 192 |
| BMW 740i | 326 | 450 | 5.9 | 155* | 28.5 | 232 |
| BMW 740Li | 326 | 450 | 6 | 155* | 28.2 | 235 |
| BMW 750i | 407 | 600 | 5.2 | 155* | 24.8 | 266 |
| BMW 750Li | 407 | 600 | 5.3 | 155* | 24.8 | 266 |
Text: Charis Whitcombe
Photos: BMW
---
ClassicInside - The Classic Driver Newsletter
Free Subscription!