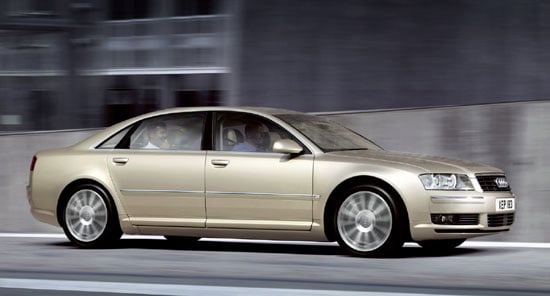 This month Audi has yet again proved deserving of its reputation for Vorsprung durch Technik with the launch of the new A8 3.0 multitronic, the first ever luxury saloon to benefit from the major gains in performance, fuel economy and emissions offered by step-less CVT transmission. This exceptional new lead-in model for the A8 range has just opened for UK ordering in standard and long-wheelbase forms with OTR prices of £46,105 and £49,475. First customer deliveries are expected in February 2004.
The new A8 3.0 models are powered by a sophisticated lightweight alloy-block V6 petrol engine offering 220PS at 6,300rpm and a maximum 300Nm of torque at 3,200rpm. They are capable of accelerating to 62mph in an impressive 7.9 seconds and, where permissible, reaching a top speed of 150mph.
The new six-cylinder, front-wheel-driven A8s will be joined early in 2004 by a six-cylinder 3.0 TDI quattro model, which will be notable as the world's first D-segment diesel saloon to meet the tougher EU4 emissions regulations applicable from 2005. This latest advance will reduce running costs for business users by eliminating the 3 per cent diesel tax premium for UK drivers.
The newcomers further broaden the appeal of a range that already includes 3.7-litre and 4.2-litre, 40-valve V8 petrol models with 280PS and 335PS and a more recently introduced 32-valve V8 TDI combining 275PS with an exceptional 650Nm of torque and 29.4mpg economy. The highly competitive line-up will expand yet again in spring 2004, with the arrival of its flagship – the new long-wheelbase, 12-cylinder A8 L 6.0 quattro with 450PS.
Text/Photos - Audi