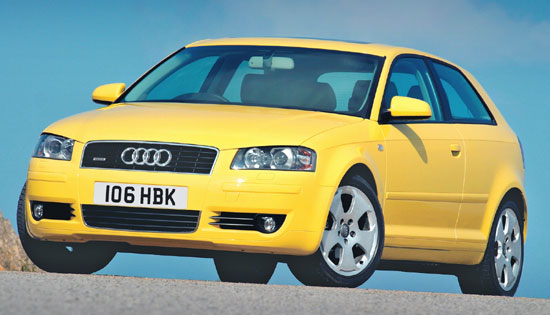 The latest and most potent ever Audi A3 is set to go on sale in Britain from November 1st, raising the bar yet again in terms of performance and advanced on-board equipment. The first ever V6 premium sports hatch from Audi, with 250PS on tap will be reaching its first UK customers within weeks, some equipped with the revolutionary and pioneering DSG double clutch transmission.
The flagship 155mph, A3 3.2 quattro Sport is priced at £23,665 OTR for the 6-speed manual version, and at £25,065 OTR with DSG transmission, can also be ordered with a vast range of hi-tech options. For the first time in the UK, appropriately from the brand that lives by the phrase Vorsprung durch Technik, a unique MP3 compatible sound system is available within the very latest, exceptionally advanced 'Satellite Navigation Plus' system that is now DVD-based and features a split screen. This optional extra is priced at £2,175.
Taking over from the enormously successful original Audi A3, which sold to more than 63,500 British buyers and pioneered the premium offering in its size segment, the new A3 now heads the power race, offering the largest displacement and the most powerful engine among the premium German contenders in this class. The Audi A3 3.2 quattro Sport is of course also equipped with four-wheel-drive, a unique advantage in this segment.
Armed with class leading traction the first V6-engined A3 can sprint to 60mph from rest in only 6.4 seconds (DSG), yet is capable of returning up to 28.2 MPG (DSG) on the combined cycle. " The arrival of the 3.2-litre car clearly establishes a new sporting segment within the premium hatch sector " said Audi UK Product Manager Calum McKechnie.
All new from the ground up, and first launched in the UK in May this year, the A3 range is roomier, 65 mm longer and 30 mm wider than the original, but also slightly lower making for a more sporting and distinctive stance on the road.
The new flagship increases the UK A3 range to a total of six models, which incorporates two 1.6 litre models (102PS and 115PS FSI), a 2-litre petrol FSI version (150PS) and two Diesels, a 1.9 TDI (105PS) and the advanced new 2.0 TDI (140PS) at prices ranging from £15,190 to £23,665.
Like its predecessor, the all-new A3 range is very much in demand in Britain and is predicted to account for 16,000 sales in 2004, making it firmly the most popular contender among the premium rivals in the compact arena.
Text/Photos: AUDI