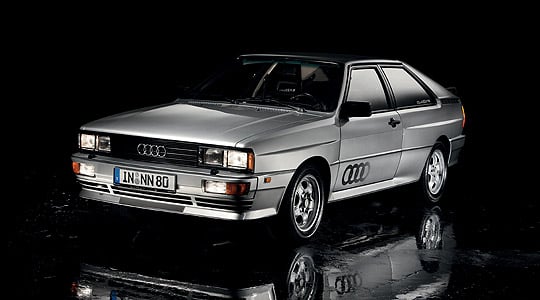 Audi put the wind up every other major manufacturer by unveiling the Quattro at the 1980 Geneva motor show. For a start, everybody else's gleaming new models were overlooked by an admiring public who thought they were seeing something from another planet. Then there was the engineering which had created this high-performance, four-wheel-drive coupé.
Plenty of radically different ideas had been seen before – just think of the Wankel engine – but it was rare for such outlandish notions to be presented by a major carmaker. While most were blind alleys which could safely be ignored, the truly alarming aspect of that new Audi was the rather obvious point that it would work; and that meant it had the ability to affect the market.
There was also the fact that the international rally rules had changed to permit four-wheel-drive competition cars. It seemed likely that Audi would proceed to dominate that branch of motorsport, gaining massive prestige in the process and, of course, that is precisely what happened.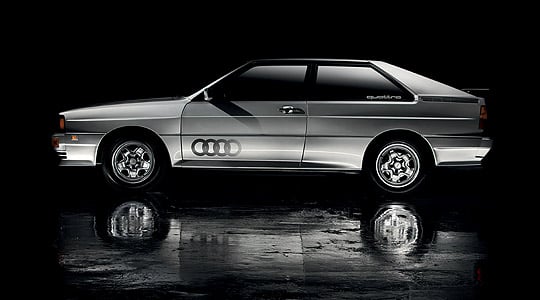 The old saying goes that there's nothing new in automotive engineering and we must pay tribute to Jensen, a small manufacturer which had launched its FF model back in the 1960s. That too was a high-performance four-wheel-drive car and it even featured an early anti-locking system in its brakes; something, incidentally, which the first Quattro lacked. Despite that, the early Quattro had the double advantage of being more compact than the heavy Jensen and of being produced by a large company with the muscle to develop and market it properly.
Until the Quattro arrived, most people still thought of permanent four-wheel drive as the preserve of agricultural equipment and dedicated off-road vehicles such as Jeeps and Land Rovers. Audi brought it firmly into the high-performance roadgoing bracket: from the very start, the Quattro had extraordinary dynamic abilities coupled with a high degree of refinement.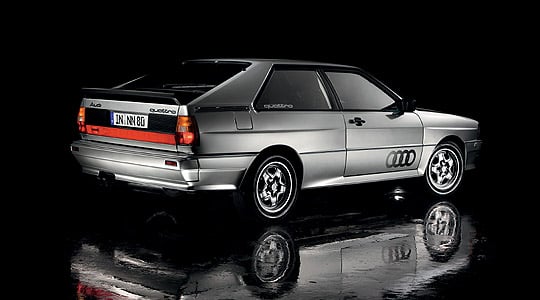 Its five-cylinder engine was something special, too: producing 200bhp from a turbocharged 2144cc, and aided by that all-wheel-drive traction, it could propel the Quattro to 60mph from rest in 6.5 seconds. Impressive mid-range torque enhanced the performance and the feel of the car on the road. The top speed of 138mph might seem modest now, but very few cars could get anywhere near that pace 30 years ago.
Although the Quattro tended to understeer, it was not an excessive trait – except perhaps on very wet hairpin bends. Once a driver had plucked up the courage to explore its limits, the Quattro would adopt a much more neutral stance through fast, open bends and it was always utterly safe and reassuring if one had to lift off. Then, as soon the weather turned nasty, the feeling of security remained but the fantastic traction available made a Quattro driver feel like the king of the road. The advantages under such conditions were quite plain to see. All round, the Quattro was something new and different but it was always, above all, what we call 'a driver's car'.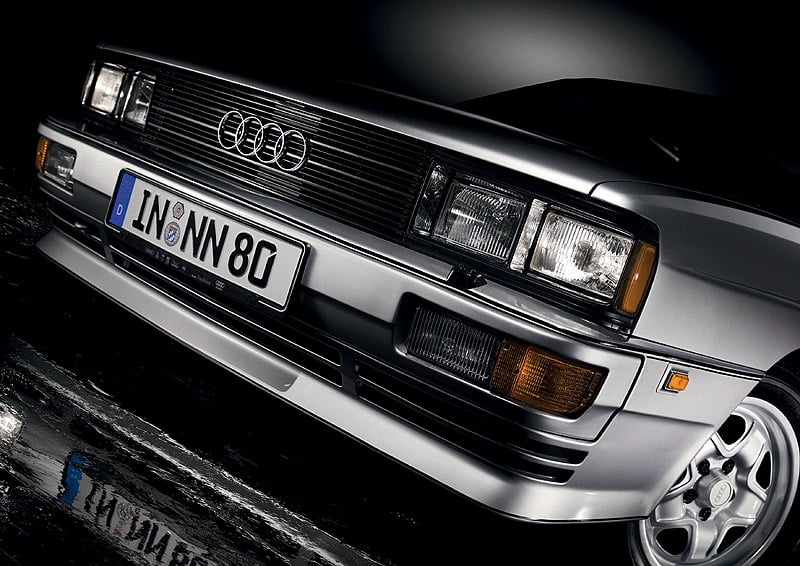 Quattros were not churned out by the tens of thousands in those early years, with just under 2500 coming to the UK, for example, throughout the entire 1980s. Rare Sport Quattros, made in tiny numbers during the mid-1980s, have long been collectors' cars. Anoraks can debate for hours, by the way, over which of them should be called Quattros and which should be known as quattros. We can leave them happily indulging in that conversation amongst themselves. The interesting point is that they were great to drive.
Ever since that first show car was seen in Geneva, Audi has been able to build on its Quattro theme. The basic idea has been adapted to everything from family runabouts to ultra-performance sports cars, with the distribution of torque to all four wheels fine-tuned for each style of car. Audis with the heritage of Quattro technology are now far more plentiful than they ever were in the classic era. Rival manufacturers were right to be alarmed in 1980. The Quattro was one of those bold investments in automotive engineering which has paid off exceptionally well.
Text: Tony Dron
Photos: Audi

---
ClassicInside - The Classic Driver Newsletter
Free Subscription!