MINI Aldridge Special


The 1960s live again in this MINI, with its paintwork by Alan Aldridge, the well-known artist, illustrator and graphic designer of the 60s and 70s. The MINI appears as part of a retrospective display of Aldridge's work, entitled 'The Man with Kaleidoscope Eyes', at London's Design Museum.

In his heyday, Aldridge illustrated lyric books for the Beatles, album covers for The Rolling Stones, The Who and Elton John, was Art Director for Penguin Books and illustrated much-loved children's books such as 'The Butterfly Ball'.

In 1965, a classic Mini painted in Aldridge's characteristic style appeared on the cover of the Sunday Times Magazine. A mere 43 years later and, last Sunday, his work again graced the magazine's cover… this time featuring a new MINI One as the canvas.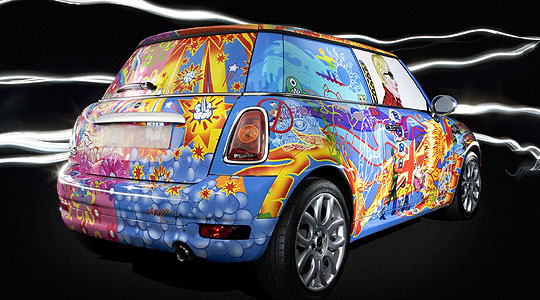 As with the 1965 car, the MINI Aldridge Special is adorned with images and patterns reflecting a male and female theme. And, since this is a throwback to less enlightened days, I suppose we must smilingly accept that it's the driver's side which is masculine, while the feminine is relegated to passenger status. If it's a bit reminiscent of a 'Wayne and Sharon' sun strip, who are we to comment? It's only today that we might expect the sun strip to read Sharon and Wayne. Or even Wayne and Wayne. Back then, things were different.

'The Man with Kaleidoscope Eyes' exhibition runs until 25 January 2009.

Text: Charis Whitcombe
Photos: MINI

---
ClassicInside - The Classic Driver Newsletter
Free Subscription!