Mille Miglia 2005
Luciano Viaro and Maurizio de Marco won the 23rd running of the Mille Miglia retrospective. On board a 1928 Alfa Romeo 6C 1500 Super Sport, start number 34, the Italian team triumphed after a fierce battle with the Argentine driver Carlo Sielecki in his 1923 'Brescia' Bugatti T23. Another all-Argentine team were third, Sanchez-Zinny in a 1930 Alfa Romeo 6C 1750 GS.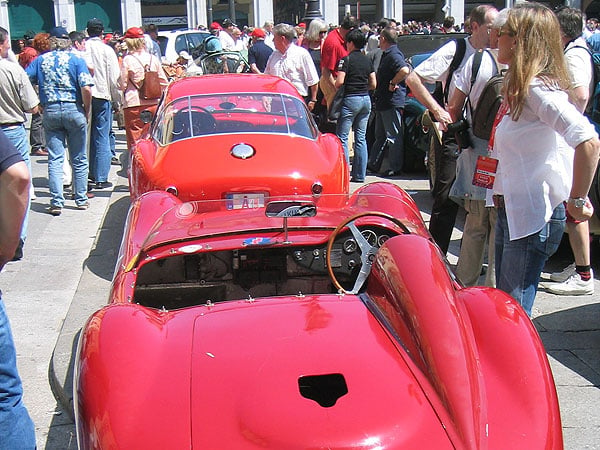 For the 63-year old Viaro and his co-driver Maurizio De Marco (52), winning the Mille Miglia was the fulfilment of a dream. An official driver for the Alfa Historical Museum (and clock maker), the former Italian rally champion (driving a Lancia Fulvia HF), made this one of the most exciting Mille Miglia retrospectives ever staged. When the Alfa Romeo crossed the finishing line in Brescia thousands of fans were cheering and celebrating its victory.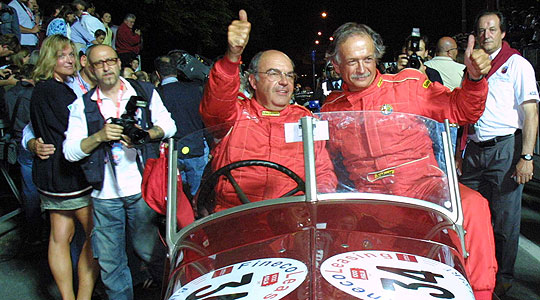 The outcome of the race was undecided until the Modena time trial had been reached on the return leg of the 1000 mile circuit of Northern and Central Italy. After 32 time trials, Viaro has achieved a score of 12,801 points, leaving his nearest competitor just 61 behind. Five Argentine crews finished in the top ten, confirming the escalation of interest from the school of South American time-trials. Twenty eight years after Hepp-Bauer's victory at the first edition of the Mille Miglia retrospective in 1977, Alfa Romeo wins the Mille Miglia again.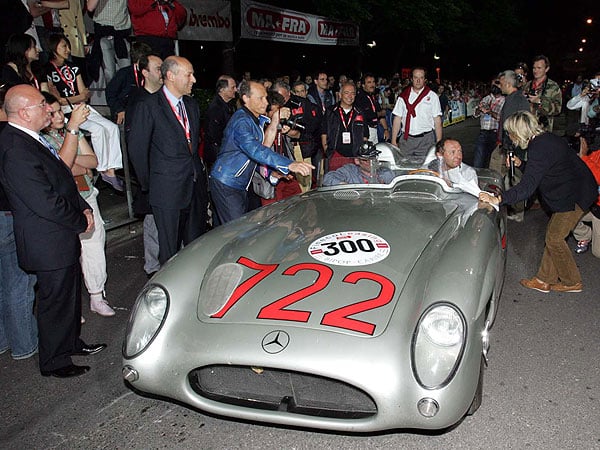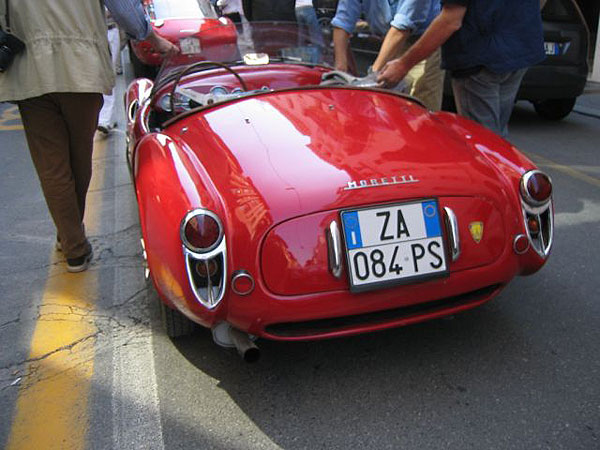 Final word to Luciano Viaro; "I want to dedicate my success to the whole Alfa Romeo Team and to the extraordinary cars produced by Alfa Romeo in the '30s. I dedicate a tender and warm thanks to my wife Maria Giovanna, who has always supported my passion for this sport with patience and with whom I have run for years, and also to Mimmo Magro, manager of the Alfa Romeo Museum, and to Maurizio Monti, my personal mechanic".
The Top Ten at the Mille Miglia 2005:
1. Viaro-De Marco (Alfa Romeo 6C 1500 SS 1928) 12.801 Points
2. Sielecki-Hervas (Bugatti T23 Brescia 1923) 12.740 Points
3. Sanchez-Zinny (Alfa Romeo 6C 1750 GS 1930) 11.293 Points
4. Scalise-Scalise (Alfa Romeo 6C 1750 GS 1931) 11.017 Points
5. Imbert-Imbert (Ferrari 250 MM Vignale1955) 10.499 Points
6. Sucari-Celada (Maserati 4CS 1100, 1934) 10.307 Points
7. Perbellini-Perbellini (Jaguar Biondetti S 1950) 10.014 Points
8. Colombetti-Sanchez (Aston Martin 2 Litre 1937) 9.733 Points
9. Gaburri-Gaburri (OM 665 TT 1928) 9.715 Points
10. Giansante-Ferracin (Porsche 550 A RS 1957) 9.712 Points
Text: Classic Driver
Photos: Mille Miglia / Ulrich Schödel
---
ClassicInside - The Classic Driver Newsletter
Free Subscription!