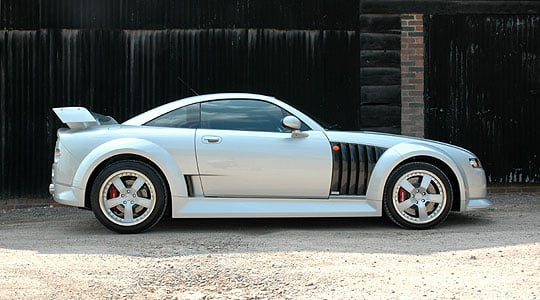 Record-breakers and racing cars apart, the MG SV was the fastest car carrying the famous octagonal badge, and for many people it was the best. An afternoon spent in an SV-R shows not only what might have been - but also what you can buy right now, as just a handful of the very last of the cars completed at MG Sport and Racing are still available.

The car that's design incorporated the best in supercar componentry from the USA (DOHC four-valve all-alloy V8), Italy (hi-tech steel chassis plus bonded carbon-fibre body and Brembo race-standard brakes) and Great Britain (hand-trimmed leather interior) was assembled in the UK by the racing and rally technicians that produced countless winning cars on the circuits and stages. Not to mention creating the 225.609 mph MG ZT-T, the 'Fastest Estate in the World'...

MG made no bones about the fact that the SV utilised the highly regarded Qvale Mangusta high performance GT car concept which Qvale inherited from de Tomaso before running into cash-flow problems and selling the whole project. The company's chief engineer on the venture, Italian Giordano Casarini, was always convinced of the desirability of front-engine, rear-wheel drive for the car and specified an immensely rigid steel chassis (with integrated roll-cage) bonded to a composite body thus increasing its strength and torsional rigidity.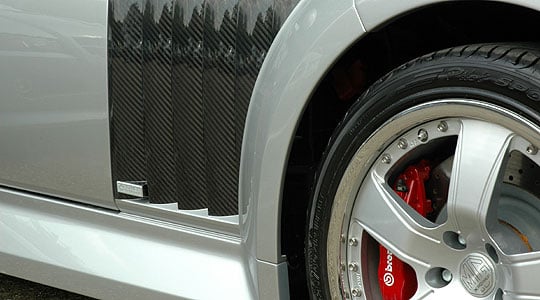 Brakes are by Brembo and wheels (usually) two-piece 18" OZ alloys. The engine is a 385 bhp (in the SV-R) V8 from Ford and it's mated inline to a 5-speed Tremec transmission built to take the torque - the high-tech stops right here, so there's no sequential 'box or transaxle.

The exterior design is the work of Peter Stevens, the renowned RCA designer who penned the McLaren F1 as well as the last Lotus Elan, Jaguar's XJR-15 and BMW's Le Mans winner in 1999. It's a masculine and modern shape that retains enough styling cues from MG Rover's production cars to remain 'in the family' and yet exhibits an attractive form that would not look out of place behind a BMW or Mercedes badge. Inside, it's obvious that the 'hand-finished' and 'finest leathers and trims' values espoused by the sales literature have made it into reality – it's on a high level, and probably as good as any small-run sports cars' (and some of which that spring to mind may surprise you).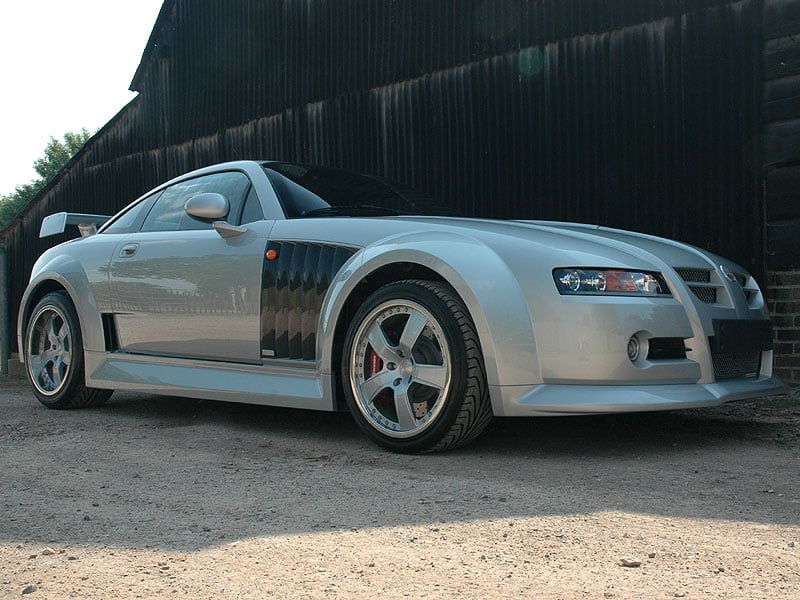 A handsome car, it also exhibits design touches in alloy and carbon-fibre that only come with the price tag - remember these are expensive, hand built motor cars with no design compromises, and it shows.

So, behind the wheel. A little adjustment of the seat and racing belts (they were tightened up for neatness in photos, OK?) and pressing the clutch all the way down (a US requirement to avoid starting in gear) the starter button brings the V8 to life. It's no fire- breather but a charismatic warble on idle reminds you of 350+ bhp under your right foot. Into gear and off down the road.




The first thing that strikes you about progress in the SV-R is the immensely strong chassis coupled to a well-developed suspension set-up. It's not bumpy, it rides the indifferent tarmac of British A-roads well and transmits every nuance of steering well to big front wheels. Inside the cabin (and boot and engine compartment too) you can see raw carbon-fibre yet this is no tuner's affectation, it's the reason the chassis works so well.

Early considerations of something being slightly out of synch between steering wheel and seat reveal themselves to be a marginally offset 'wheel. You soon get used to it, as you do to the chunky gearbox (but light clutch). The braking is truly a revelation, very powerful with minimum pedal pressure needed for either coping with traffic or serious work across country.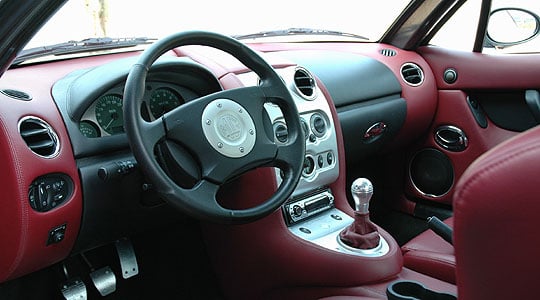 Performance-wise the best way of getting the most out of the car is to keep the engine in its 'sweet spot', say 3,000 – 4,800 revs where peak torque is achieved. The car can be hustled along quite narrow roads with aplomb, and just shifting between third and fourth is enough to maintain a fast average. Visibility is good (ours was LHD) and the glazed rear quarter-lights give just that bit more visibility than in a DB9 or V8 Vantage. The big boot-mounted wing takes a little away from the rear but it's still not bad. And underneath the aerofoil is a surprisingly large storage space - you'd have space for a week away with this and behind the seats of the two-seater.

Indeed Ian Donaldson of Oakfields, an experienced racing driver of note, agrees about the SV's practical mix of performance and usability "It'd be a nice car to take for a Continental trip, fast, comfortable and roomy. Great to go to Le Mans or the South of France".

When MG conceived the SV it was to be a GT eligible for racing at Le Mans. That's now unlikely, but out of a hard-core, racing-driven, specification has come quite a sophisticated long-distance Grand Tourer.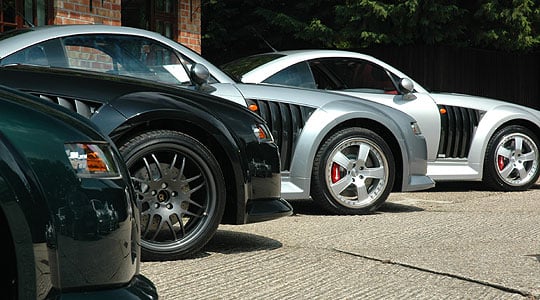 MG SV-R -

Power: 385 HP (SAE) @ 6,000 rpm
Torque: 510 Nm(375 lb.ft) @ 4,750 rpm
0 - 62 mph (100 km/h): 5.1 secs
Top speed: 175 mph (284 km/h)
Unladen weight: 1,500 kg
Dimensions: Length 4480mm, width 2075mm, height 1320mm

Oakfields can offer the very last MG SVs finished at MG Sport and Racing in a variety of colours and specifications, both left- and right-hand drive, SV and SV-R. Prices start at £59351.00 + VAT (Tax Free for Export).

To see all the cars in stock at Oakfields, including many other unique MGs such as the ZT T Bonneville Land Speed Car, please CLICK HERE.

Story: Steve Wakefield
Photos: Classic Driver


---
ClassicInside - The Classic Driver Newsletter
Free Subscription!