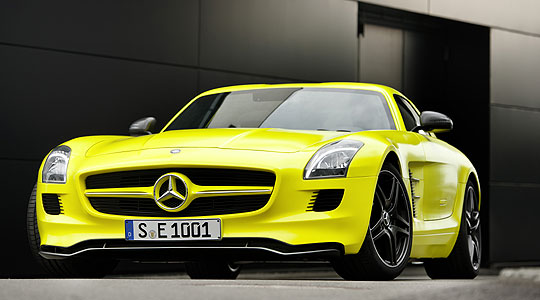 This electrically powered gullwing supercar is a new concept from Mercedes-AMG. While still officially at the prototype stage, Mercedes says the E-Cell "offers the prospect of a possible small series production run".
Traction is provided by four electric motors, one near each wheel, with a combined peak output of 526bhp and maximum torque of 880Nm – enabling 0-62mph in a fearsome four seconds… in other words, not far off the acceleration of the 6.3-litre V8 SLS AMG (0-62mph in 3.8 seconds).
"Unlike the combustion engine, torque build-up with an electric motor is instantaneous – maximum torque is available virtually from a standstill," explains Mercedes-AMG. "The spontaneous torque build-up and confident power delivery – which does not suffer from any interruption of tractive power – are combined with engine running characteristics which are totally free of vibration."
Other advantages of this all-wheel drive electric solution include the vehicle's low centre of gravity and balanced weight distribution, and we're told that the installation of the drive components required no changes whatsoever to the gullwing model's weight-optimised aluminium spaceframe.
The SLS AMG E-Cell, however, features independent multilink suspension with pushrod damper struts – because the additional drive shafts meant there wasn't space for the vertically arranged damper struts of the series SLS.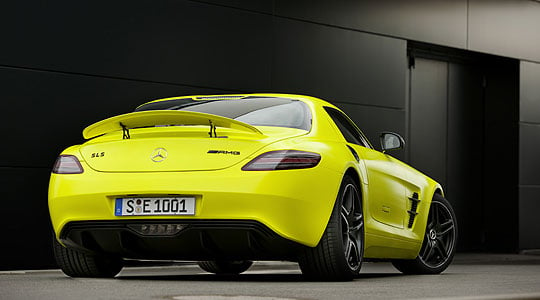 Inside the cabin, a new AMG instrument cluster gives information on speed, charge status of the battery and the estimated range. The centre console houses a 25cm touchscreen, which driver and passenger can use to operate the audio, climate and navigation functions, and also obtain information on the flow of power from the four electric motors.
Finished in fluorescent 'AMG lumilectric magno paint', the concept also features AMG ceramic composite brakes, full-LED headlamps and an automatically extending front splitter. In parallel with the automatic rear spoiler, this extends downwards by 7cm at speeds above 120km/h.
Text: Charis Whitcombe
Photos: Mercedes-Benz
---
ClassicInside - The Classic Driver Newsletter
Free Subscription!