Mercedes S-Class S-Guard special protection vehicle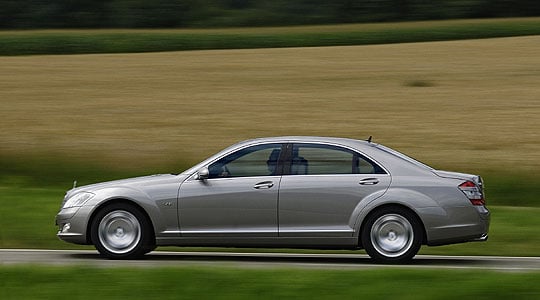 Mercedes-Benz has made an armoured special protection version of its flagship S-Class. Desscribed as S-Guard, the system offers an unsurpassed level of protection against terrorist attacks and the threat of violent crime. Because it is integrated before it leaves the production plant, it gives top-quality protection impossible to provide by retrofitting a vehicle with armour. Customers will be able to purchase the new model - the Mercedes-Benz S 600 Guard with a 12-cylinder engine - beginning in 2006.

With the new S-Guard, Mercedes-Benz is continuing an uninterrupted tradition of developing special protection vehicles that stretches back almost 80 years. Following the principle of integrated special protection, specialists with many years of experience in protection technology will be producing the new top model in the Guard family of vehicles in Sindelfingen. In accordance with this principle, the protective elements for the doors, rear wall, side components, roof lining and bulkhead are not installed in a vehicle after it rolls off the production line; they are integrated into the vehicle's body right from the start in a separate production process. This also makes it possible to include all the protective reinforcements in the body structure from the start.

The integration of the protective elements causes virtually no reduction of the new S-Class' interior space, which provides all passengers with luxury, comfort and performance. The generous dimensions of the chassis components and brakes ensure that the Mercedes-Benz S-Guard saloon displays handling properties almost identical to series models so that the driver always enjoys an optimal driving experience. In addition, the chassis design ensures that the level of comfort typical of Mercedes-Benz is undiminished, despite the higher weight.

The Mercedes-Benz S 600 Guard's enhanced 12-cylinder biturbo engine (380 kW/517 hp) offers dynamic power reserves, giving the luxury saloon the sports car-like performance needed to escape any dangerous situation as quickly as possible.

The Mercedes-Benz S 600 Guard provides protection that meets the specifications of the B6/B7 protection standard, which is the maximum level. Military-grade small arms fire cannot penetrate the vehicle's armour, which also protects occupants from hand grenade shrapnel and other explosive devices. Additional security features include tyres with run-flat properties, a self-sealing fuel tank and an alarm system for endangered occupants.

And a casual look at the exterior of the vehicle will reveal little to the untrained eye that S-Guard treatment is in place.
Text - Classic Driver
Photos - DaimlerChrysler
---
ClassicInside - The Classic Driver Newsletter
Free Subscription!