The Mercedes-Benz SLR Stirling Moss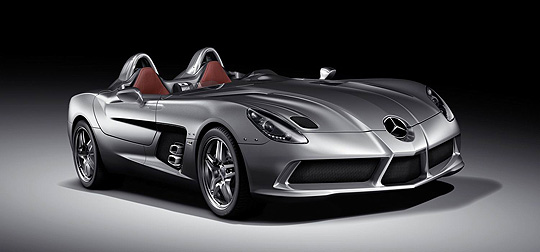 The Mercedes press department must have been at the pre-Christmas sherry, as in a press release of quite extraordinary hyperbole it introduces the 750,000 euros wonder-machine as one "aimed at individuals who have exquisite requirements and nurture very special dreams".
Really.
"The kind of high-calibre speedster coveted by the sporting gentry and enthusiasts alike," the new car is an all-carbonfibre-bodied roadster, with a 650bhp supercharged V8 allowing a 0-62mph time of less than 3.5 seconds and a de-restricted top speed of 217mph.

It will be the final version of the Stuttgart company's SLR (ah, those "three letters [that] are all it takes to make car fans' hearts beat faster"…), a machine that never found favour as a true enthusiast's car, and a far cry from the immortal McLaren F1.
The two-seater has neither roof, nor side- or front-windows, with small air deflectors on the arrow-shaped bonnet to keep the bugs out. Removable tonneau covers are kept in the boot and provide all-weather protection and, like the 1950s Le Mans car, the car is equipped with an AIRBRAKE.

Presumably that's for people who want to STOP. In a HURRY.

It's all very silly because the famous Stuttgart manufacturer is worthy of so much better, and the new car will be biblically quick and exquisitely well made.

Sir Stirling Moss has lent his name to the car, so good luck to him, but you can't help feeling that the AMG-built 'Black' cars are the best performance cars in the manufacturer's range and more worthy of veneration.
Text: Steve Wakefield
Photos: Mercedes-Benz

---
ClassicInside - The Classic Driver Newsletter
Free Subscription!