Mercedes-Benz SLR McLaren is Germany's best sports car according to reader's poll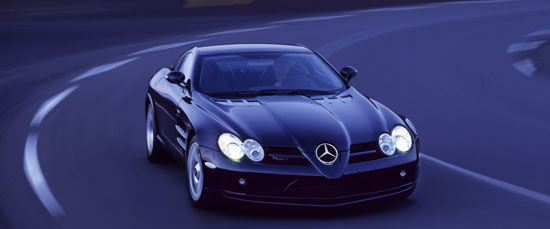 Readers of the magazines "Auto Zeitung" and "TV Movie" have voted the new Mercedes-Benz SLR McLaren Germany's best sports car. As a result this leading-edge Gran Turismo has won the "Auto Trophy 2003".
The prize was handed over yesterday evening (12/11/03) in Berlin to Dr Joachim Schmidt, responsible for Sales and Marketing in the Mercedes Car Group.
In the competition, to which over 81,000 readers of the two magazines contributed, the SLR McLaren was given the highest number of votes in the "Sports cars" category by a clear margin.
The "swing-wing" model with its supercharged, 460-kW/626-hp V8 engine is one of the most powerful production sports cars currently on the market and transposes the latest in motorsport technology from the race track to the road. Its bodywork is made of carbon-fibre-reinforced plastics (CRP), which also help to ensure very high levels of safety in Formula 1. The brake discs on the SLR McLaren are made of fibre-reinforced ceramic material which has also proved its mettle on the racetrack and which is characterised by its high fading resistance and long service life.
The SLR McLaren was given its world premiere in mid-September 2003 at the Frankfurt Motor Show (IAA).
Words/photos - DaimlerChrysler