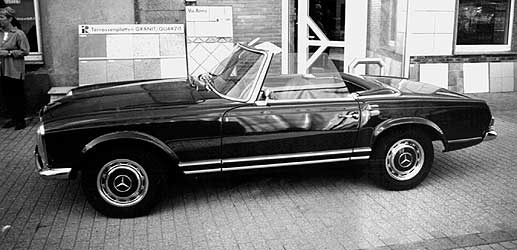 A fully restored 280 SL Pagoda was stolen while the owner was attending Techno Classica on the Saturday afternoon, (the Coys sale), April 12th between 1 and 6 pm. The car was reported missing to Essen Police on Norbert Strasse same day and a reward of up to 10,000 Euro is promised for information leading to its return.
The cars details are as follows -
FULLY RESTORED 280 SL 1969 PAGODA
DARK GREY NON METALLIC [DB 124?]
RED LEATHER
THIRD SEAT
4 SPEED MANUAL
POWER STEERING
REGISTERED K-MG 606
SERIE NUMBER 113 044 100 10664
The telephone number for the Police in Essen is + (49) 201 829 3281
Alternatively send us an eMail and we will forward it to the necessary people.
Thank you for your help.